Prism London presents Furthur Progressions 10 Yrs ftg: Allaby, Audio Anonymous, Cimi, Hamish, Protonica, Unique Repeat + more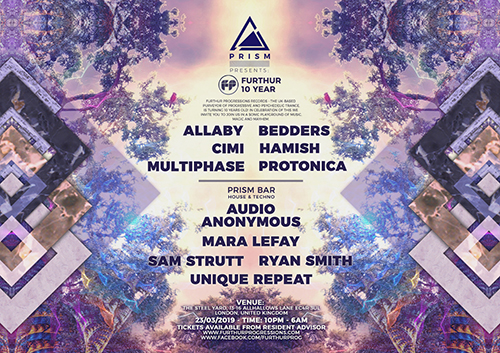 13-16 Allhallows Lane, London, UK
EC4R 3UL
Prism London.... Presenting a new electronic music brand conceptualised around a journey through sound. Creating events with no boundaries and endless possibilities as we look to bring together quality sounds all under one roof to create a sojourn of salubrious beats!
Our first event, held at the fantastic and revamped Steelyard, represents a celebration of electronic dance music fused with an audio-visual spectacle guaranteed to captivate, fascinate and mesmerise. In the main room Furthur Progressions Records - the UK-based purveyor of progressive psy trance, chunky techno and emotive house music - is turning 10 years old, bringing with them the immersive, imaginative and enchanting experience for which they are renown!
In the second room Prism London brings together delicious techno and deep house beats to tickle the mind and enrich your ears with the best of the UK with a sprinkling of international flavour.
Check us out on FB:
https://www.facebook.com/events/204346356821510
FURTHUR ARENA 
Progressive Psy Trance
ALLABY
(Nano/UK)
BEDDERS
(Furthur Progressions/UK)
CIMI
(Furthur Progressions/IT)
HAMISH
(Furthur Progressions/UK)
MULTIPHASE
(Furthur Progressions/DK)
PROTONICA
(Iono Music/DE)
PRISM BAR
House and Techno
AUDIO ANONYMOUS
(Iboga Tech/UK)
MARA LeFAY
(RO)
RYAN SMITH
(UK)
SAM STRUTT
(UK)
UNIQUE REPEAT
(Fragment8 : Parquet Records/DE)
* Immersive experience created by Dreamscape and friends *
* Visual projection and mapping *
* Expansive bespoke lighting and lasers show *
* Customer Line Array sound system *
* Chill out area *
* Reali-tea Stand *
* Stalls *