7 years after its release, the 'Random Access Memories' legacy still continues to grow. This album showcases Daft Punk exploring the roots of their roots to recreate its authenticity through their exquisitely enterprising lens. Ranging from supremely catchy anthems, existential ballads, and grandiose cinematic epics, the Parisian duo display methodical compositional prowess in building a complete narrative within the conscience of a robot mind, seeking to understand the human world around him by diving deep into his store of experiences, emotions, and memories.
Daft Punk's 8-year hiatus between the releases of 'Human After All' (2005) and 'RAM' had been tumultuous yet immensely captivating. Firstly, that endless stretch of time provided us with their 2006 Coachella performance, which redefined our expectations towards the scale and ferocious artistic force of an electronic live show. How can one forget their innovative pyramid design and gigantic LED-induced screens in the background?
The gloriously enchanted and fanatical American crowd was treated to one of the finest and intensely curated sets ever produced, as the Parisian robots mixed their then-current record's ('Homework', 'Discovery', and 'Human After All') into one unstoppable and singular wave of creativity. To a hardcore Daft Punk fan, this represented the epitome of greatness.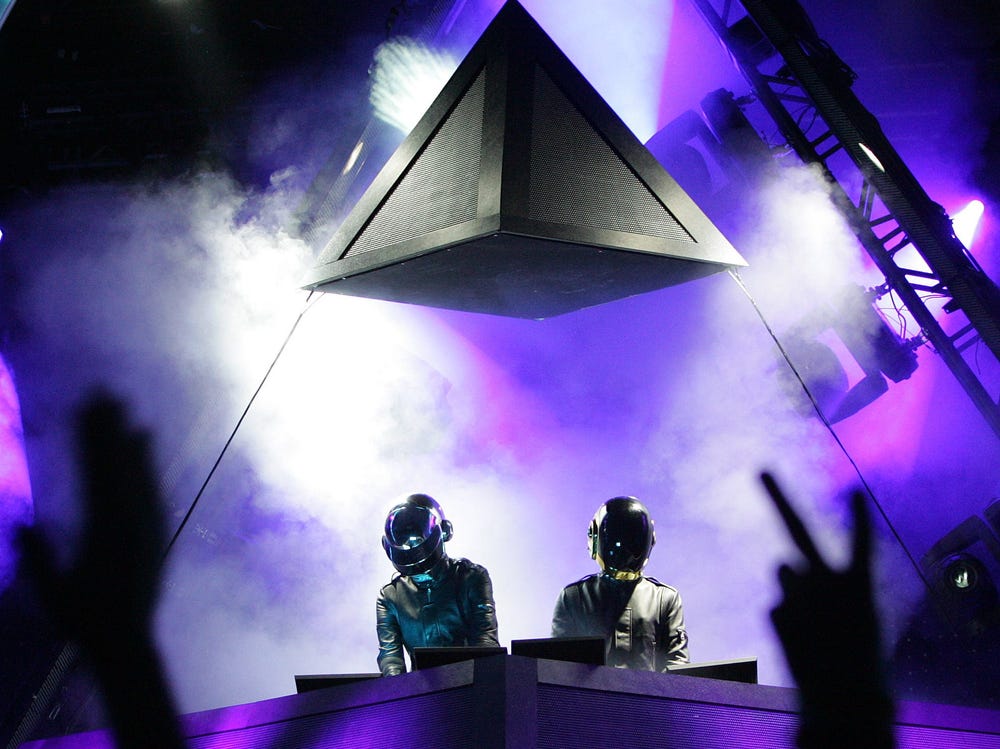 However, it's easy to forget that before this performance, Daft Punk's reputation was at stake due to the relatively dim critical success and vitality of their heavily distorted and raw 'Human After All'. They infamously recorded the album within a 6-week period, such that music critics were quick to suggest that its anti-climactically lived up to the disappointment that its name insinuates. In hindsight, this period of doubt was necessary to fully load the springboard that would inevitably elevate them into festival folklore. Their following project was writing the score to 'Tron Legacy', which in itself was a success. Nevertheless, the question remained, what would be the next step in the evolution of the band's discography, and would there even be one?
This leads us perfectly into 'Random Access Memories'. The most obviously noticeable feature is the aforementioned lack of electronic pieces, besides the penultimate song 'Doin' it Right'. This entire record is a monumental departure from the duo's previously acclaimed identity. The throbbing house and sample-heavy dancefloor bangers have been replaced by nostalgic and evocative live recordings that pay homage to the sun-drenched and vibrant 70s and 80s Los Angeles. This setting fulfills a fresh humanization of the robot persona, unveiling the heart and soul on which it is built. Besides the compositions themselves, it goes without saying that what makes this LP so great and timeless is the impeccable and flawless mastering and recording quality, which truly reflects the duo's almost obsessive attention to meticulous detail regarding audio fidelity.
The album's disco-inspired opener, 'Give Life Back to Music', introduces us to an overwhelming crescendo that seamlessly slips into Nile Rodgers' rhythmic and beautifully reminiscent guitar patterns that glide over a consistent drumbeat, gaily accompanied by sultry piano chords. This is the first introduction to an instance of unbridled and longing recollection. Luckily, the robots did not forget their sublime voice as they tell us to 'let the music in tonight'. One gleefully accepts this demand, continuing to groove to Nathan East's funky bassline.
Rodgers' iconic touch is to be heard across two other cuts, 'Lose Yourself To Dance' and 'Get Lucky'. The former repeats its magic through a spellbinding chord progression that is bound to mature well over time and serve as an irresistible tune for years to come. Pharrell Williams' vocals also feature as a common thread to both songs, providing his typically solid falsetto over the similar disco instrumentals. The only reproach that can be put to 'Get Lucky' is that it was somewhat overplayed throughout the summer of 2013, owing to its value as a novel yet instantly classic pop anthem and the craze that unfolded when the duo re-emerged out of apparent musical inertia onto the commercial stage. I personally love the 6-minute album edition that begins with a playful intro that is rarely heard and mentioned, as well the feeling when the crisp vocoder is let loose. Even more obscure is the 10-minute Daft Punk remix that was released on the Deluxe box set edition. This cut can be considered as an extended rework, one that definitely plays into the charm of an old-school 12" vinyl single.
The second song of the album, 'The Game of Love', immediately slows the pace down and holds our hand through a melancholic, sensual, and funky slow jam that channels sorrow and regrets from our nostalgic narrator. Thomas Bangalter, one-half of the legendary duo, stated that the purpose of this song was to humanize the robot voice as much as possible to convey 'an emotion of something that is not human but tries to be'. This paradoxical notion adds a degree of emotional depth to the record and helps explore a full thematic range.
A similar tone is set in 'Within', as the vocoded robot delves deeper inside his soul in order to understand that his external world will always dismay him if he does not realize that happiness is a choice and truly arises from within. Chilly Gonzalez' sombre yet comforting piano chords laced over minimal percussion and bass accentuate this mood perfectly.
The third cut is arguably the best and most memorably astonishing, alongside 'Touch'. 'Giorgio by Moroder' starts off with an intimate monologue over a four to the floor rhythm, spoken by the song's namesake, telling the story of his venture into music and the journey that led him to his favorite instrument, the synthesizer. In fitting tribute, the latter constitutes the backbone of this 9-minute epic as the song sways from an arpeggiated synth piece into a jazzy interlude that jumps back to life with the introduction of a beautiful string section that teams up serenely with an explosive drum frenzy. The track continues to feed us a masterful bass solo and peaks with a progressive rock finale. This cut has to be personally experienced to fully grasp the enormous ambition and multi-faceted execution of all involved in the pristine recording.
Conversely, 'Touch' is a more introspective yet nonetheless immensely expressive piece, fulfilling its duty as per Daft Punk as the 'crux' of the album. The song is composed of over 250 elements and the profound and transcendent listening experience fully reflects this. Paul Williams' whole-hearted introductory vocals and disbelieving lyrics are followed by a joyous and jovial, disco, and funky groove that instills pure merriment when one listens to a majestic cacophony of piano, trumpets, and horns playfully dancing with each other, every instrument taking on a life of its own. This blissful moment, critically encapsulated as a "celebration of life'", is abruptly ended by a slow drum beat and the harmony of vocoder, choir, and piano chanting "If love is the answer you're home". However, the listener is again interrupted in his fleeting clarity, feeling submerged under a flood of bubbling synths and strings that you buoyantly follow back to the surface to rediscover the previous chorus, only stronger and more assured. The entire record is precisely purposed to revolve around this song, as it acts as a silo or RAM of the deepest and most fundamental emotions, and 'Touch' offers a glimpse at the core of the robot mind we are exploring, which leads us to love. All the other songs are simply short, yet precious snippets, that have escaped this reservoir of memory and experiences.
'Instant Crush' and 'Fragments of Time' present more typical soft rock pieces, employing Julian Casablancas' and Todd Edwards' vocals respectively. Both operate on opposing ends of the emotional spectrum, the one wistfully lamenting a childhood love that never was, and the other joyfully recalling times of carelessness and eternal freedom.  'Beyond' impresses with a cinematic and imperial orchestral prologue that transitions into some slick and funky instrumentation that is partnered with the vocoded duo reflecting on the nature of our ability of creation and manifestation in our limitless consciousness that allows us past concepts such as time and material space. Again, they remind us that 'love's our only mission', placing it at the center of transcendence and spiritual elevation.
The LP's most mysterious piece, 'Motherboard', my personal favorite, is one whose meaning I to this day am yet to grasp. The song exudes organic and raw life essence with its delicate and natural percussion, inviting tingling guitar strums, faint piano chords, and flittering synths. In the background, soft trickles of water subtly descend across your ears along  wailing moans that leave you bewildered across several majestic instrumental interludes. Daft Punk termed it 'a futuristic piece, which could be the year 4000'. But oddly enough, it feels like it's describing the source of all life, an ancient yet futuristic ode to creation. This is the pure beauty of this album, recapturing a time seemingly lost and reproducing it in timeless and visionary fashion. This seeps unequivocally into 'Doing it Right', an airy and effervescent electro-pop ballad that unfurls Panda Bear's lofty vocals interwoven with the last bit of Daft Punk's vocoder work.
The album's closer, 'Contact', embarks on an interstellar voyage, sampling audio from Eugene Cernan of the Apollo 17 mission, the last man to leave the moon's surface. His words are played over layers of organ-like synths and Omar Hakim's emphatic drumming, powering the track to an immense and increasingly distorted finale that sounds like a spaceship spiraling at hyper-speed into an inevitable yet necessary landing, concluding the odyssey that has crashed to a halt. This LP is a masterpiece.
The entire record is superbly sequenced, every emotionally embodied song adding a pertinent piece to this beautiful and conceptual work of art that reflects full proficiency through every level of production. It will prove to be way ahead of its time for years to come, as the scope of the album's musical reach seems to span in opposite directions of time, reaching into the past to create something that peers into the future. This visionary theme is present across Daft Punk's discography, but it feels like all their previous work was destined to lead to a methodical construction of their magnum opus. One must give equal credit to all the session musicians, production and mastering engineers, songwriters, and everyone who contributed to its inception. But it was Thomas Bangalter and Guy-Manuel de Homem-Christo that initiated and drove the force that brought this album to life, gracing us listeners with a long-lasting and ageless classic.
Listen to Daft Punk's 'Random Access Memories' here.