The festival which is set for March 15 -19 will be held at the beautiful island of Saint Martin. Some of the new names that the festival has added to an already splendid lineup are Ricardo Villalobos, Black Coffee, Âme, Bob Moses and Nina Kraviz.
These new additions show the Festival's intention to keep diving even deeper into becoming one of the industry's top destinations of the season and a leader in musical curation.
SXM Festival Founder Julian Prince says – "At SXM Festival we value quality and intimacy. Quality of music and experience. Intimacy with some of the most wonderful, enlightened, party people on the planet. Add to that the breathtaking beauty of Saint Martin and it's a powerful mix. We have already sold tickets in North and South America, Europe, Australia, Africa and Asia. And we can't wait to welcome our global family to this magical island. In year two we have also redoubled our efforts to bring the very best talent in underground electronic music to SXM, with every carefully curated artist having their own sonic identity. Improving on last year's line-up has been a challenge because we respect the musical story so much. But as we announce Phase 2, we feel like we've done it for 2017 – and this story should win a Pulitzer prize."
For five days, attendees will find themselves dancing barefoot at the secluded white-sand beach main stage, adrift on an iconic Caribbean Boat Party, shining at exclusive VIP Villa Parties, lost in a techno tailspin in a natural jungle venue, or swept up in the local cuisine and rich culture of this French and Dutch island.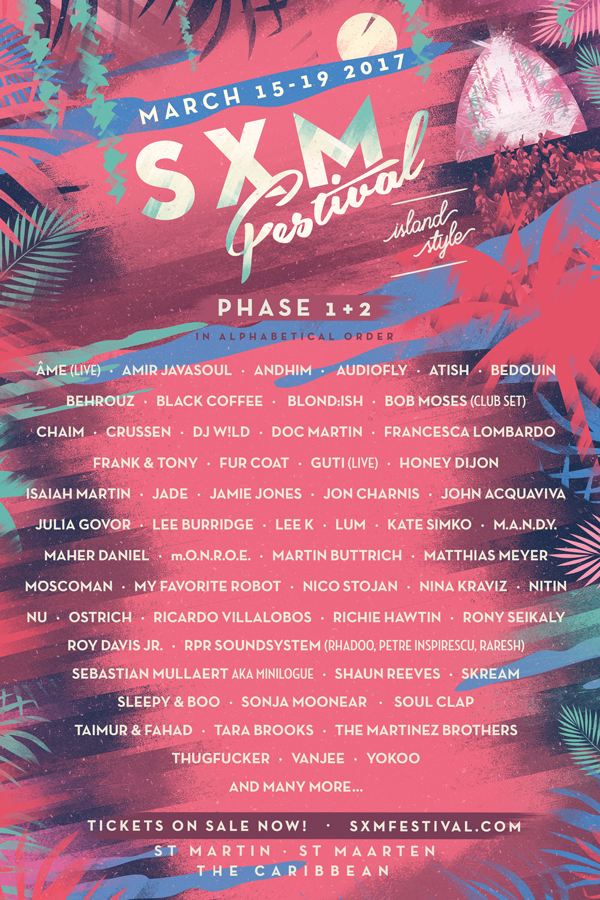 Stay tuned for even more artists to be announced!
Phase 2 Additions: Atish, Audiofly, Blond:ish, Crussen, DJ W!ld, Doc Martin, Francesca Lombardo, Frank & Tony, Guti (Live), Isaiah Martin, Jade, Jamie Jones, Jon Charnis, Julia Govor, Lee K, Lum, Kate Simko, M.A.N.D.Y., m.O.N.R.O.E., Martin Buttrich, Matthias Meyer,  Moscoman, My Favorite Robot, Nico Stojan, Nitin, Ostrich, Richie Hawtin, Rony Seikaly, Roy Davis Jr., Shaun Reeves, Skream, Sleepy & Boo, Sonja Moonear, Taimur & Fahad, Tara Brooks, The Martinez Brothers, and Vanjee 
Watch SXM Festival 2016 aftermovie.