Thank you Simon and Tobias for you time to answer these questions, we wish you all the best in 2016!
EG: First of all, tell us how your partnership started?
ANDHIM: We met during a Bavarian Sausage eating competition! We managed to get the first place and still hold the title for most sausages eaten in 1 hour across the Germany.
EG: We heard a few hip-hop anthems at the end of yours sets. Where does the taste for hip hop come and does it influence your production and playing style?
ANDHIM: Hip Hop is in our roots! I (Simon) use to work in a record shop in Cologne selling Hip Hop records and Tobi use to be a hip-hop scratch DJ.
EG: You have been touring through South America recently, how does the scene compare to the USA and Europe? Any highlights worth sharing?
ANDHIM: We've just had a great weekend in Argentina playing in Rosario and Cordoba – All over the world we see people that share a love of good music and partying, this is the most important thing for us!
EG: Now that you are preparing for MMC '16 "Superfriends" event alongside Koslch, H.O.S.H, Roman Flugel and Superflu, what's the story about the party name, any anecdote related?
ANDHIM: Superfriends is about bringing together our DJ Friends, Idles, people we respect in the industry – Most importantly its about the enjoyment people have on the dance floor!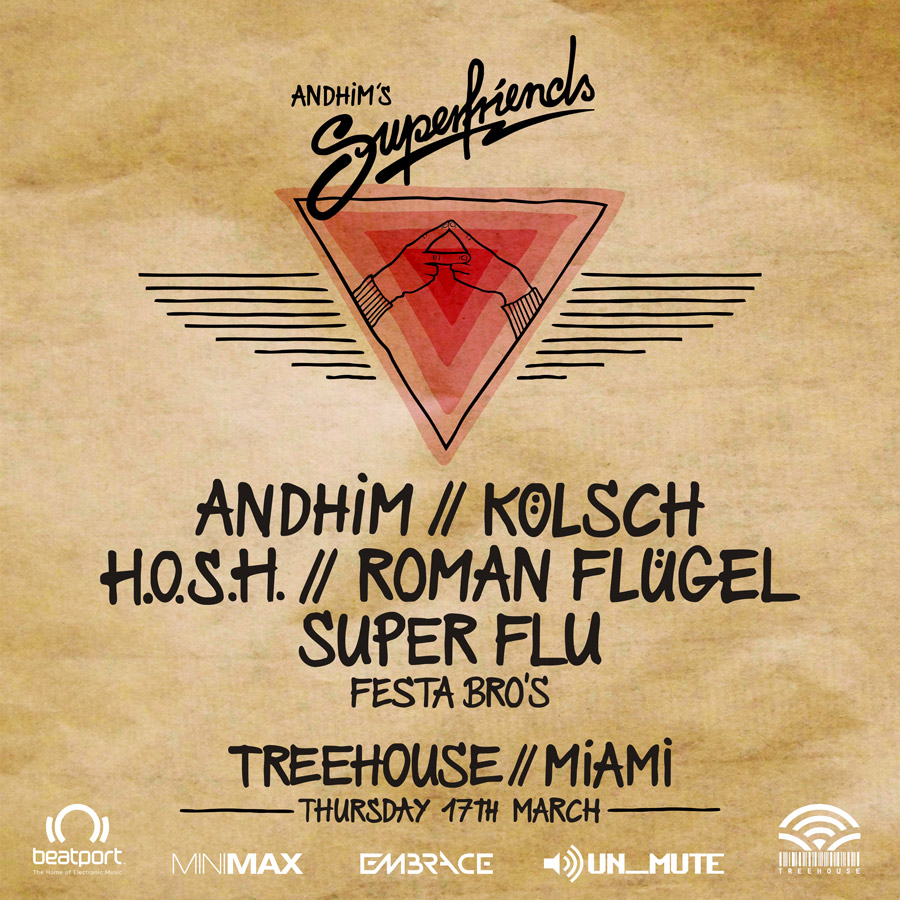 EG: In comparison to other festivals around the world, where does MMW rank in your all time favorites?
ANDHIM: It's easily in our top 3 music weeks!
EG: After finishing the Americas and US tour what is next for Andhim? Any studio plans we should know of?
ANDHIM: We have a few tricks up our sleeves, watch this space… ;)
EG: We always enjoy your posts on social media. Who is the mastermind behind the creativity?
ANDHIM: We're the creative andhim directors!
EG: Thank you guys. See you at Superfriends!
We invite you attend the Superfriends party with Andhim, Koslch, H.O.S.H, Roman Flugel and Superflu. The event will take place on March 17th at Treehouse Miami, starting at 11:00 PM. 
Produced in collaboration by Minimax, Unmute, and Embrace.
More info here: http://bit.ly/1SPx4Y0