The meeting will take place from May 20th to 21st, 2021.
Winter Music Conference Virtual (WMCV) joined forces with The Magnetic Agency Group and VRJAM to host 'a digital summit focused on rebuilding, rethinking and innovation.' In alliance with other major industry partners, the event will bring together keynote speakers, panels, and stands from digital exhibitors with the aim of inspiring, educating, and reconnecting.
For two days, from May 20th to 21st, there will be live keynote conferences, panels and there will also be networking rooms, along with a group of digital exhibitor stands. After the panels, there will be a networking happy hour and a virtual after-party. The second day will be a celebration of electronic music at 5th Dimension with product demos and the official WMCV music show.
The WMCV will take place on Hopin, a renowned live digital platform that enables high-quality streaming, engaging participant interaction, networking, customizable exhibitor stands, and many of the features that participants look for at IRL events.
Learn about the schedule below and visit its site here.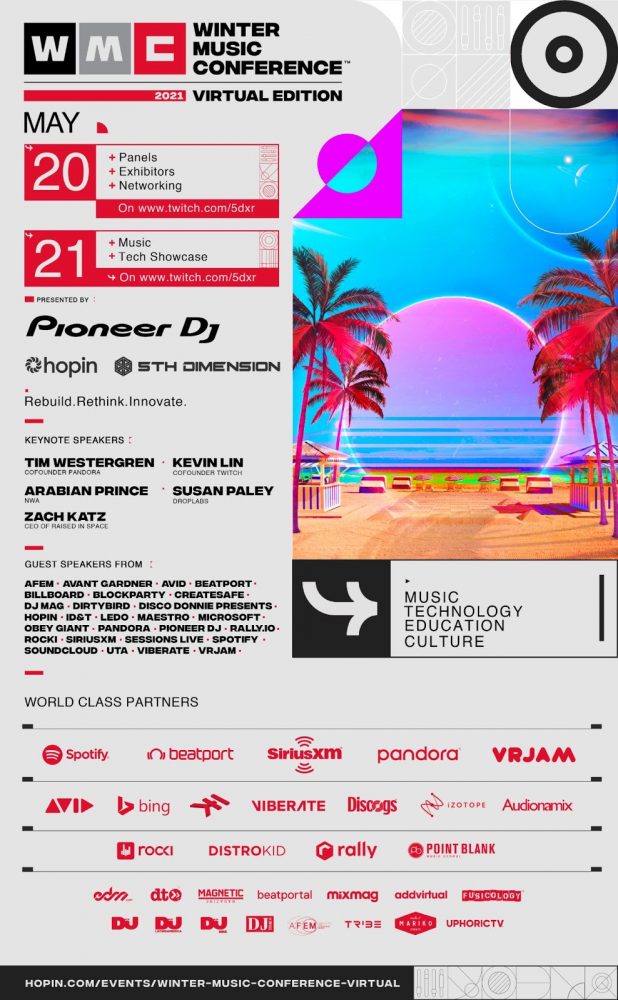 Day #1
Opening: The Stranding of the Modern Musician – With Tim Westergren (Pandora / Sessions Live, cofunder). Moderated by Katie Bain (Billboard)
The future of virtual reality and virtual live events: with Ari Evans (Maestro.io), Anthony Kennada (Hopin), Gina Rosales (Make It Mariko), Raul Navalta (AddVirtual), Dan Scarcelli (Monstercat). Moderated by Sam Speaight (VRJAM / 5th Dimension)
Discogs Presents – Redefining the collector – With Jazzy Jeff (DJ / Producer), Lolo Reskin (Sweat Records Miami) & Cameron Schaefer (Vinyl Me Please). Moderated by Jeffrey Smith (Discogs)
The power of the playlist: From music discovery to music marketing, the playlist now reigns supreme, with Jonas Tempel (Beatport), Rida Naser (SiriusXM), Andrew Marcogliese (Pandora). Moderated by Tommie Sunshine (DJ / Productor)
Strength in Numbers: how to use Viberate analytics to understand the music industry, with Umek (DJ / Productor) & Vasja Veber (Viberate)
How do artists and brands collaborate on the cutting edge of technology? With Shauna Alexander (Soundcloud), Daouda Leonard (Creatsafe), Geoff Colon (Bing / Microsoft), Susan Gloy-Kruse (Beatport), Sarah Hildering (Ledo), Angelica Ayala-Torres (UTA). Moderado por Seth Combs (Sessions Live)
Presenta Avid – Sube de nivel tu producción – With Junior Sanchez (DJ / Productor), John Beltran (DJ / Productor), Lazaro Cassanova, Kerry Leva. Moderated by Greg 'Stryke' Chin (Avid)
NFT – An insightful look at the music industry's most hyped format since MP3 – With Franklin Fitch (Blockparty), Amanda Fairey (Obey Giant Industries), Mike Darlington (Monstercat). Moderated by Declan McGlynn (DJ Mag).
What Happens Next – Rebuilding the live events industry – Introducing: Hayata Ishikawa (Avant Gardner), Disco Donnie (Disco Donnie Presents), Aundy Crenshaw (Dirtybird), Rosanne Janmaat (ID&T). Moderated by Dani Deahl.
The future of transactions: how Blockchain technology is changing the industry, with: Bjorn Niclas (ROCKI), Blond: ish (Artist), Vladislav Ginzburg (Blockparty), Bryce Carr (Rally.Io). Moderated by Shiv Madan (Moonwalk).
Spotify Masterclass – With Spotify Team Members: Ronny Ho, Jesse Jacobsen, Charlie Tadman, Lucy Blair
Pioneer DJ presents: A conversation with Claude VonStroke
Closing – Digital Commerce 3.0 – With Kevin Lin (Twitch Co-Founder), Arabian Prince (NWA / Entrepreneur), Susan Paley (CEO, Droplabs) & Zach Katz (CEO, Raised In Space)
Virtual After Party via twitch.tv/5dxr with Ultra Music featuring special guests: Surprise Secret Guest, GATTUSO, Redfield, Marshall Jefferson & Anabel Englund.
Projection – LARRY'S GARAGE – The story of Larry Levan & Paradise Garage.
Duration: 90 min / Produced by Claudio Napoli, Corrado Rizza & Massimo Mascolo for Ramp Production LLC / www.larrysgaragethemovie.com
Day #2
Music and technology exhibition on twitch.tv/5dxr
Tribe XR Demonstration
Celebrating 5 years of Perfect Havoc – Label Showcase via 5th Dimension
WMCV New Music Showcase
Historic Winter Music Conference documentary videos will premiere on UphoricTV.
Networking Rooms: 7 pm – 9 pm PST:
The DJ and Producers Lounge – presented by Pioneer DJ
The Blockchain Lounge – presented by ROCKI
The VR / Live Stream Lounge -presented by VRJAM
The Data Lovers Lounge – presented by Viberate
For more information on the WMC, visit www.wintermusicconference.com.