October in Amsterdam is truly beautiful.  It's the time of year when the leaves change to a rainbow of autumn colours, the Kermis funfair takes over the Dam Square with its eye catching Ferris Wheel and most importantly it's when the city is taken over by the world's most important electronic music conference and largest club festival, the Amsterdam Dance Event!
Once again selling out for its tenth consecutive year, nearly half a million music lovers from around the world flocked to the Dutch party capital for an intense week of discussing, networking and of course dancing to every form of electronic music you can think of.
The opening debate was held on October 18th with a panel including representatives from Beatport, Kickstarter, Decked Out, Fabric Nightclub and the Night Mayor of Amsterdam. Some interesting questions were posed during the debate, like should new DJ's take a test?  The idea being a test would weed out all the incompetent  DJs but it was taken as a joke with the consensus being no. Other more serious topics were asked like how Brexit will affect the UK's already fragile nightlife and the importance of drug safety.  Amsterdam's Night Mayor, Mirik Milan, spoke about how he works closely with the city to ensure clubland is safe and how important nightlife is to the culture of any major city.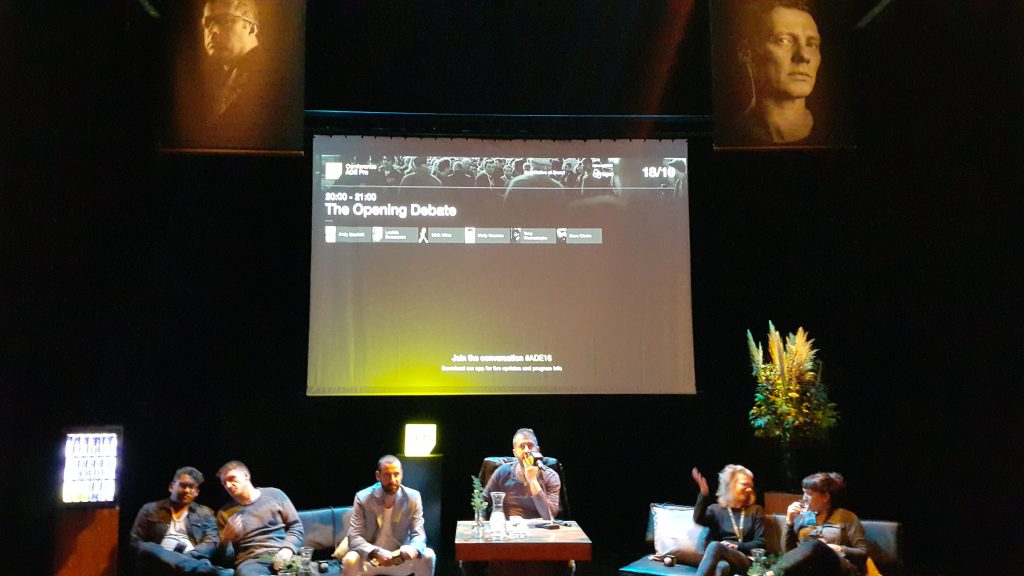 Amsterdam sets a perfect example of how to party safely while being able to have fun at either a club or festival.  The city has implemented educational campaigns like 'Celebrate Safe', which focuses on reminding party punters of the health hazards of partying to the extremes, like many do during ADE.  Around the clubs and festivals you could find posters highlighting safety tips on everything from protecting your ears, moderating your water intake, drug policies and first aid.
There were also warnings signs about which drugs to avoid, such as a bad batch of ecstasy pills, which were in the shape of the Superman symbol that were circulating around the city.  Out of nearly half a million people that attended the event there were zero causalities which I think can be attributed to the education levels of the people which attend ADE, supported by campaigns like 'Celebrate Safe'.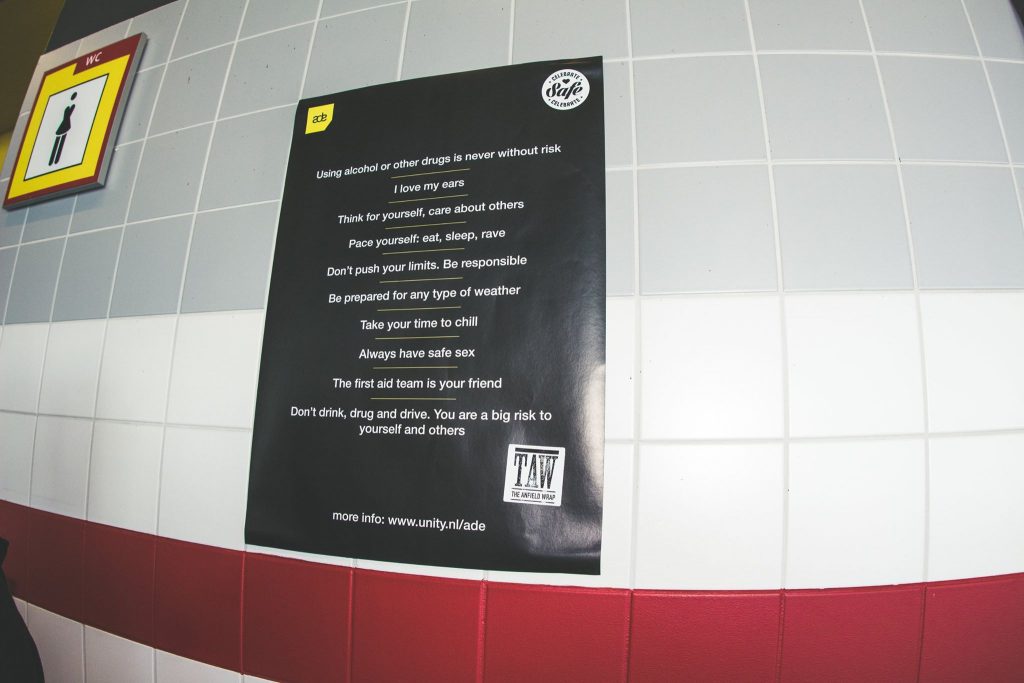 Everyone is welcome to ADE, even the EDM scene which many of us can't stand for several reasons. An example of this would be ghost production. I was very surprised to see amongst the many items in the ADE bag a flyer for EDM ghost production, offering a 20% discount on the service! The flyer reads "Are you a DJ? Do you want to play your tracks but you are not quite sure how to work with software? Or maybe you don't have a professional studio or enough time? Hire the best EDM ghost producer that has got years of experience to produce your original track from scratch!" Now we all know this happens in our electronic music world and the topic has come with serious debate. Personally I think there are already too many people trying to become DJs/Producers for the wrong reasons. If you don't even have the genuine talent or time it takes to learn the software then you shouldn't be taking the easy route and paying someone to do it for you. It undermines the true artists that have saved up hard earned money to buy the software, learn it and equipped themselves with all the hardware they need to make the tracks they want to produce. In the end true talent will always be recognized. Those who use ghost production may be able to cheat their way into a career initially but only true talents will be able to maintain themselves in this ultra-competitive profession.
OK so enough of the ranting, let's get back to why I love ADE so much, enjoying incredible music in amazing locations! If you ask any two people, even if they are best friends, it's almost guaranteed their party calendar will be different during ADE. With literally hundreds of different parties going on, and different party stamina levels, even if you intend to attend all the same parties you just won't. So this is my personal recap of what made my ADE so special this year.
Afterlife by Loveland
The Loveland crew time and again have proved they are true professionals in throwing a good festival, but when they teamed up with Tale of Us's brand Afterlife, it turned into a full on rave in the best possible way! The sold out event held at the Mediahaven on October 20th hosted the best guests from the Afterlife roster. We entered at midnight to start the night off with my favourite Italian duo, Mind Against, who took us on a journey through many of their own tracks including the unreleased 'Hakimonu – Insular Realms (Mind Against Remix)'. Up next was a very interesting pairing of techno from Rohad and Innervision's Amé going back-to-back.  As they began their set I asked Dixon who I met backstage if his friends ever surprise him with what they play and he said "of course, it happens all the time, then I have to figure out what to play next!". But time and again Dixon proves that he is ready for such a task and amongst his peers he is still at the top of his game. He delivered what for me was definitely the best set of the night and one of the best sets of the entire ADE week. Other memorable sets from the night include Matthew Johnson who played live in the second studio for a full hour and had everyone totally mesmerized. The event ended at 6am and I decided to call it a night as the weekend had only just begun.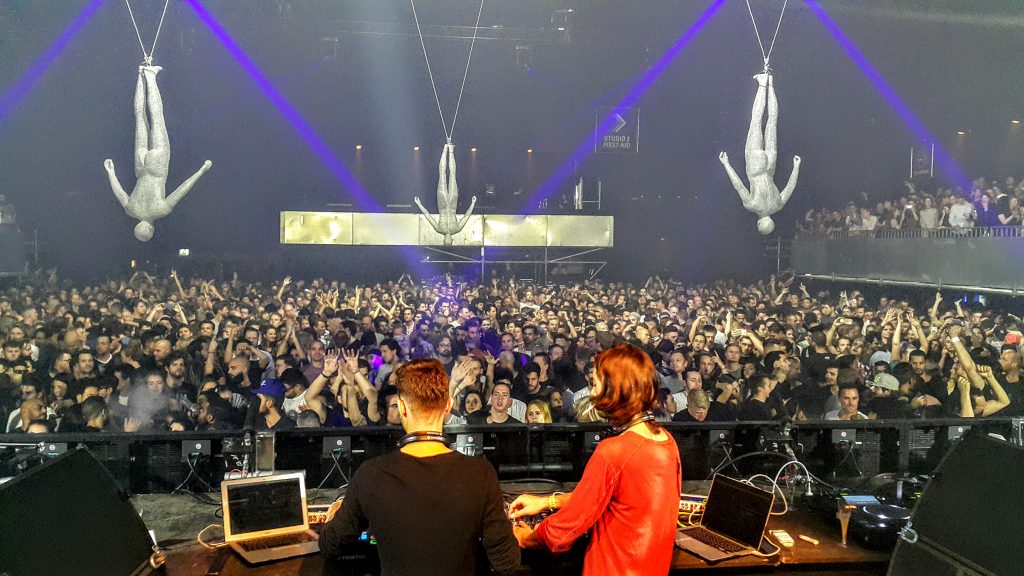 Audio Obscura present Maceo Plex x Rijksmuseum
One of the things I love about ADE is that the city opens up so many unique venues to host parties. So when it was announced that the Rijksmuseum, the largest arts museum in the country, would host Maceo Plex for a special invite only free event, it became one of the most anticipated events of the week. Over 60,000 people applied for tickets to the event but only 2,000 were lucky enough to gain access to the bicycle tunnel where the event was held on October 21st. Even that was a bit too many as it was hard to get comfortable with so many people packed into this area but we made the most of this unique experience and enjoyed Maceo's trippy set which included many of his tracks like 'Polygon Pulse' and 'The Replicant V2' from this new 'Journey To Solar' album on his Ellum label.  The Audio Obscura team worked extremely hard to put this event together that took five years to get approval for, which proves persistence really does pay off!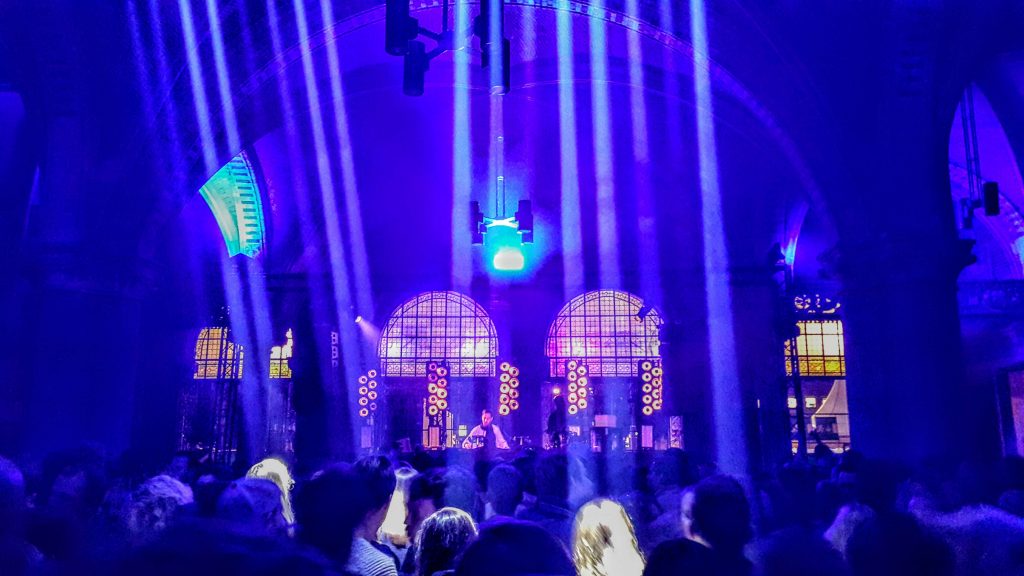 URSL label showcase
Another thing I love about ADE is surprises. Sometimes you have to go with the flow and follow your friends to places you never expected to end up. Going to the URSL party early Saturday morning was one of those times. I had never heard of this label before and had never been to Atelier before either, but when we got there around 5am early Saturday morning we walked into one of the best vibes we'd found all week.  It's always so fun to hear artists you've never heard of before impress you, and Soukie & Windish definitely impressed us! There was a stripped back Berlin like vibe in that room which held us in its grip right until the last track played around 8:30am. We were exhausted but it was totally worth it!
All Day I Dream
The All I Day I Dream team finally made their ADE debut at De Hallen on Saturday October 22rd to a sold out crowd of very colourful people. One thing I always love about these events is that people dress creatively and they bring their happiest vibes which can be felt across the dance floor. We got there a bit late at 6pm (due to the previous night's shenanigans) so we missed the usual day time summery atmosphere that is synonymous with ADID. As we entered we went straight for room two which although was dark, was heating up quickly with the bright energy of Satori who had people dancing on the stage and bouncing around the packed dance floor. Meanwhile in the main room ADID main man Lee Burridge played until the end with some special tracks like a remix of Talking Heads, which left many people happily puzzled; Lee definitely has a way of pulling out very unique tracks at just the right moment!
Audio Obscura X Ellum
Waking up at 8am on a Sunday morning to go to a party is something I've only done a handful of times in my life, and even though it's really tough to do, on those rare special occasions like this one, it's totally worth it! The Audio Obscura team took over another beautiful venue, the Loft at the top of the A'DAM Toren, to team up once again with Maceo Plex, this time to showcase his Ellum label.  I walked into what was definitely the brightest after party Amsterdam has probably ever seen. I enjoyed the early morning sun which is rare at this time of year, but for those coming straight from the club it was a bit unappealing. However that didn't stop the crowd one bit from being fully energized as they danced to the very cosmic and trippy tracks played by Maceo Plex going back to back set with San Francisco legend Solar, who perhaps was the inspirational name for his new album out on Ellum 'Journey to Solar'.  The party ended at 2pm but I think it could have gone on much longer as this party was definitely a highlight of ADE!
De Marktkantine Day 5| Maeve & SoHaSo
People that made it to this event during ADE 2015 were still talking about it a year later so I made sure that my ADE 2016 would end here. On Sunday night the labels SoHaSo and Maeve took over the two rooms of De Marktantine, one of the largest nightclubs in Amsterdam, for one wild ADE finale! I was locked to the dance floor in the main room as my favourite Irishman, The Drifter, started the party off. The twists and turns he made in this set from tracks like 'Jonathan Kusuma- Automatone to Bwana – Generation' had the packed dance floor going wild. The partiers that make it right until Sunday and have enough energy to dance like that are of the best caliber, so it made being there even more enjoyable. After The Drifter came Baikal who took it up a notch with some heavy hitting techno for two hours until it was Mano Le Tough's turn. Personally after The Drifter nothing could top him so I didn't catch most of Mano's set but I happily went home understanding why people love this party so much, and I look forward to doing that all over again next year!
A big thank you goes out to the ADE team for giving us the platform to connect with all the artists, promoters and everyone who works hard to keep our scene alive around the world. It's amazing to know we will always have friends to dance with regardless of nationality, skin tone, sexual preference or religion because of the music we love! Well done to the artists for taking us on such magical journeys through your music and to the promoters who curate the whole experience. It was another incredible year and we look forward to ADE 2017!