Born in Spain, Adrian Rodriguez aka ARODES has been surrounded by music since he was a child. His bohemian parents introduced him to a wide range of genres and he grew up playing vinyls from reggae to classic rock.
Now, Arodes is set to perform at this year's edition of RÜFÜS DU SOL's Sundream Baja festival in Mexico this May 5th-8th, 2023.
Having made its debut in Tulum earlier this year, Sundream Baja reflects the immersive, transcendental ethos associated with the Australian act, and will see the band bring both, the live band and DJ sets to the party.
Attendees can expect four days of parties, wellness activities, art installations, intimate DJ sessions, and live performances from some of the world's most renowned acts, including Tale Of Us, Michael Bibi, Monolink, Weval, Jimi Jules, DJ Tennis B2B Carlita (Astra Club), Jonas Rathsman, Yulia Niko, Desiree, Arodes, Modern Tales, Luke Alessi, Kalexis, Maria Nocheydia, and Litos.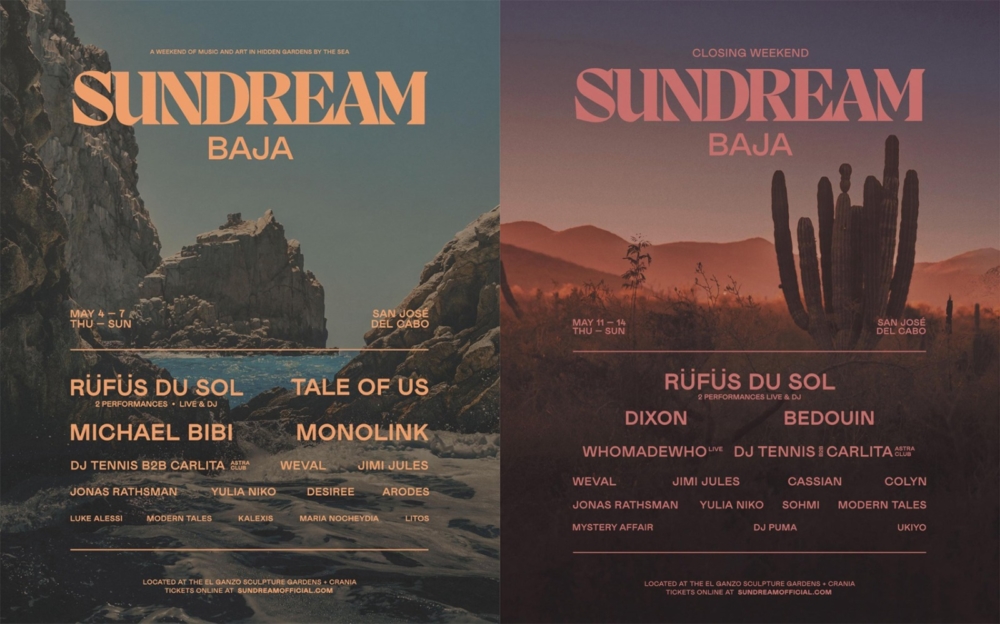 As we gear up for RÜFÜS DU SOL's Sundream Baja festival in Mexico, Arodes selects his top 10 tracks to get into the groove.
1. Mooglie, NOEMIE, Agoria – Spacer
"Suggestive track to close an unforgettable night. Emotive melody and vocals fit the track before the party ends." 
2. A'Studio feat. Polina – 'S.O.S (Skylark Remix) [Nic Fanciulli Edit]
"Perfect match for wild after parties! Groovy vibes for itself with the catchy vocals. It's the ultimate one to start your day right and happy with the sun in the background and party people vibing to it!" 
3. Nandu ft Marc Facchini – In The Line To Loneliness
"I love to play this track in the car, it makes me think and reflect introspection in a deeper way. The main lead synth is just excellent." 
4. Fahlberg – Since I Fell For You
"Another tune from my good mate Fahlberg. Truly sentimental and powerful, perfect to make the crowd feel magic and touch them." 
5. Camelphat x Josh Gigante – Your Mind
"Mental track from the talented Josh and Camelphat. I have loved it since the first time I tested it. Always works." 
6. Ian Ludvig – Like A Drug
 "I like to use this track to set up the tone of the night. Its powerful bassline and deep melody makes it an essential tool on my sets."
7. Andrea Oliva, Arodes – Future Call
"This is a special one as it's my latest release with my good friend Andrea Oliva. Produced to put the dance floor on fire in a peak time momentum." 
8. Auggië – Kelly (Denis Horvat Remix)
"This track connects with the crowd bringing a good vibe to everyone on the dance floor and helps you to be one with the audience." 
9. Avangart Tabldot feat. Paul Brenning – Strangest Nights
"The title itself just takes me to an exciting night where I feel the nature and wildness of a place, where people are united under the full moonlight and they dance to the sensual rhythms of the candent melody. It's a vibe!" 
10. Cipy – Izzy Maya
"Ideal for Sundream with the La Llorona lyrics, a typical Mexican song. It carries you closer to the environment, the culture of Mexico, and the sun setting the tone." 
Arodes is set to perform at RÜFÜS DU SOL's Sundream Baja in Mexico. Purchase your tickets here.
Follow Arodes: Spotify | Instagram | SoundCloud | Facebook