Born in LA and based in Berlin, Arthur Galestian is the name behind an impeccable career that has seen his music supported by industry luminaries including Nora En Pure, Nicole Moudaber, Joris Voorn, Tiësto, Paul Oakenfold, Gabriel & Dresden, Green Velvet, Paul Van Dyk, Hernan Cattaneo, Nick Warren, and countless others. Nomadic by nature, Galestian's insatiable curiosity and love for music have taken him to 44 different countries, blazing through North America, Europe, and Asia via iconic places and events such as Nevada's Burning Man, Sankeys Tokyo, Exchange LA, ADE (Amsterdam Dance Event), WMC (Miami Winter Music Conference), and Germany's renowned music festivals.
"I first got into electronic music back when file sharing services were all the rage. I was exposed to a lot of different kinds of music from all over the world, but the music coming out of Germany, the UK, and The Netherlands particularly grabbed my interest. Before electronic music, I was mostly into rock with bands like Nirvana and later Nine Inch Nails and Rammstein, who used a lot of synths in their music. That arpeggiated or gated synth sound was just so captivating. I remember one of the first trance CDs I ever heard was a Goa trance CD called 'Trancentral 4: A Trip To Goa', and compilations like 'Boundaries of Imagination' and the early 'In Search of Sunrise' series, which all opened up my curiosity about this music as I dug deeper to find more obscure artists. Looking back, it was because these tracks had so much emotional depth. The layers of intricate harmonies really resonated with me," tells Galestian.
"If you're curious to hear more about how I actually came across electronic music from my childhood influences to my sound as an artist today, I was recently a guest on Marc DePulse's 'How I Met The Bass', where I tell the story with a 3-hour mix of music only and no words."
His first contact with the music industry came thanks to a decade-long stint on public radio station KUCI 88.9 FM back in 2003. His weekly radio show left its mark on the airwaves, including prominent guests such as Carl Cox, Dubfire, Above & Beyond, and Armin van Buuren. Fast forward to 2022 and Galestian's Global Entry Radio show is syndicated worldwide on over 50 outlets including Mambo Radio 89.4 FM in Ibiza, di.fm's Progressive channel, and BLUE 105.1 FM in Buenos Aires.
"Those days were really magical. My time there was driven purely by vision and passion. KUCI really gave me a platform to share my favorite records and artists with a community of open-minded listeners. It put me on a regular schedule to find new music to share, and later to bring the artists who created those records into the studio. It became a great platform to connect with clubs and promoters in the area, to connect with our scene. KUCI was a chance for me to showcase local talent, but also to give touring acts a chance to connect more deeply with their fans through on-air interviews before their sets that weekend, and often on the same night. I remember doing live remote broadcasts with artists like Dubfire, Carl Cox, Armin van Buuren, Above and Beyond… meeting artists who were so influential to me back then and broadcasting their sets over the airwaves, live from the venue – that was truly something special. My show was every Thursday night and I'd look forward to those two hours during the week more than anything else. KUCI also opened up the door for me to larger radio stations in LA and it was the catalyst to launching my DJ career. Before KUCI, DJing was a hobby that I took very seriously. My time there made it obvious that it was meant to be more than that," he recalls.
As his own body of work tells, evolution is a constant in Galestian's incandescent trajectory. Boasting an impressive catalog that houses releases on world-renowned labels such as Desert Hearts Black, Zerothree, Toolroom, ICONYC, Ritter Butzke Records, Perfecto Black, Perspectives Digital, Outta Limits, and many others, Galestian has even collaborated with global heavyweights like GRAMMY-nominated mainstays Paul Oakenfold and Capital Cities' frontman Sebu.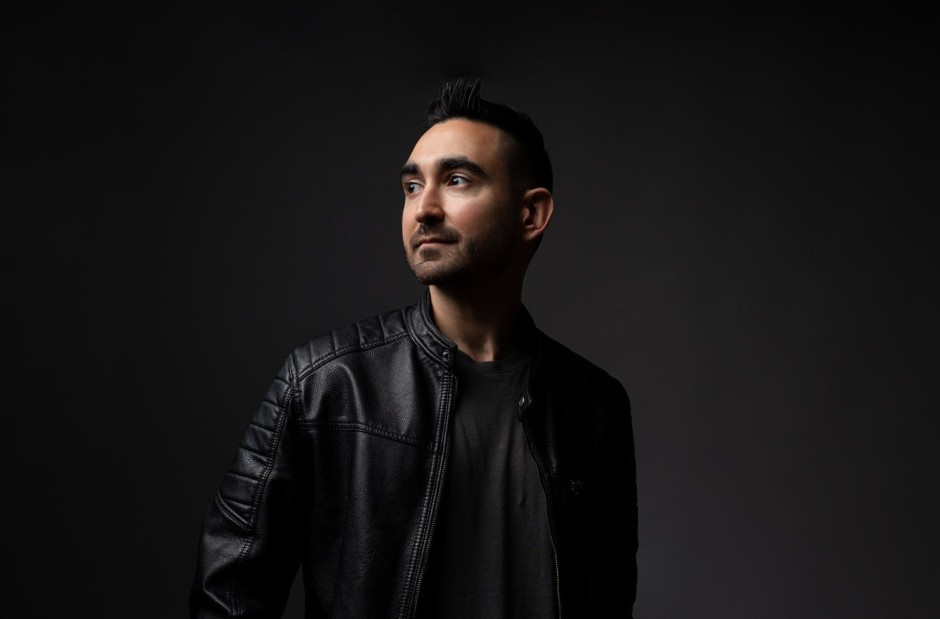 During the pandemic, Galestian launched his own Global Entry Recordings. A natural reflection of his evolution as an artist, its genre-crossing releases ('Hindsight' with Sebu from Capital Cities or 2022's 'One' featuring Denitia, for example) continue to garner club and radio support worldwide. 
"It was always a dream of mine to travel the world. I realized that if I didn't make plans to actually do it, it would remain nothing but a dream forever. I think it started in childhood with a family reunion in Cyprus, and later an exchange program in The Netherlands. The curiosity to explore our planet only got bigger from there. When I first made the decision to embark on a semi-nomadic lifestyle, I'd say my biggest passions were music and travel, which is how Global Entry Radio was born, and eventually Global Entry Recordings as an offshoot of that.
My travels have definitely permeated into my music. I find the psychology of music from different cultures very fascinating: the history of the instruments cultures have created and embraced, how music plays a role in people's lives, and most importantly how it brings people together. Personally, I've always been drawn to the mystical and transcendental qualities of music, so I find myself naturally gravitating towards the music that comes especially out of the Middle East, the Caucasus regions, and Asia. But I can find creative inspiration in transformative music from anywhere in the world.
Nomadic Producers is my response to a lot of curiosity and interest from other music producers who were wondering how I'm traveling long-term and still maintaining a consistent output of quality music. The first record I ever signed to Paul Oakenfold's Perfecto Black imprint was created on my mobile travel rig. It was called 'Rituals' and I finished it while I was in Japan. It's one thing to be used to producing music in a sound-treated studio, but the dynamics are completely different when you're limited to a mobile setup. But I found those limitations inspiring and ultimately liberating. Even though I'm not moving around as much these days, the mindset of simplicity and minimalism has still stayed with me, and perhaps even influenced my music directly."
"My travels have definitely permeated into my music. I find the psychology of music from different cultures very fascinating: the history of the instruments cultures have created and embraced, how music plays a role in people's lives, and most importantly how it brings people together."
2022 saw the drop of 'Galestian Remixed: Selected Proton Works', an impressive joint effort between Galestian's own Global Entry Recordings imprint, Desert Hearts Black, Click Records, and Perspectives Digital. A celebration of remixed works for Galestian by notable artists in the international melodic house and techno/progressive house communities, 'Galestian Remixed: Selected Proton Works' saw names like Fur Coat, Olivier Giacomotto, Matan Caspi, Stefano Richetta, Fat Sushi, and Ian O' Donovan reimagine his unique sound in flair.
"This is a release that I'm especially proud of because it's a collaborative effort in so many ways – not just with the artists who contributed their remixes, but also in tying it all together with the labels I've worked with so closely over the years. The compilation includes collaborations with Sebu from the band Capital Cities and also underground acts like Darin Epsilon, plus remixes by Fur Coat, Olivier Giacomotto, Matan Caspi, Stefano Richetta, Fat Sushi, and Ian O'Donovan. In a lot of ways, it's a summary of my current sound as an artist, coupled with the artists and labels who have inspired me. It took a lot of work to bring it all together, but I'm very happy with the way it has turned out."
Even after delivering a career-defining project, Galestian is poised to continue his journey with the same enthusiasm he had back in the Napster era as an avid music collector, and just as curious as the KUCI days portrayed him to be. 
"I have 2 releases coming up on Berlin-based labels: 'Pray' will be out August 19th on Dit Klingt Jut, and a remix will be out on Deep Tales on December 1st. In September, I have a track called 'Temple of Healing' which will be released on Polyptych with remixes by French artists ANMA and Da Fresh, German artists Starkato & Intaktogene, and Polyptych label head Michon. Lastly, I have 2 EPs called 'A Warm Place' and 'We'll Learn To Fly' to be released on my Global Entry Recordings imprint sometime in 2023. I'm super excited about all of it!" says Galestian about the next steps in his endless path.
Galestian's new single 'Pray' is out now via Dit Klingt Jut. Purchase your copy here.
Follow Galestian: Soundcloud | Facebook | Instagram | Spotify