OMRI. is, without a doubt, one of the loved figures roaming Tel Aviv's local scene and a breath of fresh air setting the tone of the vibrant new local generation.
Photo Credit: OMRI. – Official
 OMRI. has been producing independent, original music since his early teens and in the past couple of years took things forward, pursuing the next level. The OMRI. sound is deep and trippy, and is always part of a tale presenting an angle to his journey and evolution.
"I've been playing on instruments like drums, guitar, and piano from the age of 6. Music is something that was always around me. At home, my brother used to listen to drum n' bass all the time. It was also the golden age of MTV and I was addicted to that channel, so you can pretty much say I grew up on bands like The Prodigy, Beastie Boys, etc," says OMRI.
As expected, growing up in Israel, OMRI.'s first contact with electronic dance music came through the realm of trance.
"Throughout that time, I think I observed a lot of information regarding music but it wasn't until I was 17, that I went to my first real outdoor rave and discovered trance music, that I knew I wanted to become a music producer. I remember that experience perfectly. It was my first trip and the music blew my mind, I knew the electronic sound, but it was always part of a song, and there it was an endless ride of sounds. The same day I opened up YouTube and started exploring that world to learn how to make electronic music," he explains.
By now, OMRI. has become a mainstay in the Tel Aviv scene, having performed alongside Maceo Plex, Tiga, DJ Tennis, and others, but the road to finding his own voice has been a most interesting one.
"The local genre that ruled for a long time was trance, and it was also the first kind of music I heard in a rave, so naturally I started with psytrance productions. The first project I started was a duo with one of my friends who was already established in the industry, and at the age of 19, I got to go on my first International tour. We went for a tour in South & Central America and got to play our original music.  The change occurred when we arrived in Tulum. I heard house music for the first time and it hit me hard. At that moment I knew that this was my vibe. I left the duo and started producing house music. The combination of psychedelic coming from psytrance and the groove of house music led me to the sound I generate today,"  he tells us.
In Tel Aviv, OMRI. has also gained attention through his NEKOODOT project, which he  kindly explained to us in detail:
"Let's start with addressing the name, NEKOODOT means dots in Hebrew and it's a play on my name, OMRI DOT. NEKOODOT Is a weekly party line that came out of a need during the COVID lockdowns. The city was closed for a long time and there was a big change in the music culture, the clubbing scene started to fade away, so I decided I wanted to bring it back with parties that are mine, with the music I love, the artists I believe in, the crowd that I want around me while putting a big focus on musical education and platform for the future generation, to deliver non stop music innovation to the producers and ravers."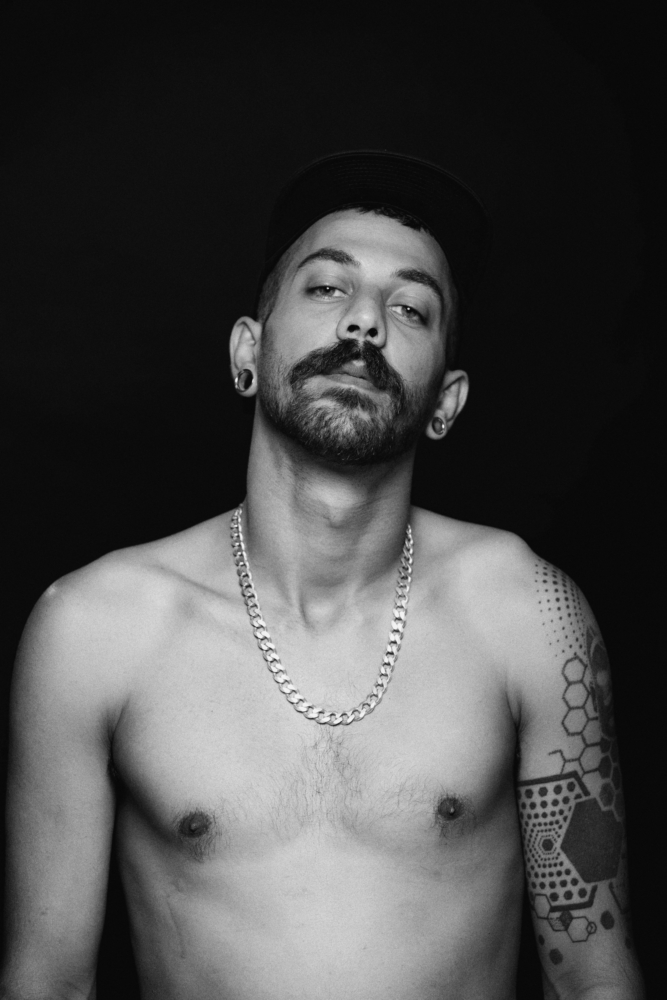 In parallel, OMRI. further cemented his place in the Tel Aviv scene through 'More than Friends', his co-owned weekly event series.
"The concept was a group of 6 friends that wanted to party with their friends. We started it in the year 2019 with Mita Gami, who is one of my closest friends and now one of the uprising names in the industry, Roi Zarhi from Hard To Tell, Nariz, Baroth, Tomer Sandner, and myself. We had more than 1,000 people every week on a Tuesday night. We were the hosts and the DJs, and over the years we had the pleasure of welcoming most of the local producers and international artists. It was a great time but after 4 years, in  2023, we decided that we got the best out of this line, and that it was time for each one of us to move on to the next projects."
Since 2020, OMRI. has been releasing his music on some of the most noteworthy and creative music imprints in the international circuit, including Guy Gerber's Rumors, Disco Halal, Frankey & Sandrino's acclaimed Frankey & Sandrino, German behemoth Mobilee Records, and more, creating a carefully curated discography.
"Since the beginning, I knew I was not going to compromise on my releases. I've set high goals for myself with specific labels in which I wanted to feature my music, believed in myself and in my music, and trusted the process. My studio routine is a NON-STOP one, I'm always in the studio working and improving myself. The question is not "When am I  going into the studio?", it's more like "When do I leave the studio?". This year I reached some of my goals with releases on Rumors, Rebellion, and another one coming on Crosstown Rebels, and it reassures my instincts," he says.
"I knew I was not going to compromise on my releases. I've set high goals for myself with specific labels in which I wanted to feature my music, believed in myself and in my music, and trusted the process"
The release on Rebellion OMRI. speaks of is 'Funk Rhythym', his latest musical offering.
"'Funk Rhythm' is a track I made almost two years ago in my previous studio. The track has everything I talked about in the beginning, psychedelics and groove. Rebellion was always my target, and It was important for me to have a release with them as part of my career as a music producer. My agent from Ritual Artists agency has good connections with Damian (Lazarus), so she introduced us. I sent him my music and he picked 'Funk Rhythm' for the label's compilation 'Souls Vol.4'."
But as much as all of this sounds,  the restless OMRI. has his sights set on even bigger things.
"My main goal when talking about impact is to spread the word on how limitless music can be. You can start a track with one idea and end it with a completely different one, I want to give others the courage and confidence to explore, to try new things, and to always break the barriers. As I said before, I try to deliver new references and standards to the audience and producers in order, and this is also my end goal, to become a mainstay in the frontier of music innovation. I think that my next releases will present this agenda with tracks that are unconventional, psychedelic, and funky."
As we bring the interview to an end, we move on to discuss what the immediate future has in store for one of Tel Aviv's brightest rising stars.
"I have a special release coming soon on a label that ranks high on my list, so I'm pretty happy with that. And for all of the Burning Man followers, I will be joining this year, so you can look me up on the stages. After that, I will make a quick stop in Mexico, and on the 14th of October, I'm playing with Echonomist and Jimi Jules at Mason Bar Limassol," he says, smiling about his promising future.
OMRI.'s 'Funk Rhythm' is out now via Rebellion. Download your copy here.
Follow OMRI.: Soundcloud | Facebook | Instagram | Spotify