It's rare to find a duo with as much live chemistry and raw creativity as GNTN, whose passion for music production started in their school years. Jan and Marcel were brought together by their excitement for building new sounds, which spurred years of friendship and a kind of music-savvy and creative drive that's impossible to fabricate. After honing their craft through school, the duo established its signature sound of powerful, deep, and melodic house and techno and after only a few years of releasing music, landed on some of the most influential underground labels like Filth On Acid and Stil Vor Talent.
We caught up with Marcel and Jan to dive deep into their origins, the release of their new single 'Something Lost', the rise of their new FACES brand, and much more.
Electronic Groove: Hi Marcel! Jan! Welcome, and thank you for sitting down with us for a chat. How have you guys been doing? What's GNTN up to at the moment?
GNTN: Hey guys! Thanks for chatting with us! All is good on our end! We just released our new single 'Something Lost' together with Oliver Wickham and are about to play two shows next weekend in Germany (Stuttgart & Hannover), so we are really excited about that!
Electronic Groove: Let's dive deep into your origins. When did you first connect with music? When did you make the transition to electronic music? Was there a record that changed things for you?
GNTN: We both met in our school years when we were around 16 years old. We quickly discovered our same taste in music and sooner or later started to jam around in FL Studio! We basically went through all kinds of genres, trying to identify our musical identities. What really stuck for us was melodic techno & the culture behind it. From then on it was a constant process of developing our interpretation of this genre, going back and forth always redefining our sound. In terms of music that changed our view on the genre we definitely have to mention Stephan Bodzin and his album 'Power Of Ten', which came out in 2015. Stephan is the prime example for sticking to a particular signature sound, while never sounding the same.
Electronic Groove: You guys have been in great shape as GNTN during the pandemic and lockdowns. How did you manage to navigate through it all, creativity-wise?
GNTN: Thanks! The pandemic obviously was pretty challenging. Still, we were able to spend a lot of time, reflecting on where we are coming from and how we want to adjust our musical path in the future. Out of these thoughts, we developed the idea of founding our own music-centered brand 'Faces', and had the honor to work with a lot of great artists, like Liu Bei or Eleonora. We definitely developed our sound a lot during the pandemic and got a clearer picture of where we want to navigate musically.
Electronic Groove: We've got to mention the great couple of collaborations with Eleonora and Liu Bei. How did those go down? What was the process like? Have you had a chance to meet them personally before?
GNTN: Eleonora & Liu Bei were on our radar for quite a while. We knew Eleonora from a lot of our favorite tracks and reached out to her one day with some instrumentals. Luckily she got back pretty fast and what followed was the outcome of 'Through The Silence', a track we got superb feedback on! Liu Bei is one of our favorite vocalists, ever since we heard his voice on Atlas World, which later on got pretty famous with the Solomun remix. His voice has such a unique & raw character. 'Start Again' was our musical symbol to start again, in different times, when things tend to be different at times, especially in a pandemic like this. Liu directly got the vibe of the track and perfectly translated that lyrically.
"Music was always connected to different layers of creativity:  visual art, nature, the night, food, and especially the exchange of these connected areas"
Electronic Groove: Speaking about collaborations…you've got another one coming out with the release of 'Something Lost'. How did you go about planning this stunning piece with Oliver Wickham? What is the inspiration behind this one?
GNTN: True! 'Something Lost' is our first collaboration with Oliver Wickham. When we first heard Oliver's voice on his previous single 'Dear Ben' together with Simon Doty, we were amazed by the depth of his voice. Again we just reached out mentioning, how much we were into his productions at this time. Luckily he got back and from then on it was a musical exchange with some ideas. 'Something Lost' is our personal interpretation of Melodic Techno and we are super happy with the end result.
Electronic Groove: And with it also comes the launch of 'Faces', right? Could you explain what the 'Faces' brand concept is?
GNTN: Faces is a music-centered brand, combining art in all facets.  For us, music was always connected to different layers of creativity:  Visual Art, Nature, The Night, Food, and especially the exchange of these connected areas. The combination of these layers creates the experience of the music we know today. People can expect a platform that thrives on connecting the faces of these different areas and making them come alive in one place.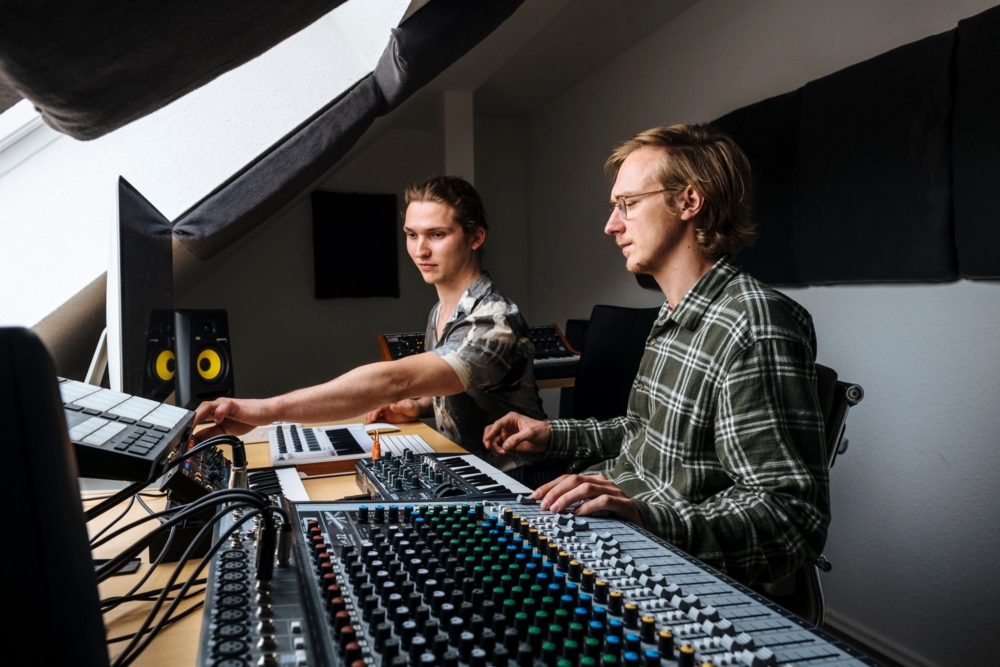 Electronic Groove: What place does each one occupy in the studio? What are your individual strengths or weaknesses? Do your roles play into making the most out of each skill?
GNTN: Our way of working in the studio, basically is a constant collaboration. One of us always starts a new idea and the other one of us works on it. This way, we have a constant flow of new input in the studio ☺ Jan always starts with the melodies, and Marcel always with the drums and baselines.
Electronic Groove: What else can we expect from GNTN and 'Faces' in the future? What are you looking forward to in the coming months?
GNTN: We definitely have a lot of interesting collaborations in the pipeline. We got one more single with Oliver Wickham coming out in November, as well as a new single with Eleonora & Haptic. For Faces, we definitely want to bring new faces of melodic techno on the platform and showcase other artists. We also plan to operate events in the future, bringing our vision of art to some selected cities & venues.
Electronic Groove: Thank you for your time guys! We wish you all the best for the future!
GNTN: Thanks for having us guys. It was a pleasure talking to you as always!
GNTN's 'Something Lost', featuring Oliver Wickham, is out now via their FACES imprint. Purchase your copy here.
Follow GNTN: Facebook | Instagram | Soundcloud | Spotify