Two decades of influential music.
Bedrock is preparing its next big release in order to celebrate 20 years of the seminal British powerhouse. Label boss John Digweed has personally reached a series of the imprint's collaborators to be part of the very special project.
The collection will feature 21 original tracks including names such as Josh Wink, Guy J, Marc Romboy, Alan Fitzpatrick, Robert Babicz, Pig&Dan, Paco Osuna, Ruede Hagelstein, Monkey Safari, among many others.
"This is an incredibly special project for us. The artists on the album consist of some of the most talented heavyweights in the house and techno scene and I am sure you are going to be blown away by the quality of the tracks on here. I hope you enjoy the album and thanks for twenty years of great Bedrock parties and music", Digweed commented.
An anniversary vinyl box set will be available created by a renowned London-based agency. "We wanted to create something truly collectable for this album, and Malone Design have really put together the ultra Bedrock Anniversary Box Set, and a first for us as a label", he added.
The music package will be available on June 22th.
For more details click here.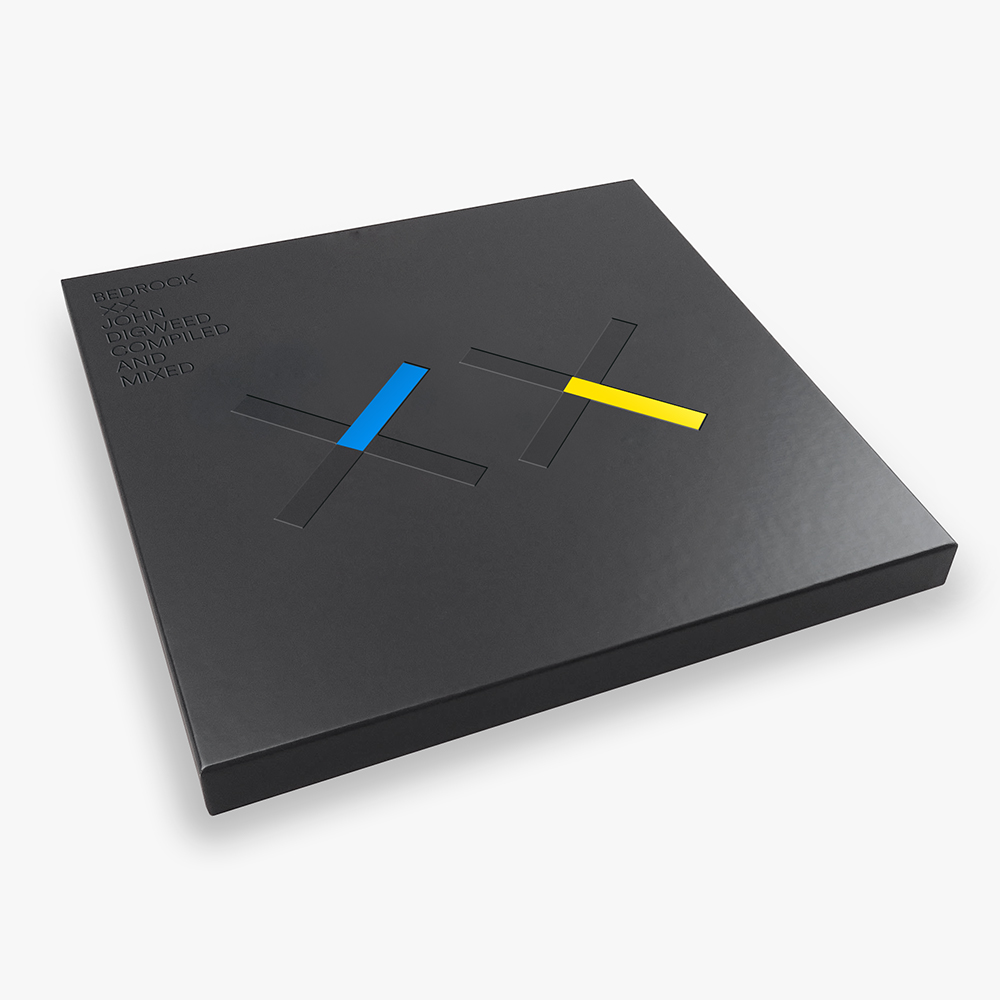 Vinyl 1
A1. Josh Wink – BPM
A2. Eagles & Butterflies Vs John Digweed & Nick Muir – Crazy Diamond Reprise
B1. Hannes Bieger – Mauna Loa
B2. Musumeci – WSSOF
Vinyl 2
A1. Guy J – End Of Lost Cause
A2. John Digweed & Nick Muir – Organia Atmos Beats
B1. Marc Romboy – Laika
B2. Martin Eyerer – El Circulo
Vinyl 3
A1. Alan Fitzpatrick – Vibes
A2. Lee Van Dowski – Ironclad
B1. Robert Babicz – Dream Machine
B2. Ian O'Donovan – Whiteout
Vinyl 4
A1. Ruede Hagelstein – Chromapark
A2. Oliver Lieb – Osyris
B1. Monkey Safari – Xelerator
B2. Paco Osuna – Your Lights
Vinyl 5
A1. Pig&Dan – Pick Me Up
A2. Fairmont – Malinalli
B1. Sam Paganini Ft. Zøe – Endless
B2. Yunus Guvenen – K'Aisha
4 CD Deluxe Box Set
CD1 Mixed By John Digweed
1. Eagles & Butterflies Vs John Digweed & Nick Muir – Crazy Diamond Reprise
2. Yunus Guvenen – K'Aisha
3. Guy J – End Of Lost Cause
4. John Digweed & Nick Muir – Organia
5. Quivver – On & On
6. Robert Babicz – Dream Machine
7. Josh Wink – BPM
8. Martin Eyerer – El Circulo
9. Fairmont – Malinalli
10. Musumeci – WSSOF
11. Monkey Safari – Xelerator
CD2 Mixed By John Digweed
1. Marc Romboy – Laika
2. Hannes Bieger – Mauna Loa
3. Ruede Hagelstein – Chromapark
4. Paco Osuna – Your Lights
5. Sam Paganini Ft. Zøe – Endless
6. Lee Van Dowski – Ironclad
7. Pig&Dan – Pick Me Up
8. Oliver Lieb – Osyris
9. Alan Fitzpatrick – Vibes
10. Ian O'Donovan – Whiteout
CD1 Unmixed
1. Josh Wink – BPM
2. Hannes Bieger – Mauna Loa
3. Robert Babicz – Dream Machine
4. Quivver – On & On
5. Yunus Guvenen – K'Aisha
6. Monkey Safari – Xelerator
7. Ian O'Donovan – Whiteout
8. Musumeci – WSSOF
9. Guy J – End Of Lost Cause
10. Eagles & Butterflies Vs John Digweed & Nick Muir – Crazy Diamond Reprise
CD2 Unmixed
1. John Digweed & Nick Muir – Organia – Intro
2. Marc Romboy – Laika
3. Oliver Lieb – Osyris
4. Fairmont – Malinalli
5. Martin Eyerer – El Circulo
6. Sam Paganini Ft. Zøe – Endless
7. Pig&Dan – Pick Me Up
8. Paco Osuna – Your Lights
9. Lee Van Dowski – Ironclad
10. Ruede Hagelstein – Chromapark
11. Alan Fitzpatrick – Vibes
Bedrock Slipmat x 2
Bedrock Keyring / Bottle opener
Bedrock Lanyard
Bedrock 12 x 12 Prints
Bedrock XX T-shirt