Photo Credit: Bellamy Brewster
Cassian is a live electronic musician currently based in Los Angeles. An accomplished producer, DJ, and mixing engineer, he has cemented his name as one of the most versatile talents to emerge from Sydney's flourishing electronic scene. In 2018, Cassian became the first artist on RÜFÜS DU SOL's imprint Rose Avenue, where he's released buzzing singles 'Lafayette', 'Same Things', and 'Magical' with ZOLLY (Phil Slabber of Crooked Colours). A respected and seasoned performer, Cassian has played for tens of thousands alongside the likes of Hayden James, Dom Dolla, RÜFÜS DU SOL, and Yotto, while also selling out headline shows and commanding festival sets.  
Now, Cassian will be a part of RÜFÜS DU SOL's 'Sundream' Festival this March 10th with Bob Moses (Club Set), Monolink, Keinemusik's Adam Port, WhoMadeWho, Sainte Vie, Magdalena, Eelke Kleijn, Lastlings, Mira, Paraleven, Carlita, and more.
As the inaugural date for RÜFÜS DU SOL's 'Sundream' Festival comes closer, Cassian shares 5 studio tips to raise your game in the studio.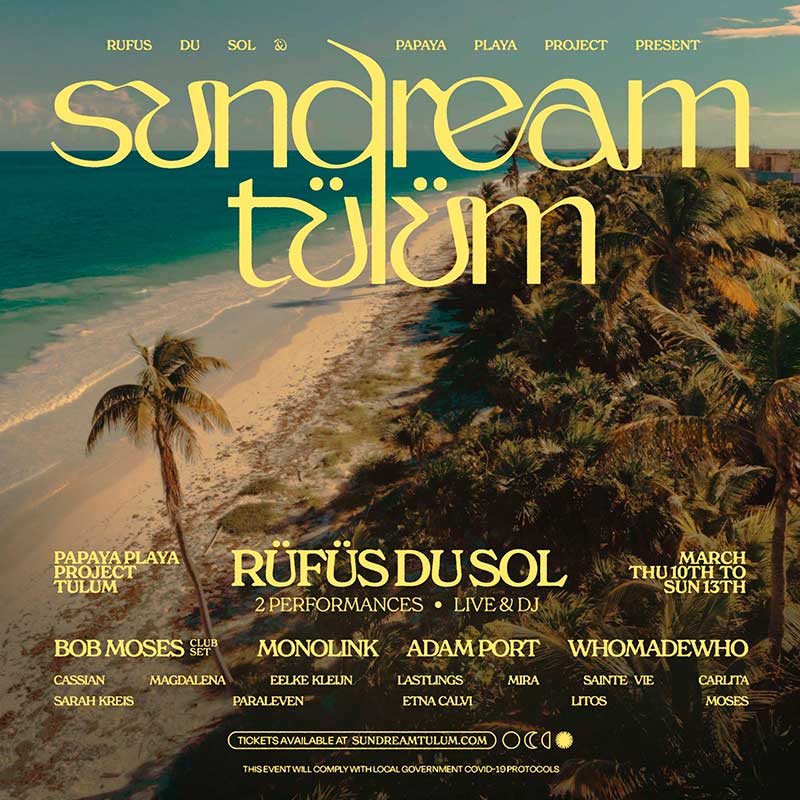 1. Envelope Generators
Envelope generators like LFO Tool or Volume Shaper are incredibly powerful tools. There are a million creative ways to use them outside of creating a standard side chain effect. Here are a few of my favorite ways to use them:
a) To help refine the shape of my kick. As compression builds up in the track it can turn your kick into a shapeless sausage. It's almost always really beneficial to bring a nice smooth taper shape back into the kick.
b) To create or refine shaker/hat sounds & loops. Love finding interesting foley soundscapes and running them through a tight 16th grid volume shaper to create an interesting layer to my shakers. Similarly, if I'm working with a loop that is slightly loose and editing/warping isn't making it tight enough I can use the same technique to tighten it up and bring it into line.
c) On pads or other sustained elements to create rhythm. Similar to classic gating techniques, but way easier and with really precise control.
2. Frequency = Pitch = Melody
Less of a tip and more of a larger concept. Is your track feeling a little dark? Can you add some higher notes or a higher melody? And vice versa if your track is feeling a little thin. This concept is also important to remember when EQing or filtering, as you are altering/removing certain notes in whatever it is you're affecting.
3. Ableton Max LFO
This is such a powerful tool. One of my favorite things to do is to use it in conjunction with a delay to create subtle timing variations on printed audio. Take the Ableton delay, lock the left & right channels, set the time to 1ms & feedback to 0. Grab the Max LFO and map it to the delay time. Then drag the offset all the way down to -1 & adjust the rate (slower is usually better) and depth to taste. A few ms on a slow rate usually works great on things like hats & shakers.
4. Ableton Chains
Such a powerful way of doing parallel processing within one channel. One of my favorite ways to use them is for vocal throws & verbs. I never liked having them on a separate send that went straight to the master. Something about the glue of being compressed a little on the vocal bus with everything else just feels better to me. For throws, create an Audio Effect rack and add a chain. Leave one as the dry and one that will become your throw chain. Add a delay and insert a utility before the delay. Turn the utility gain level all the way down and just automate it up whenever you want a throw.
5. Dynamics Are Everything
Again, this one is more of a concept than a direct tip. Try to think about the dynamics in everything. Lots of reverb in your session? Try some big wide long ones, some mono plates, some medium rooms, some with only early reflections & some with no early reflections. Try to think about how to extract dynamics at every turn. How loud can you go? But also, think about how soft can you go.
Cassian will be a part of RÜFÜS DU SOL's 'Sundream' Festival this March 10th. Purchase your tickets here.
Follow Cassian:  Spotify |  SoundCloud | Instagram | Facebook