Chris Avantgarde is a German-born, London based artist, producer & composer best known for his off-kilter approach towards electronic production. His work includes placements in hit TV shows, blockbuster movie trailers and household entertainment companies alike, including DARK, Lucifer, Ragnarok, Sicario 2, Birds of Prey, HBO, Netflix, Starz, Toyota, and Xbox.
Now, Chris is set to perform at Seismic Dance Event's Seismic Spring: Lite Edition, at The Concourse Project in Austin on May 19-20. The two-day Seismic Lite Edition will employ a one-stage outdoor format where fans can properly celebrate the return of warmer weather in an even more intimate environment than Seismic's flagship November festival. Known for fostering a tight-knit community of underground and electronic music lovers, the one stage and one shared experience of Seismic Lite only further cement this status.
To get into the Seismic Spring: Lite Edition mood, Chris Avantgarde selects his 10 favorite tracks on rotation.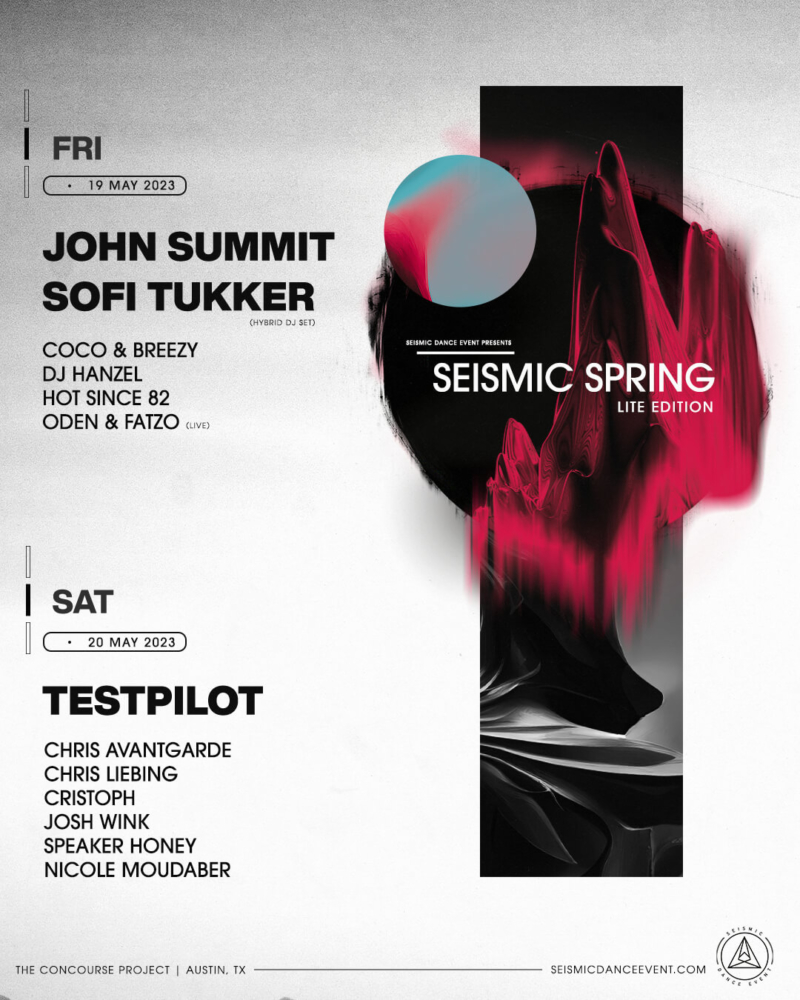 1. Tale of Us – Hangar
"An Afterlife classic, this track to me is the epitome of simplicity and effectiveness. Started playing it again and it's just a timeless weapon that always works." 
2. Ryuichi Sakamoto – The Revenant Theme (Alva Noto Edit)
"One of many masterpieces by the late Ryuichi Sakamoto – may he rest in peace. Anyma brought this song back into my memory last spring and it's been on repeat since." 
3. Boards of Canada – Olson
"Some of the most beautiful sounding saturation & distortion ever created. Amazing how much emotion a few channels can bring. Inspiring."
4. Stef Mendesidis – Chroma
"If Lil Louis and Floorplan had a child It would probably sound a little something like this. Just can't seem to keep still to this one, also the snappiest compressed 909 clap in recent memory." 
5. Horizon – Magnetic (Matt Sassari Remix)
"A couple of years old, I dug this one back out, and now play it almost every set. It's a masterclass at low-end, a highly effective dance floor filler." 
6. Light Minded – Impedance
 "Love how hypnotic this one is, also playing this one a lot lately. The polyrhythm just takes you to another dimension."
7. Rebüke – Glow
"Loving Rebüke's recent development in sound, this one has already become a favorite of mine."
8. Florian Kruse & Kevin Knapp – Rhythm Speech
"There are some tracks that just work, this is one of them. Without fail – how they arranged this one is always hitting the spot when playing it."
9. Robag Wruhme – Veddel Baaf
"I heard this the first time in a 100-something people capacity club in Germany with Robag playing this on a Funktion One system that was total overkill for the small room. Incredible memory and the track has stuck with me ever since."
10. Anyma & Chris Avantgarde – Eternity
"Not to toot my own horn too much here but I'm proud of this record. We didn't expect it to do better than its predecessor 'Consciousness' and honestly it has kind of blown 'Consciousness' out of the water in comparison. Great to see it being received so well." 
Catch Chris Avantgarde at Seismic Spring Lite Edition. Purchase your tickets here.
Follow Chris Avantgarde: Spotify | Instagram | SoundCloud | Facebook