Cole Knight is a multi-instrumentalist, DJ, and producer, originally hailing from Midwest America. It was during nights out in Chicago and Detroit while attending university in Michigan that she first got a taste for the dance floor.
She's performed at festivals and clubs such as Coachella, Pacha Ibiza, Diplo's Higher Ground, Paradise, Zamna, Wecandance Fest Belgium, and more.
Her remix of Diplo's Grammy-nominated record 'Don't Forget My Love feat. Miguel' was released in December 2022. Notable artists she has shared lineups with include Diplo, Black Coffee, DJ Tennis, Romy xx, Damian Lazarus, Maceo Plex, &me, Seth Troxler, Jamie Jones, Kim Ann Foxman, and more.
Cole has featured in ad campaigns for Adidas, Stella McCartney, SSense, and appeared in Vogue, Marie Claire, and Nylon Magazine, and has new music on the way via Diplo's Higher Ground imprint for summer 2023.
Held at Pershing Square on June 3rd and 4th, 2023  in partnership with LA powerhouse Future Primitive, 'Paradise In The Park' will see performances from SG Lewis (DJ Set), DJ Harvey, Jamie Jones b2b Seth Troxler, Mason Collective, Chloe Caillet, Honeyluv, and more
Jones' globally renowned Paradise series first debuted in 2012 at the legendary DC-10 in Ibiza. In conjunction with Future Primitive, Jamie Jones first debuted the 'Paradise In The Park' concept in 2017, selling out Macarthur Park, followed by another sold-out show in 2019 at Grand Park, before moving to Pershing Square in 2021.
Cole Knight will be performing at Paradise in the Park on Saturday, June 3rd, 2023. Ahead of the special event the artist selected 10 tracks to listen to before. For more info and tickets click here.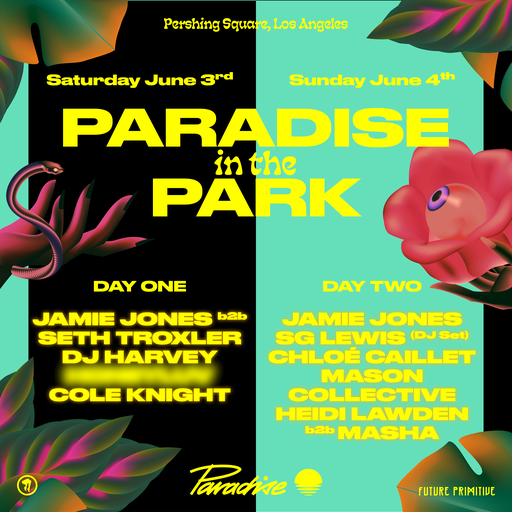 1. James Pepper – Praise you
"This one is a heater, wow! I love the groove and the euphoric summer house vibe while still keeping high energy. Plus the vocals add a proper crowd-moving element"
2. Gat Decor – Passion (Naked Mix)
"This is one of those tracks I could listen to forever. It feels like Gat Decor is telling us the wildest story, almost like an entire DJ set packed into one delicious record. I love showing this to
everyone I love. It's too good to keep to myself."
3. Unknown Artist – Chicos, Chicas – TCR002
"I discovered this track at T-Bag Records in Miami. Taimur, the owner of the shop has incredible taste. This is one of the records he pulled for me. I have been hooked ever since. The chaotic drums, unique vocals, and silly little dodadodada build-ups get the party going."
4. Bailey Ibbs – Nokstella
"This one reminds me of an old-school Nina Kraviz vocal with a fresh twist and a lot of energy. It makes me bounce up and down like I'm already at the rave."
5.  LouLou Players – Thinking About (FREY's Gym Remix) – LouLou Records
"Just picture it: old school deep house bassline under the sexy funny vocals "thinking about going to the gym, ha , yeah…", How can you not smile and groove to it?"
6. Sweely – Problems 
"This whole album is sick! My favorite track is "Problems". I love the Zep sample and Kraftwerk vibes. This bouncy heater
brings the party."
7. Sexy Acid – Black Cadmium 
"This track puts me into a trance. It's like an acid lullaby but hits the dancefloor hard. The layers that keep adding on as the
track progresses make you feel like you're in a video game advancing to the next level every minute or so. It's become one of my most played tunes this year."
8. Miguel Lobos – Escuchela 
"Sexy vocals and cool grooves mixed with dreamy piano chords, say less."
9. Saraga – No
"From the first note you feel the psychedelic groover
developing. There is a trippy progression that keeps you on your toes wanting more as you lose yourself in the journey."
10. Rollin Bass – Fleax
"This bass hits. I love the subtle progression of
elements as the track intensifies. One of those heavy hitters that makes everyone scrunch up their faces and bob their heads." 
Cole Knight will be performing at Los Angeles Paradise in the Park on June 2nd, 2023. For more info and tickets click here. 
Follow Cole Knight : Instagram I Soundcloud I Spotify