Danny Howells has been a prominent figure in the house music scene since the late 1990s. He has earned the nickname "the DJs' DJ" and has consistently remained true to his unique style despite the ever-changing trends in dance music.
Photo Credit: Danny Howells – Official
He doesn't create music just to stay popular. Instead, he only releases music when he feels inspired. Danny isn't someone who is obsessed with publicity or social media, nor is he someone who tries to reinvent himself with new aliases or aggressively pursues an overbooked DJ schedule.
Danny Howells has quietly worked his way through the ranks in the world of house music and has continued to make his mark. His organic approach has helped him maintain his position as one of the world's most captivating selectors. His impeccable selection, distinctive style, and smooth mixing are a testament to his talent. In recent years, Danny has released several well-received EPs on Germany's 8bit label, including 'Earthlings,' 'Shortwave,' and 'Dayshift' on Selador, the label of his long-time friend Dave Seaman. Danny has also been touring regularly with Darren Emerson as 3D.
Danny is scheduled to perform at Selador Recordings' 10th-anniversary celebration at ADE on Saturday, October 21, 2023, at Boom Chicago. EG had the chance to discuss Danny's upcoming performance, as well as his animal rights activism, volunteering, and future plans.
EG: Hi Danny! Welcome to EG. It's always a pleasure to have you here with us. How have you been? Where are you right now?
Danny Howells: Thanks for talking to me again! I'm home in London, having spent a chilled morning checking out new tunes, and will get ready to go out and enjoy the sun once I've chatted to you.
EG: So you are going back to play in Amsterdam after some time. What are you most excited about for your set at Selador Recordings' 10th-anniversary celebration at ADE? Can you give us a glimpse of any special surprises you might have in store for your performance?
Danny Howells: Well it's my first gig in Amsterdam in years so just getting back there is a big thing for me. This is without a doubt the longest time I have ever been away. The party will be amazing, and getting together with the Selador crew is always a blast. As far as surprises go, I never know! We just have to see how things pan out on the night.
EG: Reflecting on your journey with Selador Recordings, can you share a pivotal moment or project that has shaped your artistic evolution as a DJ and producer? What does being a part of this celebration mean to you?
Danny Howells: I guess the pivotal moment would have been releasing Earthlings X a few years back. I hadn't produced any music in years, and it was really down to Dave Seaman's encouragement that I went back in the studio and started making music again with Jay Gilbert, who is amazing to work with. That kind of opened the floodgates again for me and a whole stack of releases followed. Dave needs to nudge me again as I've gone back on hiatus!
Being part of the celebration means a lot, I think Dave and Steve Parry are so dedicated and enthusiastic and have developed a real community vibe with Selador. And they've been so supportive of me which is something I really appreciate.
EG: The Dark Wonderland Circus theme sounds intriguing. Could you delve deeper into how you plan to translate this theme into a musical experience during your ADE set? Are there specific tracks or styles you'll explore to capture the theme's essence?
Danny Howells: Again, I don't know. Whatever the theme, I just do what I do which is to try and play the best music I can get my hands on.
"I never really pay attention to the trends and can honestly say that my focus, from the very beginning, has been purely on finding and playing the music that I love"
EG: Balancing artistic integrity with the ever-changing trends in dance music can be challenging, but you seem to have successfully navigated this. Can you share a particular experience where you managed to find this balance, and how did it impact your career?
Danny Howells: Questions like this are quite hard for me to answer as I don't feel I've ever consciously tried to navigate my way through anything! I never really pay attention to the trends and can honestly say that my focus, from the very beginning, has been purely on finding and playing the music that I love, regardless of genre. Right now I'd say we're at a stage overall where social media has probably become more important than music, so this is something I've not navigated at all! The older I get, the more I grow to dislike social media – for many reasons.
EG: Small clubs offer a unique intimacy with the audience. Could you recall a memorable moment when this close connection with your audience led to a magical experience during one of your performances?
Danny Howells: Picking one is hard – for me, it's about those moments where you're not having to think or trying to plan the next five songs or whatever, it's just flowing. When the crowd is in front of you and they're immersed, and you're feeding off them and so on. The best nights for me have always been about the connection – and it doesn't always have to be a small crowd. Argentina is one place where you can still have that intimate connection at a larger event.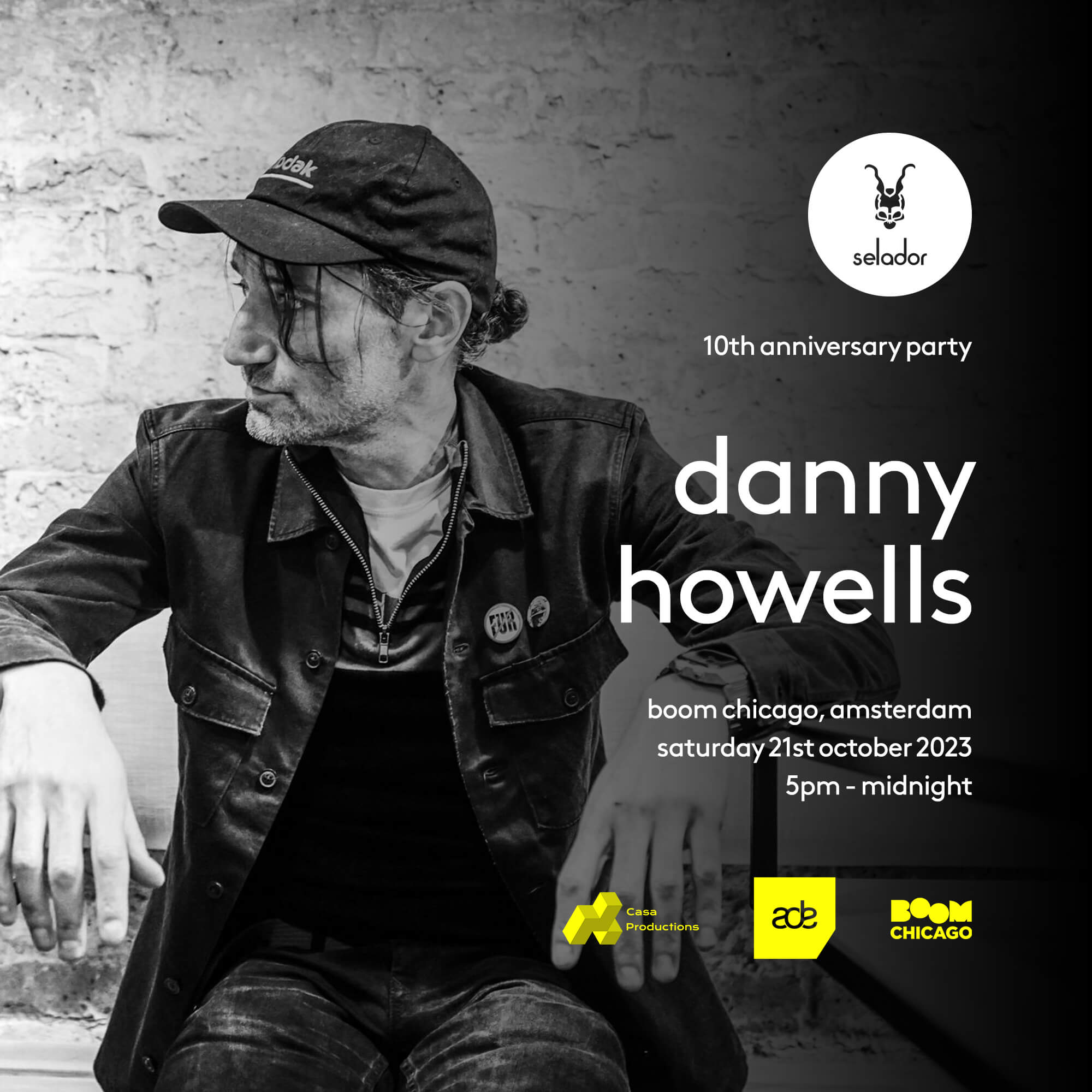 EG: Your journey as an animal rights activist is inspiring. Is there a specific event or encounter that ignited your passion for this cause, and how has it influenced your approach to music and life in general?
Danny Howells: Thank you! There were so many events that took me down this path – I'd seen various clips online of animal cruelty, some footage of fur farms for example, images of animals being tortured in labs, and so on. Then there were also random events that got me thinking about my relationship with animals, like when I was out cycling in Sussex one day and I stumbled across a sheep stuck in a river – my immediate response was to get in there and help free him – I got totally drenched and ruined my Converse but it was worth it.
All these things made me start thinking about how my actions were contributing to the immense suffering and exploitation of animals so I just started looking more and more into it, and after a while, I realized that going vegan was the only option for me, and I never looked back. After a year or so I decided that I wanted to do more so I got involved in activism and was helping to run various events and so on, until COVID struck, which pushed me to get more involved in wildlife rescue, which is what I mainly do now.
"The best nights for me have always been about the connection – and it doesn't always have to be a small crowd. Argentina is one place where you can still have that intimate connection at a larger event"
EG: That's fantastic! And now that you've embraced veganism as a lifestyle, what are some practical tips you can offer to individuals who are considering making the transition to a vegan or plant-based diet within the demands of a busy DJ's lifestyle?
Danny Howells: I think we are now at a point where it couldn't be easier. The knowledge and information that is out there is staggering. Obviously, veganism is about much more than just eating a plant-based diet but adjusting our eating habits is probably the most daunting aspect for many. There are plant-based substitutes for nearly all foods which are great for helping with the transition away from animal-based foods. The quality and availability of these are improving all the time but it's good to remember that these won't always be that healthy – limiting processed food is important, whether you eat animals or not.
For DJs on the road, it is a doddle. You have the HappyCow app which helps you find good restaurants worldwide, whether you're looking for totally plant-based or those which provide vegan options. You have Google Maps, translation apps, and so on. And if you're struggling for time and only have time for a quick meal at the hotel then if there's nothing obvious on the room-service menu, just have a quick chat with the kitchen or front desk. It's very rare that they won't be able to come up with something.
EG: How do you blend your music career and your commitment to animal rights activism?
Danny Howells: Like I said before I've moved more into helping with the rescue side of things now. I am mainly volunteering with London Wildlife Protection now and I love it. The DJ side of my life has been slowing down for a while now, so this is something that really keeps me busy and physically active. There are no specific projects lined up – I'll just do what I've always done and see where this all takes me. I've always just stumbled into things and I like that.
EG: Looking ahead, what exciting developments can your fans anticipate regarding your upcoming tours and studio projects? Is there a specific direction or concept you're exploring in your music that you'd like to reveal?
Danny Howells: There are some great parties coming up including the ADE event, of course! There are other bits dotted around and then I'm back in Argentina for December, hopefully New Year's Eve too. But overall I don't know where I'm headed with the musical side of things. Like I said it's slowed down for me, and I'm not one to go chasing extra work and so on as I'm so happy just pottering about, doing my rescue stuff, walking around London, visiting record shops, etc. I don't handle stress and pressure that well, so this kind of lifestyle really suits me!
I think that there are certain places where I've probably played my final gigs already, maybe without even realizing it at the time. For example, I don't know if I'll tour North America again. I don't even have an agent there anymore. But I'll see what happens – maybe something will shake me up but for now, I'm more than happy just rusting away.
EG: Thanks again for taking the time and we are looking forward to joining you at Selador's 10th Year Anniversary!
Danny Howells: Thank you again – you always support not just myself but many others and it's really appreciated.
Danny Howells is scheduled to perform at Selador Recordings' 10th-anniversary celebration at ADE on Saturday, October 21, 2023, at Boom Chicago. Get your tickets here.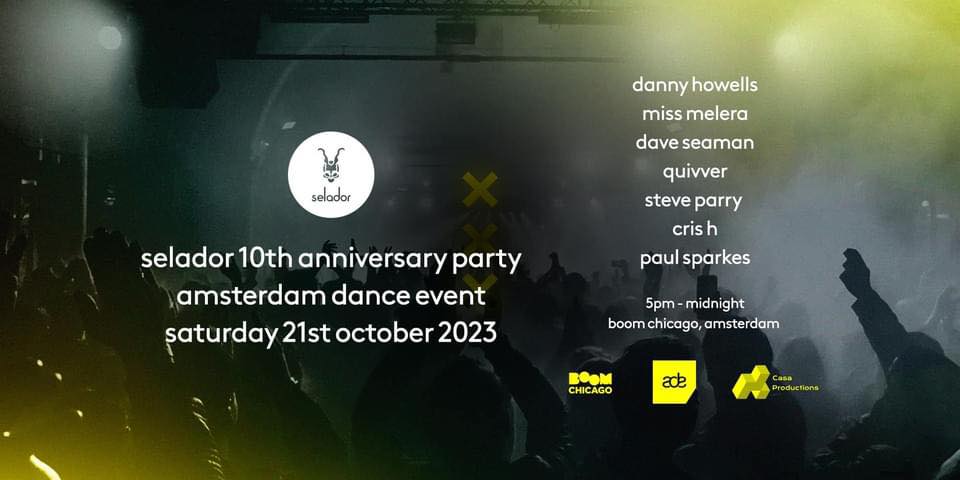 Follow Danny Howells: Soundcloud | Spotify | Instagram | Facebook