David Lindmer is a UK-born artist based out of New York. It was in 2018 that he really found his signature sound characterized by driving, powerful techno that is rich in melody and cinematic drama. Having worked within the VFX industry for many years, David's passion for sound design and cinematic scores also led him to explore the relationship between audio and visual arts. Lindmer is also the co-owner of Melodic Techno label Running Clouds founded in 2018 and the Chromia Sound collective. With recent high-profile support from the likes of Tale of Us, Mind Against, and many more, David continues to develop as an artist and push the boundaries of immersive audio.
Now, the artist returns to his own Running Clouds for a very special release. A very personal piece written during the lockdown, 'Omen' is a collaboration with Berlin-based vocalist Johanson and lands alongside a stunning music video created by director DRUST.
We caught up with David Lindmer to dig deep into the release of 'Omen', his upbringing back in the UK, the connection between audio and visuals, and much more.
Electronic Groove: Hi David! It's a pleasure to have you here with us. How are you doing? How are things in NY looking like at the moment?
David Lindmer: Hi guys, thanks for having me! Yeah, I'm alright, it's been a strange year or so but things in New York are starting to feel better again. I can tell you that the city is buzzing now and people are definitely out enjoying themselves again. During the main lockdown, a lot of the bars and restaurants built outdoor dining areas which have remained there to this day, so going out here has a more European feel to it which I really love that was lacking a little before. That said, there is still quite a bit of uncertainty ahead: it's not quite as easy as just flipping on a light switch and everything goes back to how it was. A lot of musicians and people working within the entertainment industry are still struggling but we are getting there.
Electronic Groove: So, let's kick this off from the beginning…What were your first musical interactions like? Do you come from a musical home?
David Lindmer: For as long as I can remember I have always loved music. I'm quite a nerdy technical kind of guy, but my mum was a grade 8 pianist, so I think that is where I get my musical side from. I can't even begin to describe how important music is to me, whether I am at home, in the studio, on my bike, or at work. It's what I consume and breathe every moment of the day. In terms of electronica, my first gig was seeing the Prodigy at Glastonbury aged 13. My friend's older brother was a bit of a raver and would always tell us these mad stories of illegal raves, so I was aware of dance culture but that gig just changed everything for me. The crowd, the togetherness and the energy those guys brought on stage were just unreal and I knew dance music was always going to be something important in my life. Later into the early 2000s, I was big into UK Garage. I loved those big FM-style basslines and still do to this day. That's when I got my first DAW and I actually started making music myself. I'm self-taught but I've been at it a very long time. Over the years I built up my studio with various analog gear, always striving to learn new things and taken courses in sound design, mixing, mastering… the technology moves so fast that I always have to be constantly learning and looking to improve.
Electronic Groove: When did you come across VFX? Was there a movie that changed everything for you?
David Lindmer: I love cinema and I studied it at college so it was always an industry I wanted to get into. 'Jurassic Park' is probably my favorite film of all time: still gives me goosebumps that film, and visually absolutely stands the test of time. I obviously work within VFX so I am appreciative of fully CG films, but the combination of models and VFX used by Spielberg in that movie is just awesome and something that you really don't see much of in more modern films anymore, often to their detriment.
Electronic Groove: So you decided to move to New York. When did that happen? How is the scene different from the United Kingdom?
David Lindmer: Yeah, I moved here in 2014 with my VFX company. The scene is definitely different from how it is in Europe and London. Techno is not as ingrained in the culture as it is in places like London, Amsterdam, Berlin…but, for sure, it's growing and starting to get big here. Burning Man is obviously a massive thing over here and I love those parties too, so yeah it's a different vibe but in a good way. I love seeing music scenes grow and develop, and that's definitely happening in the United States right now.
"It's literally just allowing every single one of my influences musically and my life experiences to manifest themselves
and have a real impact"
Electronic Groove: How would you define your music? And if you had to do it with only colors? Which kind of palette do you think you'd find in your music?
David Lindmer: My music is usually very emotive and I try to make it impactful and dramatic, which I would say is the cinematic influences coming through. I like to think of it as an expression of who I am and where I am at that moment in time. My sound has evolved over the years and I feel right now the stuff I am creating is a sound I have been striving for since I first started. I feel extremely comfortable and confident in the studio at the moment, more so than ever. It's literally just allowing every single one of my influences musically and my life experiences to manifest themselves and have a real impact. I think if I had to choose a pallet it would be a darker palette to evoke that sense of emotion and drama.
Electronic Groove: Speaking about your sound…you've got a brand new collaboration out with Berlin-based vocalist Johanson. How did 'Omen' come about? What was the process for the lyrics like?
David Lindmer: I wrote 'Omen' as the very start of the pandemic. Being able to create and make music during those times was such a savior for me in many ways, which makes this track particularly special. I like to pour my entire self into every release anyway, but I am used to making club bangers, and with clubs all closed, I set out to make 'Omen' a much more emotional piece. I wanted it to feel like a self-contained moment within this whole lockdown, and for me, that is how it feels.
Johanson was a pleasure to work with throughout the creative process, he was introduced to me by my friend Mark Tormonea and we instantly started vibing and coming up with ideas. He wrote all the lyrics himself and his voice had this lovely haunting emotive quality that I was looking for and I just think it works beautifully well with my music.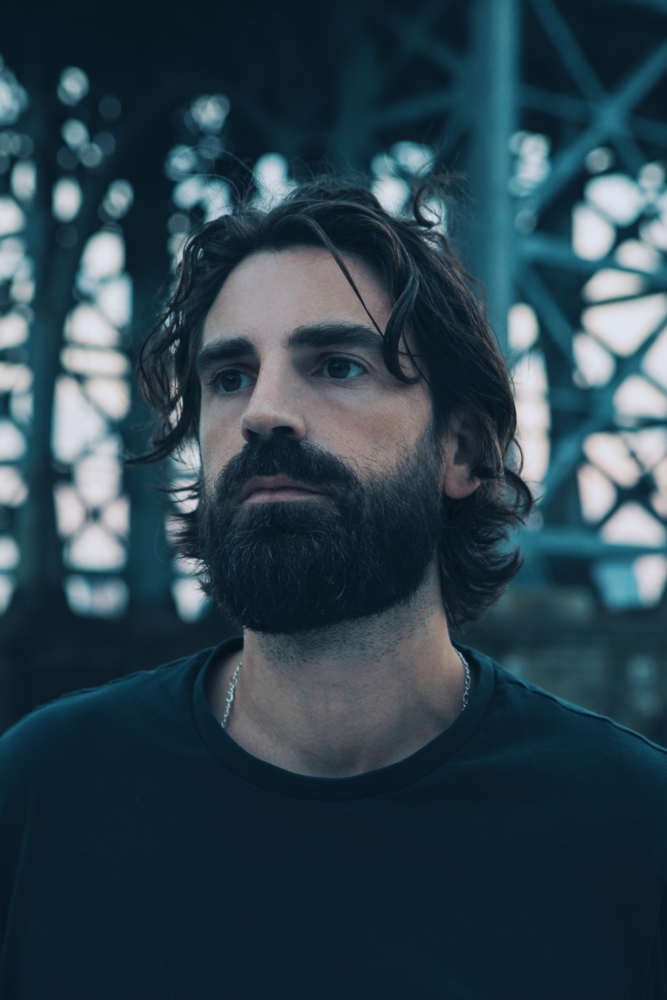 Electronic Groove: What sort of things inspire you? Do you tell stories through your music?
David Lindmer: Yeah, I think all good music should tell a story. I like to get completely lost in a track when I'm composing it. I imagine it like a film: at first, you are introduced to the different characters (the instruments) then you will watch them evolve on their journey and they all have their own unique characteristics, then there is a climax with moments of tension and drama (in a film this is what we call the third act), and finally, the release and resolution which satisfies the listener. I just enjoy creating those moments so much. Whenever I finish a track I always need feedback and I have some close friends who I admire and respect and will always be honest with me. The most important question for me is always "how does this track make you feel? Like, in that particular moment, what emotions are you feeling?"…So yeah, I always want to try to tell a story, but I don't ever want it to be predictable.
Electronic Groove: What was the best record you've heard or movie you've seen lately? Why would you recommend it?
David Lindmer: Oh man, if you ever get the chance, go and watch 'People Just Do Nothing' on BBC. It's a comedy mockumentary in the style of 'The Office' and it follows a group of musicians who own a pirate radio station. None of the guys are professional actors, they started on YouTube, then they did the BBC series which won the BAFTA award, and most recently they have just finished a feature film. It's such an amazing journey of just a group of mates and one that really resonated with me having come from that same UK Garage background of pirate radio etc.
"Yeah, I think all good music should tell a story. I like to get completely lost in a track when I'm composing it.
I imagine it like a film"
Electronic Groove: What's in store for David Lindmer and your label Running Clouds for the second half of 2021? What new milestones are you looking forwards to?
David Lindmer: To be honest I am incredibly proud of what we have achieved with the label in a relatively short space of time. We just want to continue doing what we do best. Finding music we love and giving those up-and-coming talented guys the platform they need to be successful. We are nothing without the artists so we always try to look after them the best way we can and seeing how successful some of them have gone to become especially in the last year is extremely rewarding.
Electronic Groove: Thank you for sitting down with us David! We wish you all the best!
David Lindmer: Thanks guys, it's been an absolute pleasure. Hope to see you on the dance floor soon!
David Lindmer's 'Omen', featuring Johanson, is out now via Running Clouds. Purchase your copy here.
Follow David Lindmer: Facebook | Instagram | Soundcloud | Spotify
Follow Running Clouds: Facebook | Instagram | Soundcloud