Sandbox Festival is one of the world's most playful and beautiful destination festivals and it is back in El Gouna, on the Red Sea Riviera in Egypt.
Photo Credit: DESIREE – Official
 From May 11th – 13th, 2023, friendly music lovers and a world-class selection of international DJ talent will unite in this gorgeous spot for music, sports, recuperation, and a soundtrack that is second to none.
This year the tunes are provided by acts like Agents Of Time (DJ Set), Astra Club aka Carlita B2B DJ Tennis, Cici, Dan Shake, Denis Sulta, DESIREE, Francesco Del Garda, Hamish & Toby, and more.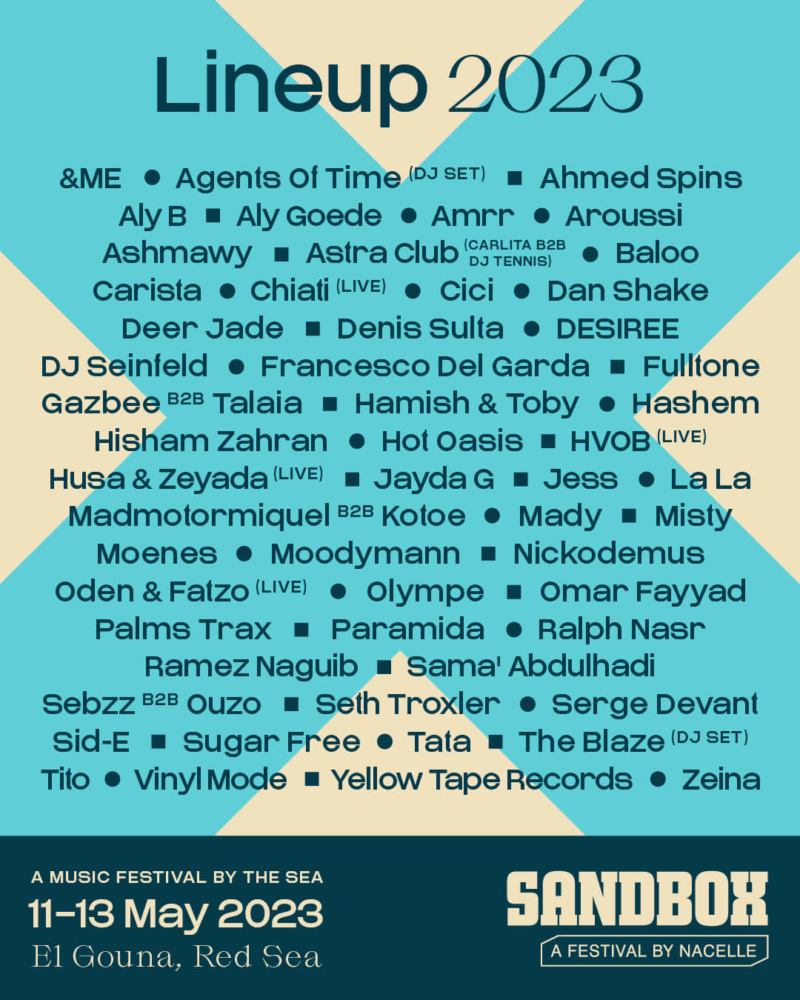 Here DESIREE provides us with a selection of 10 tracks ahead of her performance at Sandbox 2023.
1. Nutty Nys – The Promise
"A true masterpiece which reminds me why I love music. The mix is so crisp." 
2. Chronical Deep – Take Over
"Happy music is my kind of music. Not sure what Chronical Deep was feeling when he composed this one, but it does evoke a joyful energy to me." 
3. Bella Boo – Get Away
"Bella is an incredibly talented producer. This song is my favorite from her new EP released on Studio Barnhaus. It's on heavy rotation in my sets." 
4. DESIREE – Femme
"My secret weapon for changing the mood in my set from a day to night vibe. It never fails." 
5. Kgzoo – Inshonalanga
"So powerful this track. Kgzoo makes Big Room music and I love it!"
6. Dam Swindle – Good Woman
"I mean what more can I say? The proof is in the pudding. This is a true masterpiece and class in my opinion. This kind of makes me feel like I'm in church, but in a church that raves." 
7. Jerome Sydenham – Fort Apache
"It's all in the rhythm. As an African, rhythm and percussion is the most important aspect of music. I need to be able to sway my hips and not just bop my head. This track does that!" 
8. Atmos Blaq – Kwa Mama
"What an absolute tune which fuses that Amapiano log drum we all love with Afro house. Atmos Blaq is way ahead of his time with this one." 
9. Axel Boman – 1979
"Axel is definitely one of the favorite producers of all time and Pampa is one of my favorite labels too. The two are a match made in heaven. Although this track is from 2015, it sounds brand new each time I listen to it and play it." 
10. Keinemusik ft. Nomi Ruiz – Pussy Power (DESIREE Remix)
"What an honor to do a remix for these legends. I enjoy opening and closing my set with it."
DESIREE is set to perform at this year's edition of Sandbox Festival. Tickets are now on sale. Purchase yours here.
Follow DESIREE: Spotify | Instagram | SoundCloud | Facebook