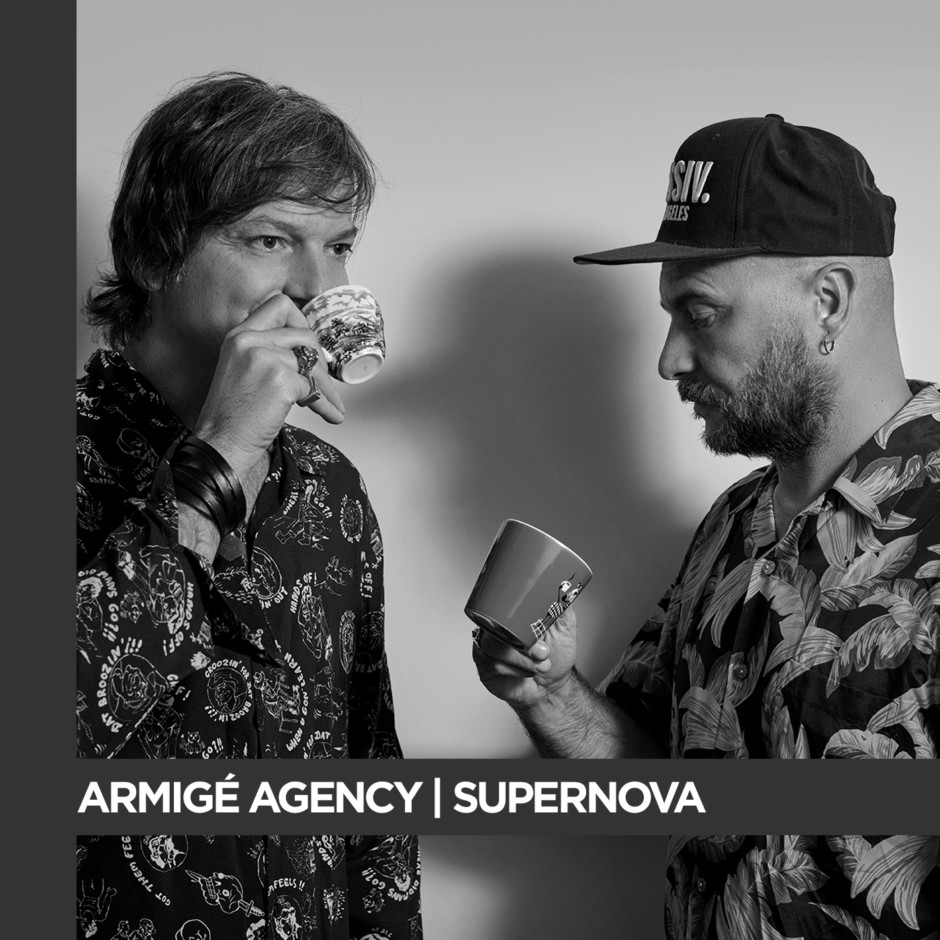 Supernova are Emiliano Nencioni and Giacomo Godi; an Italian DJ and production duo that have over the last decade made the transition from rising stars to established international talent and are now recognized as artists and performers of enviable stature.
Both Emiliano and Giacomo are classically trained musicians, something they believe has set their approach to electronic music apart from many of their peers, granting them the technical abilities and theoretical know-how to produce the music they want without restriction.
Taking their lead from the music of their youth – everything from Chicago house, acid house, hip-hop, funk and acid jazz. They have released constantly on Defected Records including remixes of seminal records 'Can You Feel It' and 'Strings of Life'. In 2013 he duo is asked to mix one third of the long-running and acclaimed Defected In The House Miami compilation series and in 2015 the NYC label King Street Sounds has released the "House Legend" album series dedicated to Supernova. The Italian duo has recently released tracks also on Get Physical Music, 8Bit, Mother Recordings, Elrow Music, Moon Harbour, Kling Klong, Stereo Productions, Toolroom, King Street Sounds, Nervous Records and have been asked to remix some of the biggest classics of the House Music such as Frankie Knuckles "The Whistle Song", Kerri Chandler "Bar A Thym", Jakatta "American Dream" and Romanthony "What Money Love" just to name a few.
In 2009 they started their own label Lapsus Music that is now considered one of the most interesting project inside the underground independent labels world scene with support from many big names and showcases across the world Over the years they feel the need to broaden their musical horizons and to share as much music as possible. Is for this reason that in 2017 Downtown Underground and Blackboard are born. The two new record labels have already achieved numerous successes. Lapsus Music, Downtown Underground and Blackboard represent a complete journey into all the musical visions of Supernova.
2022 marks the birth of their brand new radio show The House of Super which is broadcasted on some of the hottest radio around the world including Defected Records Youtube channel (UK), Balearica Radio (Ibiza), Downtown Tulum Radio (MX) and Physical Radio (Australia). The House Of Super is also their official Spotify playlist and their own special event.
The releases have been supported always by a hot touring schedule that have seen Supernova playing some of the most important club and festival worldwide like Monegros Desert Festival, Kazantip Festival, The Bpm Festival (Mexico & Portugal), Soultech Festival (Mexico City), Elrow (Ibiza & Barcelona), Ministry Of Sound (London), Amnesia (Ibiza), Space (Ibiza), Cavo Paradiso (Mykonos), Heart (Miami), Space (Miami), Cielo (Nyc), Sound (LA), Spybar (Chicago), The Egg (London), Sysiphos (Berlin), Katerblau (Berlin), Ritter Butzke (Berlin), Amnesia (Milano), Tenax (Florence), Vertigo (Costa Rica), Phi Beach (Sardinia), Womb (Tokyo), Eat The Beat (Melbourne), We Love (Sydney), Terraza (Florianopolis), ZEF (Buenos Aires), The Jungle Experience (Thailand) and many more…
01. Supernova – Vamos a la Playa 2022 vision
02. Acraze / Do it to it
03. Nicolau Marinho / About us
04. Skizzo / Paradise
05. Erick Morillo feat Gene Farris / Medication
06. Supernova feat Cari Golden / Nothing Ever stops the Rave
07. Pax / Is It You
08. Andrea Oliva / Breaking
09. Supernova / Spirits
10. Little Fritter / Ooh La La
11. Solardo / Armando Shake
12. Bipolar Mind / In the Pear
13. Lauren Lo Sung / B-Side The Point
14. Supernova / Transition
15. Supernova / Get Enough
16. Mr Trophat, Art Alfie / Crab at the Green Hunter (Loco Dice Rmx)
For bookings please visit Armigé Agency.