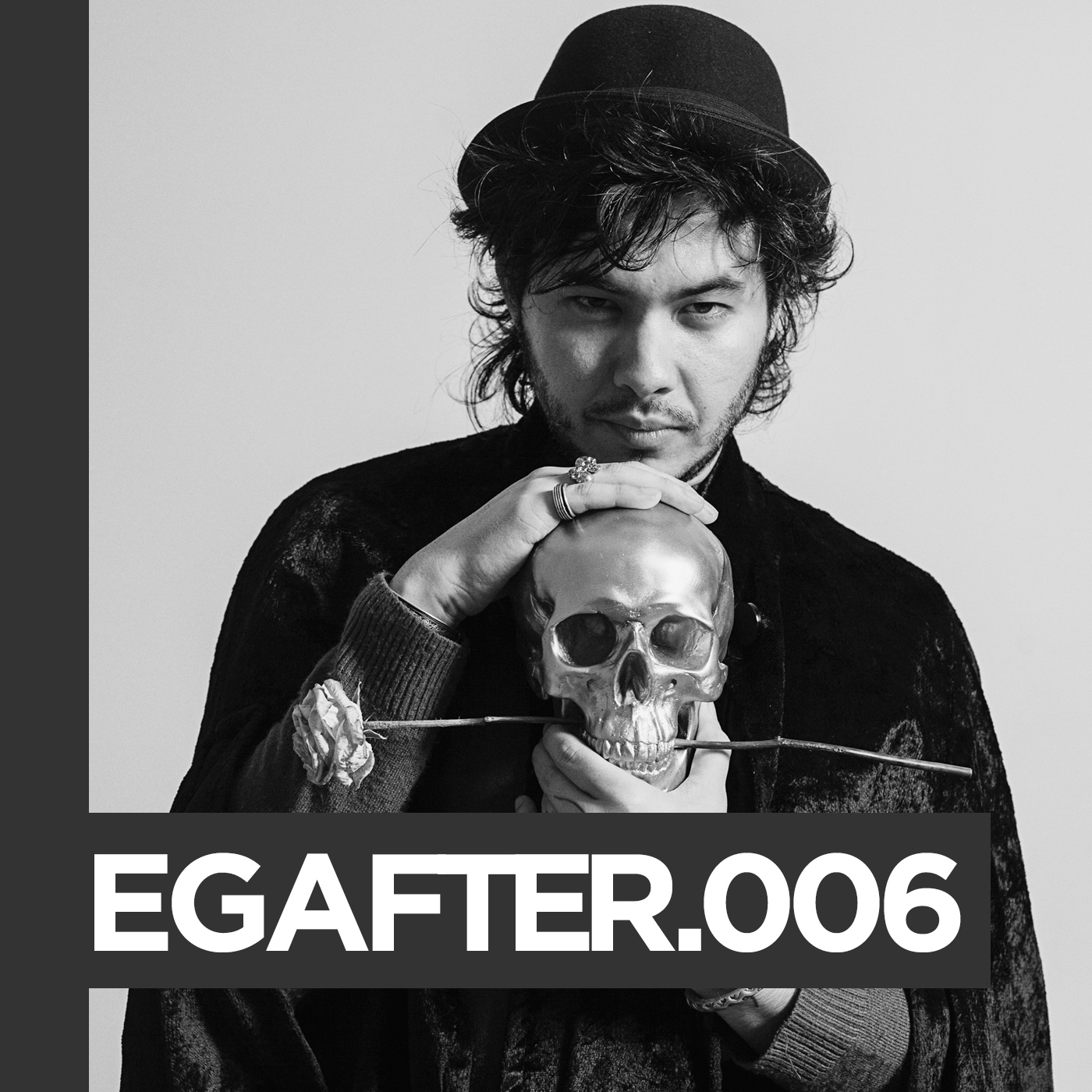 Eric Volta is often looked at as someone who thinks outside the box. He is a native Londoner who grew up traveling, spending the first 20 years of his life wandering through Europe, the Middle East & South East Asia. His varied upbringing and multi cultured exposure helped to fuel his diverse artistic and musical curiosity. Prior to the release of EGAFTER.006 we had the chance to ask him a few questions…
Electronic Groove: Hi Eric, thanks for your time to answer these questions. To get started, can you give us some background on how you got involved with music, specifically?
Eric Volta: I've always been into music. Ever since I had this skating accident when I was 14 and broke my shoulder which stopped me from being very active in playing sports, I began experimenting with drugs (specifically LSD) and sex. It just seemed like a much more enjoyable direction in life and one that has clearly agreed with me. Instruments became my passion in life. I dedicated my time to playing guitar. But as I got more into the LSD I started to experiment with my music. I think it's quite a natural progression. I got into all the warp records acid stuff, a shit ton of Drum & Bass, I discovered and passionately fell in love with 70's synth music. There is so much music on my musical journey. It's never been solely electronic or non but a wonderful conjoined and nurtured journey with both.
"We are very complacent here in the west. I see a society that takes so much for granted"Electronic Groove: Tell us about the Think FWD project. What is about?
Eric Volta: I have this idea to do free master classes in certain parts of the world where I get to play. We are very complacent here in the west. I see a society that takes so much for granted. I was born in Europe, but my life growing up in less privileged and unlucky parts of the world has taught me to see things a certain way that I am grateful for. It's in these places where this music is far less exposed that I would like be able to do these classes.
I grew up in Asia and in those days, there was o YouTube or net-based production classes. So It's hard and even now I don't really see anything too amazing on the internet. A lot of what I have learned over the years has been from my own trial and error and learning and swapping ideas with friends. None of this stuff is in textbooks or tutorials. And people want to charge kids who have no money to know some of this really basic stuff. So 'stuff them!' I thought – "I'm going teach it for free and let's get everyone making more killer music". 
The first which was recently conducted at Beam in Bangkok with the help of Collect/Save seems to have been very well received! They recorded it so well and it's allowed the class to spread far and wide. I have gotten a lot of thanks from young and veteran producers from all over for it and I am very grateful for all those kind words! I had recently bumped into someone at an after party in New York who works with Avid who told me that I was really showing things that they don't really ever teach. This was one of the nicest things to hear.
Electronic Groove: Are you planning on continuing this type of educational projects?
Eric Volta: Yes. I would really like to do more of these. Given the time and the resources available as I don't travel with my studio. So demonstrating certain studio process becomes a little harder. When I have my next studio setup I will record more little videos from jam sessions which should be helpful.
Electronic Groove: You've been producing for quite some time. Is the studio your favourite place to be?
Eric Volta: My creative space is my favourite place to be for sure. Be it music, drawing, writing, spiritual or sexual. My discovery mode is forever switched – ON.
Electronic Groove: How do you keep your creative juices flowing? Do you have any sort of process or method to keep the inspiration going when you're blocked?
Eric Volta: Drugs, sex and a very healthy dose of insomnia! Stimulation and over stimulation and the ability to remove myself from myself. And about being blocked – I believe there is no such thing. The Tao Te Ching teaches one that you come across these 'blocks' because you are working against the flow of life. If you come across a 'block' walk around it, go left, go right, up, down or my personal favourite – Sideways. But I think when we hit those moments that's an indication of taking the mind elsewhere, even if only for a moment. Of course there is perseverance. It's not something you simply make a rule about, rather one that you must allow yourself to feel through.
"Then there were a few days traveling through Bagan on motorcycles on LSD with a dear friend of mine. Beautiful"
Electronic Groove: You've done a great amount of touring recently including an Australia/Asia plus South American tour. Any memorable moments worth sharing?
Eric Volta: All the Australian and Asia gigs were great! Thanks to everyone that got me involved. Cause & Sash in Sydney were really cool. of course the Coffee Club in Melbourne was great too! The real surprise was Brisbane. Everyone was slating Brisbane, but the crowds got vibes. I played a long set outdoors from sunset into twilight on beautiful Void System. The next day we drove to Nimbin (this very hippie town in Australia) picked up some psychedelics and spent the night and morning tripping with the organizer and some friends in a cabin in the mountains. This was very special! Then there were a few days traveling through Bagan on motorcycles on LSD with a dear friend of mine. Beautiful.
Electronic Groove: Is the "Be Different" philosophy part of your everyday life? How?
Eric Volta: Well, it's not so much that be different is my philosophy of everyday life. But seriously how boring is repetition and doing the same thing over and over. Shoot me please! 
Those who know me know I don't have a routine. I don't have a sleeping schedule. I'm awake when I'm awake, I do whatever until I'm spent and then I sleep. My Circadian clock seems to be over clocked.
Electronic Groove: What was the inspiration to record the EG After episode? Where was recorded?
Eric Volta: When I got the brief saying that the mix didn't have to contain dance music I rejoiced. I don't particularly enjoy putting together a mix with just dance music. I think those moments are best reserved for the club/rave experience. So I put together electronic music that I like to listen to when we aren't going out to party. There are a couple of tracks that aren't really electronic based but I've edited and freq'ed them out a little bit. I have also layered the entire mix with field recordings that I have been recording and collecting on my travels. So the mix is mostly stuff I have been listening to in the last 2 weeks which forgive me or applaud me – I got so enthralled with Stranger Things the TV show ( I even watched the whole thing twice), that I sampled a bunch of it and a bit of the mix is this moment of the last two weeks in the mix. And then there are loads of excerpts of stuff I have been watching, reading or thinking about. So it kinds nice , my musical soundtrack to my travels is there, my field recordings and really thought laid out into a mix.
"There is a a lot of great talent out there and we are going to bridge that gap and try to help the scene gain some recognition it deserves internationally"
Electronic Groove: What can we expect in terms of new productions for the rest of the year and looking forward?
Eric Volta: I have a few releases coming soon. There is a record on Audiofly's new label Flying Circus. One of the tracks is a very Japanese flavoured piece with some old Koto recordings I've found that feels like something you would hear at one of LTJ Bukem's Logical Progressions. And there is a mother track I have been playing out a lot called 'One Last Lullaby' which features vocals from an Australian singer Christian Patey. We actually collaborated through Joseph Gordon Levit's website – hitrecord.org. Another EP coming will be out on Stefano Riterri's Congoloid label. Stefano and I have been friends for a while and enjoy hanging out and making weird music so he asked me to make a couple of strange tracks for his label which resulted in two tribute pieces. One to Einstürzende Neubauten which is a 135 Bpm pretty relentless hard drum track which I have yet to play out. Mad wailing guitars and their trademarks voices screeching over the top. The other is a more subdued piece and tributes to the glorious Diamanda Galas. It's dark moody and I sample her wonderful voice right through the entire piece.
Another big project I'm focused on right now includes a new record label I'm starting with 2 dear old friends from Singapore, Theo & Zig Zach called 3rd Kultur. The initial concept is to tie in music between the east and west. I don't want to mention our first release it's a bit of a surprise but it will see a nice collaboration from artists from this part of the world and unknown artist from Asia. I am currently working on licensing some old forgotten recordings from the region and reimagining and reproducing them and then will focus on adding remix artist to each of these project. We will do physical releases on both vinyl & cassette as we're still in love with both analog formats. And work with Asian artists for the label artwork.
There is a a lot of great talent out there and we are going to bridge that gap and try to help the scene gain some recognition it deserves internationally. The idea will be to build the label into a publishing company and a booking agency as well. Zig Zach is already out there running some of the coolest events that I have played at. It's something I am pretty excited about.
01. djrum – projection
02. christopher tophil – the song of the shadows [edit]
03. Merz – Shrug [edit]
04. Quirke – Cylinders
05. Stranger Things
06. Howie Lee – Dead Ended [edit]
07. Contact Field Orchestra – Sluice Box Tavern
08. Howie Lee – Bei Hei
09. Guido Möebius – Kurbel [edit]
10. Eric Volta – Universal Mad Fire With You
11. Lynx – Out of Context
12. Harco Point – Lonesome Devil
13. Djrum – Forgetting Coda
14. Cornelius – Wataridori [edit]
15. D-Day – Sweet Sultan
16. Ishq – Blue Haze