ADE (Amsterdam Dance Event) is back October 18th to 22nd welcoming 2,500+ artists across 140+ locations at what is considered the world's largest club festival and the most important business conference for electronic music. Filled with both day and night time events, ADE is the perfect place to spot the latest musical trends and emerging talents, as well as hearing the most recent work of both electronic music pioneers and current superstar acts. ADE is about having fun as much as it is about business, which is why over 7,000 professional delegates from all over the world visit ADE to network and exchange ideas.
The event revolves around three themes: the festival, the conference, and the playground. Throughout 5 days and nights, the whole city of Amsterdam is all about electronic music. While quality music acts can be experienced throughout day and night, the playground and business conference events are regularly scheduled in the afternoon/early evening. Since the amount of events and activities to choose from makes it impossible to visit all of them, the Electronic Groove team has put together a guide featuring our top picks and recommendations. From small intimate parties to massive raves, there's plenty for all tastes and minds so make sure to review and plan ahead of time so you can experience as much as you can. ADE's official website allows you to create an account and build your personalized program for the whole festival.
Wednesday October 18th
SoHaSo x Correspondant ADE Showcase 2017 (17:00 – 23:00)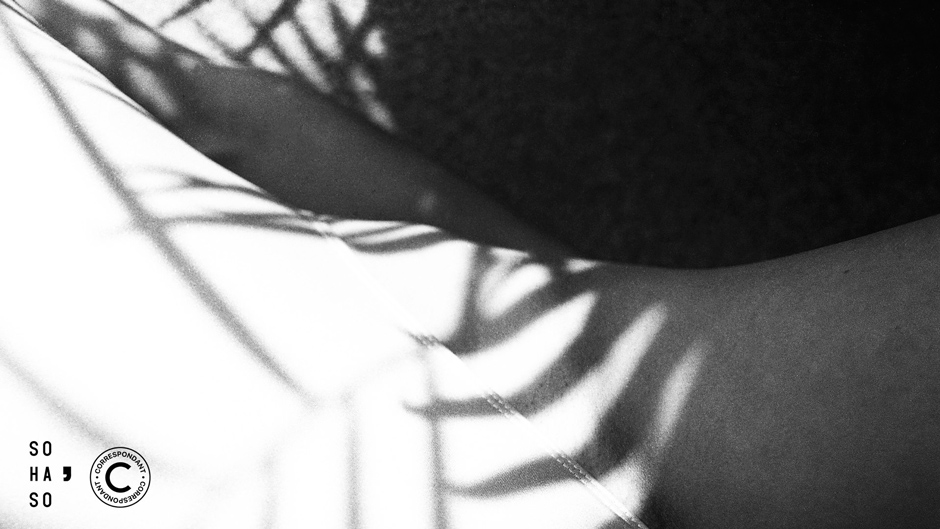 This is a great way to ease into ADE. Join the SoHaSo crew with this great lineup and one of Amsterdam's most friendly bars.
Lineup: Jennifer Cardini, Antenna, Nuno Dos Santos, Love over Entropy, Quince, Polynation, Kaap (SoHaSo)
Shelter; Play it, say it ADE (Starting at 23:00)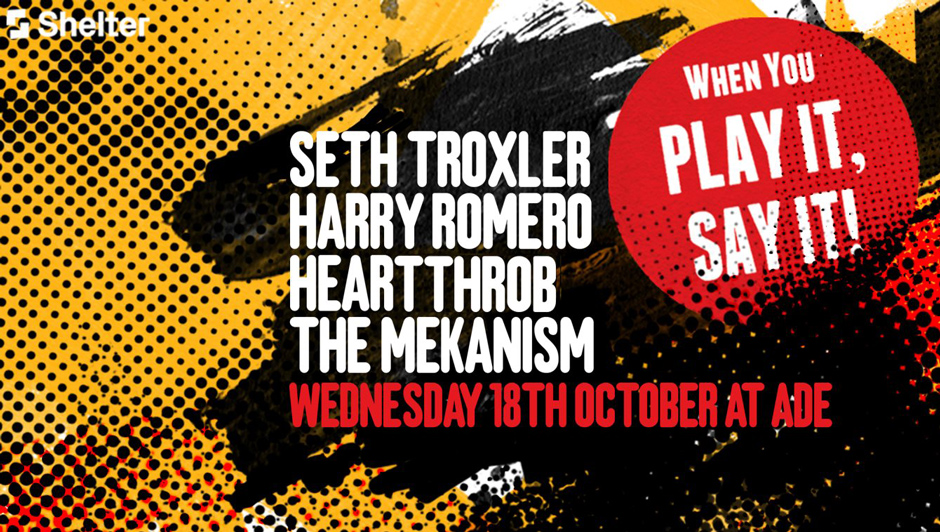 If you haven't yet been to Shelter you should definitely make it there this ADE. The club entered the Amsterdam nightlife world with a bang last ADE and they continue to bring us amazing parties all year round. This party would be a great way to start off the week!
Lineup: Seth Troxler, Harry Romero, Heartthrob, The Mekanism
Pan-Pot presents Second-State (22:00 – 06:00)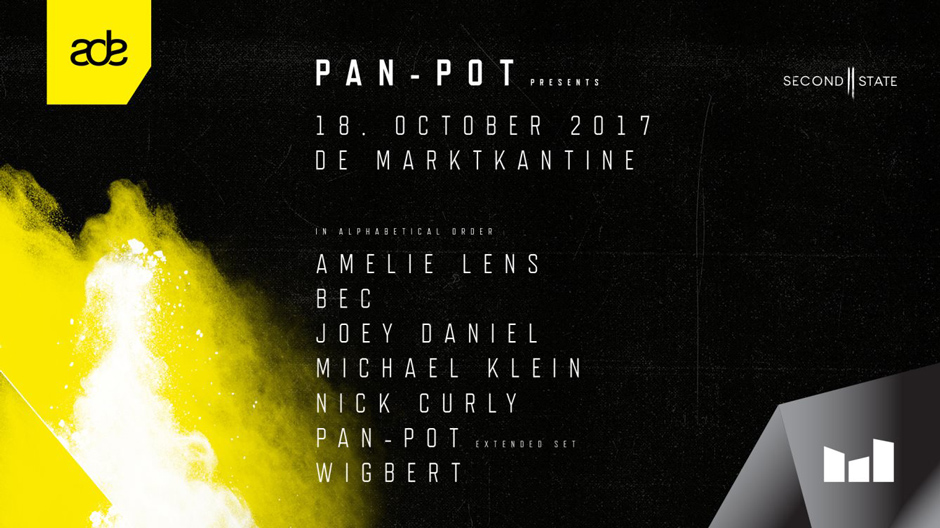 After last year's amazing and successful Second State night at De Marktkantine, Second State is back for more. Together with Pan-Pot, the label has cooked up a very special line-up for their Amsterdam Dance Event showcase this year.
Lineup: Pan-Pot, Amelie Lens, Joey Daniel, Michael Klein, Nick Curly, Wigbert
Mary Go Wild Presents: Basement Rave  (3 days // 14:00 – 20:00)

One dark and sweaty basement, somewhat 70 dedicated ravers and a secret lineup. Expect it to be hot and expect there to be techno. Mary Go Wild is also the best place to buy electronic music related publications as it is also the publishing house for the ADE book, the Awakenings 25 year anniversary book and more. Plus you can vinyl records and other music related gear all in one go!
Lineup: Secret
Thursday October 19th
Panama Amsterdam ADE boat party (13:30 – 20:30)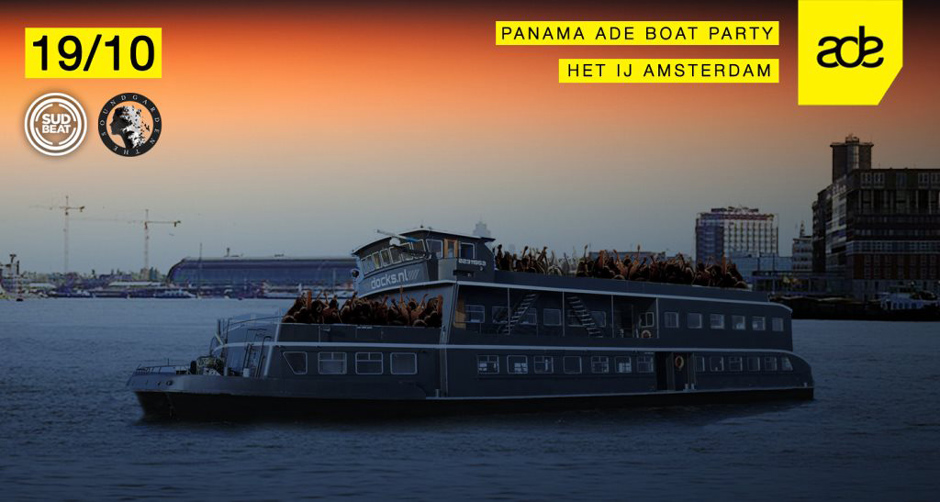 Yes, you read that right. This one's a boat party! Expect some quality progressive house vibes from legends: Danny Howells, Hernan Cattaneo, Nick Warren, and Gustin.
Lineup: Danny Howells, Hernan Cattaneo, Nick Warren, Gustin
Do Not Sit on ADE (23:00 – 05:00)

There are nothing but good vibes with the Gardens of Baylon crew so I expect this will be full of fun and surprises!
Lineup: Behrouz, NU, atish, Maga
Afterlife x Loveland ADE (22:00 – 06:00)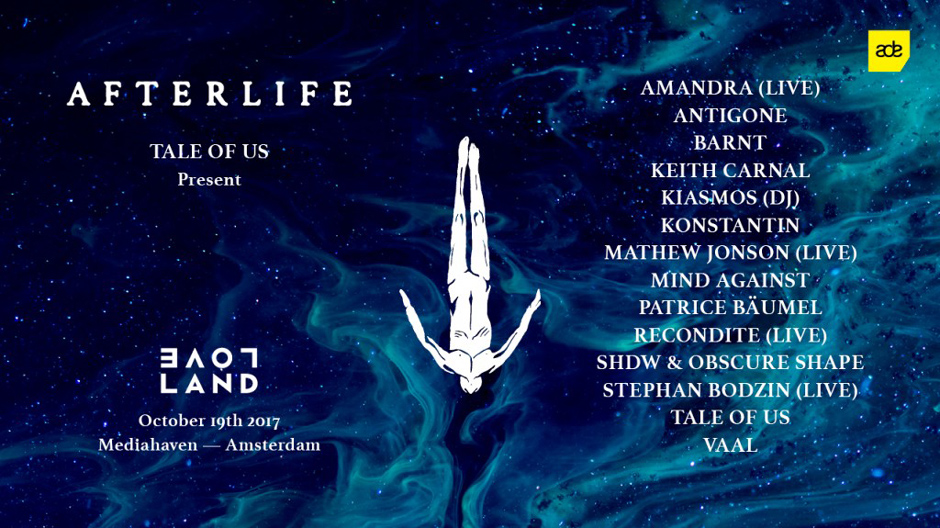 An unforgettable odyssey through diverse shades of techno and first-class visual production.
Lineup: Barnt, Kiasmos, Konstantin, Matthew Jonson, Mind Against, Recondite, Stephan Bodzin, Tale Of Us and many more.
DGTL w/ Nina Kraviz, Âme, Modeselektor, Jon Hopkins & more (22:00 – 06:00)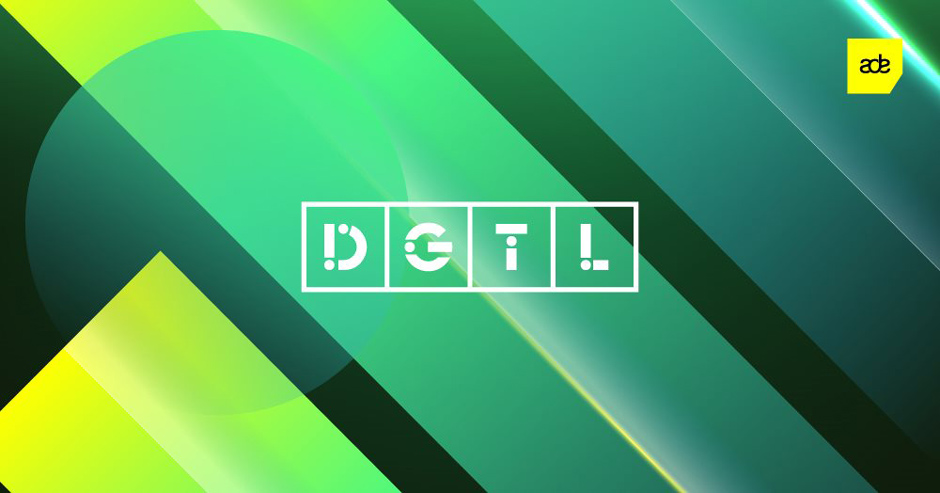 The team behind one of Hollands most forward-thinking and green festivals, DGTL, host several great parties during ADE, this would be our first pick!
Lineup: Âme, Jon Hopkins, Modeselektor, Nina Kraviz, Fort Romeau, Ryan Elliott, Oceanic, De Sluwe Vos.
Awakenings x Adam Beyer present Drumcode (22:00 – 08:00)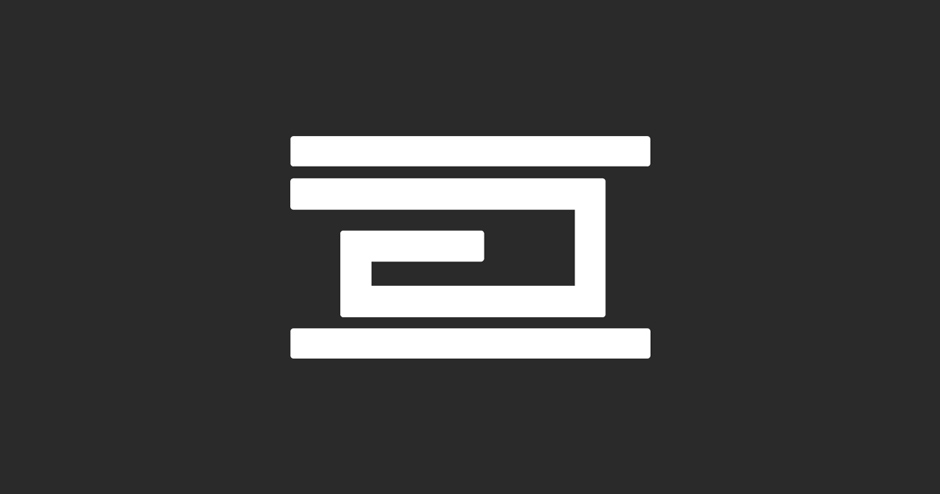 Awakenings & Drumcode started their winning collaboration more than 13 years ago. Adam Beyer and his Drumcode friends will host the second night of Awakenings during ADE 2017.
Lineup: Adam Beyer, Dense & Pika, Ilario Alicante, Marco Faraone, Monika Kruse, Pig & Dan.
Friday October 20th
Thuishaven ADE Life and Death by Day (15:00 – 23:00)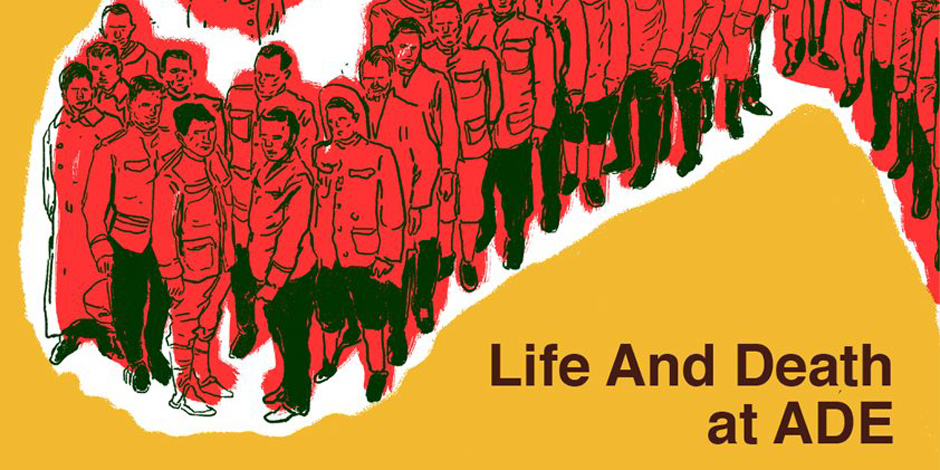 The influential Life And Death label returns to the Amsterdam Dance Event for a big showcase featuring many of its key acts and close musical friends. This party will happen inside Thuishaven, a circus tent full of confetti cannons, jelly fish and may other amazing circus acts to feast your eyes on.
Lineup: Awanto 3, DJ Tennis, Gerd Janson, Gommage DJ-team, Honey Soundsystem, Jackmaster, Jennifer Cardini and many more.
ADE Berlin Special: Watergate x Katermukke (22:00 – 07:00)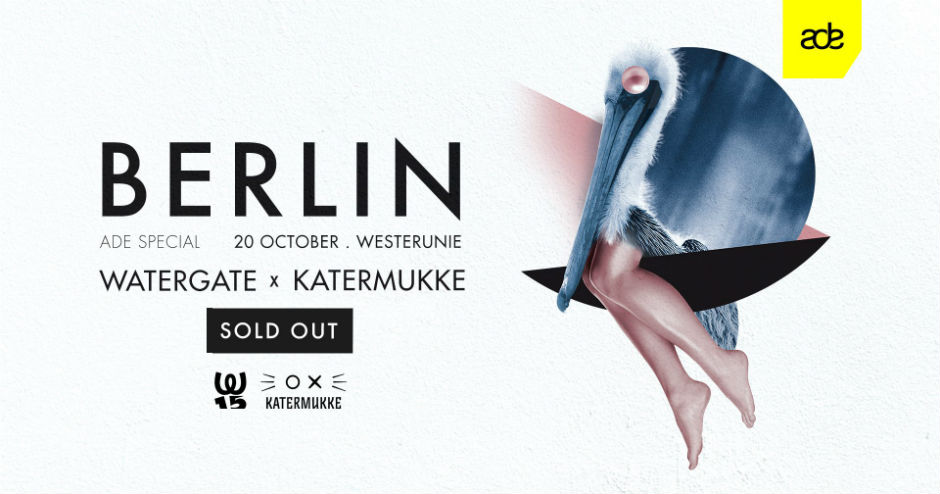 Two of Berlin's biggest players as Watergate and Kattermuke are join forces with Amsterdam's Pleinvrees to deliver a special event including all its regular top names.
Lineup: M.A.N.D.Y., La Fleur, Matthias Meyer, Mathias Kaden, Marek Hemmann [live], Oliver Huntemann b2b Marco Resmann,  Madmotormiquel, Britta Arnold, Dirty Doering, Rey & Kjavik, Stab Virus, Umami, Julian Wassermann, Douglas Greed
Giegling ADE (22:00 – 06:00)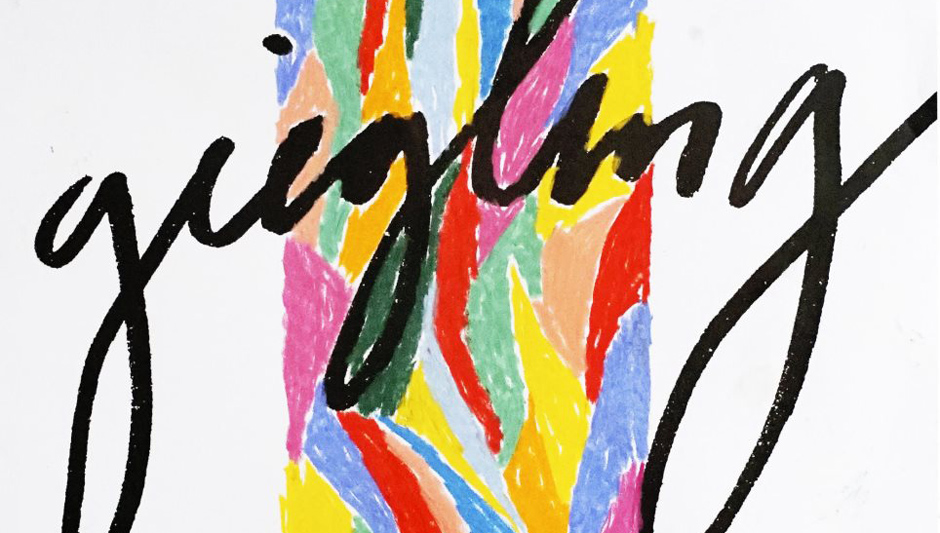 One of the most interesting labels in contemporary underground music puts together an eclectic lineup of top-notch DJs and producers.
Lineup: Ateq, DJ Dustin, Edward, Ion Ludwig, Kettenkarussell, Konstantin, Leafar Legov, Lux, Map.ache, Sa Pa, Vlada, plus more to be announced.
Audio Obsura presents Underworld at the Rijskmuseum (19:00 – 23:00)

Building on the success of the first event held last year the Audio Obscura team are back for another invite only party, this time with one of dance music's most legendary acts. The venue is one of the most world-renowned museums for European art so it was no wonder that it took the team five years to win the approval to host these parties.
Lineup: Underworld (Live)
HYTE ADE x FRRC (22:00 – 08:00)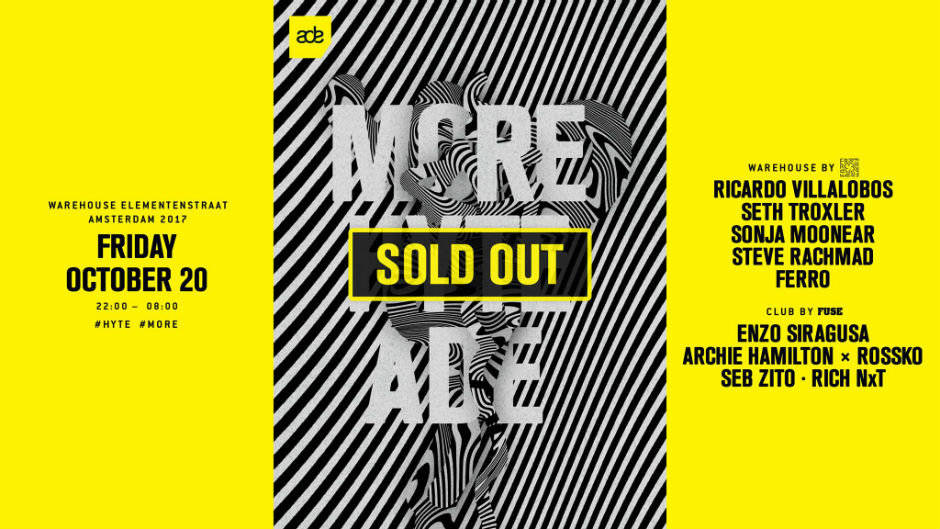 Established party series HYTE returns to Amsterdam for the fourth consecutive year with one of it's most impressive lineups to date.
Lineup: Ricardo Villalobos, Seth Troxler, Sonja Moonear, Steve Rachmad, Ferro, Enzo Siragusa, Archie Hamilton, and more.
STRAF_WERK ADE Day 1 (23:00 – 07:00)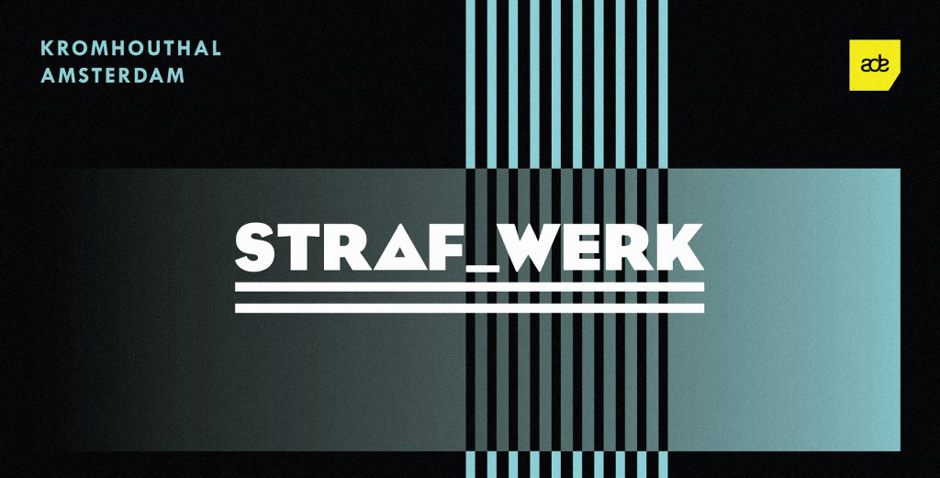 STRAF_WERK return to their beloved Kromhouthal. This wonderful raw and industrial location has all the ingredients: a robust vibe, a steel skeleton and the true character of a warehouse. For this event, they've invited KiNK & Henrik Schwarz to play a unique once in a lifetime live2live set. Two one-man orchestras who melt together in an unprecedented electronic spectacle.
Lineup: Maya Jane Coles, Henrik Schawrz, KiNK, Agoria, Jasper James, Cinnaman, William Djoko, Wouter S and more.
Audio Obsurca x Mosaic by Maceo (22:00 – 06:00)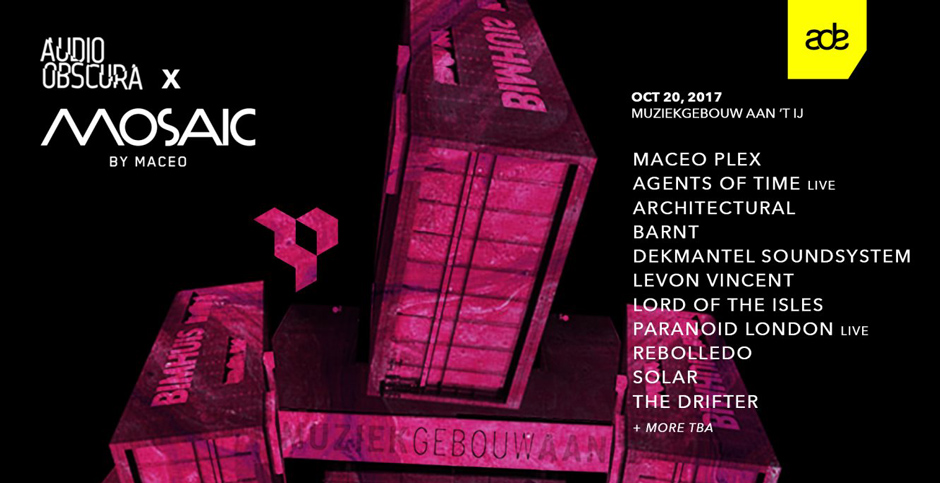 The Audio Obscura and Mosiac teams partner up to take over the Muziekgebow, which is an incredible venue only used for ADE every other year. No doubt this will be a great party with this lineup!
Lineup: Maceo Plex (extended set), Levon Vincent, Dekmantel Soundsystem, Paranoid London (live), Barnt, Agents Of Time (live), Rebolledo, Solar (SF), The Drifter, Lord Of The Isles, Architectural, +More TBA
Sudbeat x The Soundgarden ADE special (20:00 – 07:00)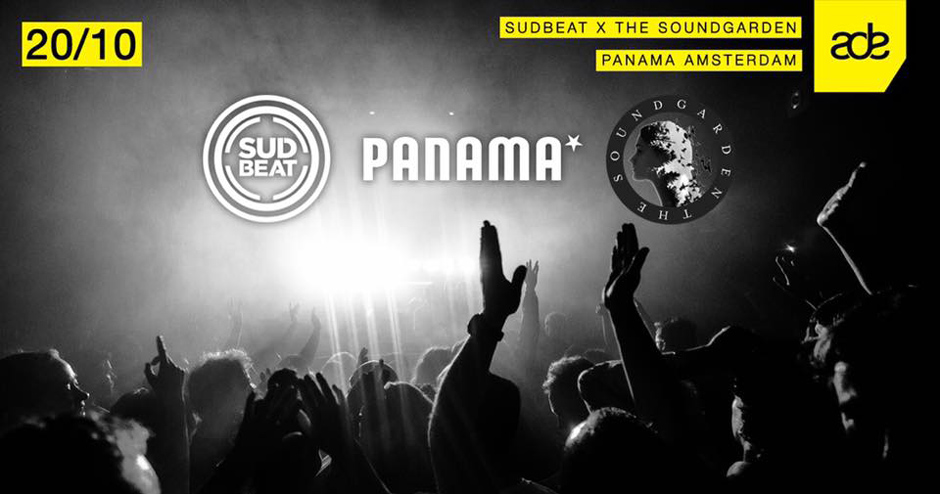 When Nick Warren and Hernan Cattaneo partner up you know you are going to get a ride through progressive heaven, and this time the two legends will be playing for at least 9 hours straight!
Lineup: Hernan Cattaneo, Nick Warren, Cid Inc, D-Nox, Graziano Raffa, Interaxxis, Luke Santos, Mariano Mellino, Marcelo Vasami, Nick Varon
Superstition X Village Underground (22:00 – 03:00)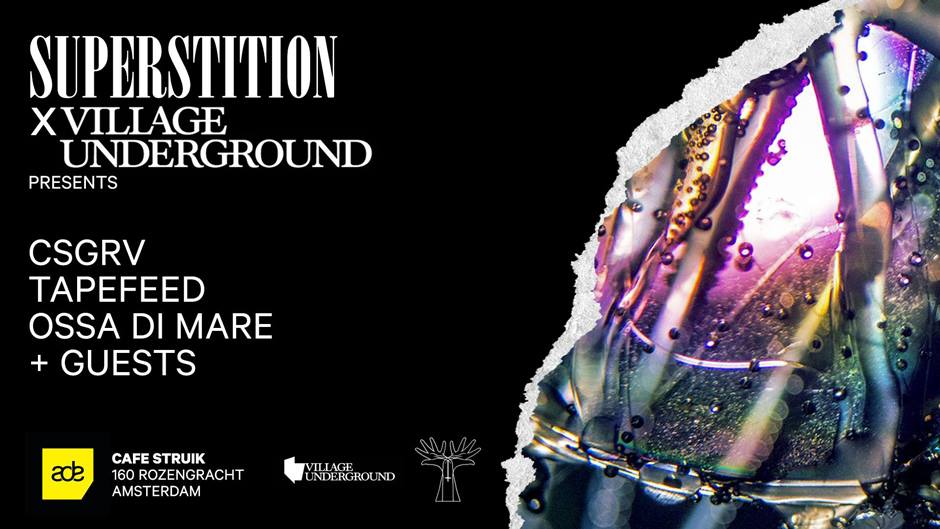 In the hundreds of events of the weekend, some of the most intimate parties provide some of the most special experiences. Café Struik is of those places that will deliver just that. And along with the London-based Superstition resident CSGRV and Tapefeed, Techno lovers are in for a big slap.
Lineup: CSRGV, Tapefeed, Ossa Di Mare, + Special guests
Tronic ADE Cruise 2017 (22:30)

Tronic, Christian Smith's seminal label brings all its friends to a boat & music gathering through the Amsterdam's shores.
Lineup: Christian Smith, Victor Ruiz,  Mark Reeve, Kaiserdisco, 2pole, Drunkeng Kong, Harry Romero
Saturday October 21

st
VBX ADE Afterhours w/ SIT, Jan Krueger, Spokenn, Makcim (06:00 – 18:00)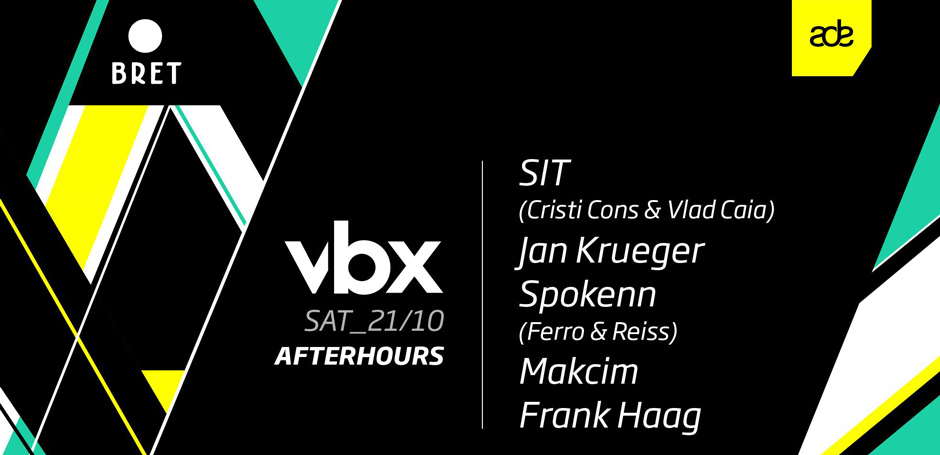 This is sure to be a kick ass party if you are able to get in. The sold out show will be packed for a reason, Bret is a beautiful location and the VBX vibe is always a groovy one!
Linuep: SIT, Jan Krueger, Spokenn, Makcim, Frank Haag
Dockyard Festival ADE 2017 (11:00 – 23:00)
Caught between water and land, Dockyard radiates a sturdy yet derelict character; raw and full of energy.
Lineup: Sven Väth, Mano le Tough, Âme, Eats Everything, Oscar Mulero, Vri, Ben Sims, Octave One, ROD and many more.
Senso Sounds Showcase at ADE (12:00 – 21:00)

Oliver Huntemann follows the release of his latest album 'Propaganda' and invites his label partners to curate an exciting techno affair during ADE.
Lineup: Oliver Huntemann, Victor Ruiz, dubspeeka, SHADED (Live), André Winter, Hatzler, Julian Wassermann
Manjumasi ADE Showcase (17:00 – 02:00)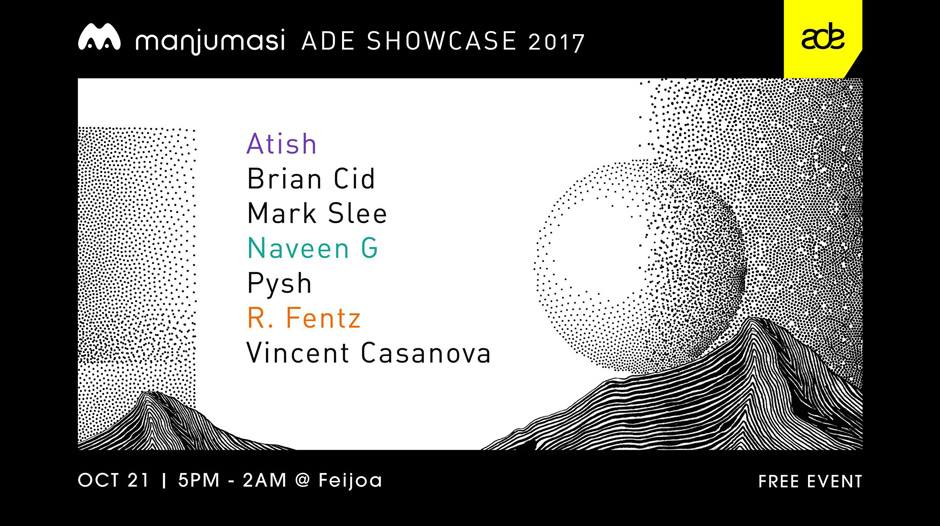 Manjumasi will make their ADE debut this year hosting the best of San Francisco's talent including label owners Atish and Mark Slee. This party is sure to provide a cozy atmosphere where you will actually be able to have a conversation while listening to beautiful tunes, a perfect way to start your Saturday night!
Circoloco x Loveland ADE (22:00 – 07:00)
With little need for introduction, Circoloco is always a wild ride! The venue will have three rooms, which vary from a 12 meter high ceiling to a basement with a grungy feel. The best part will be the amazing acoustics and the fact that there are no sound restrictions whatsoever!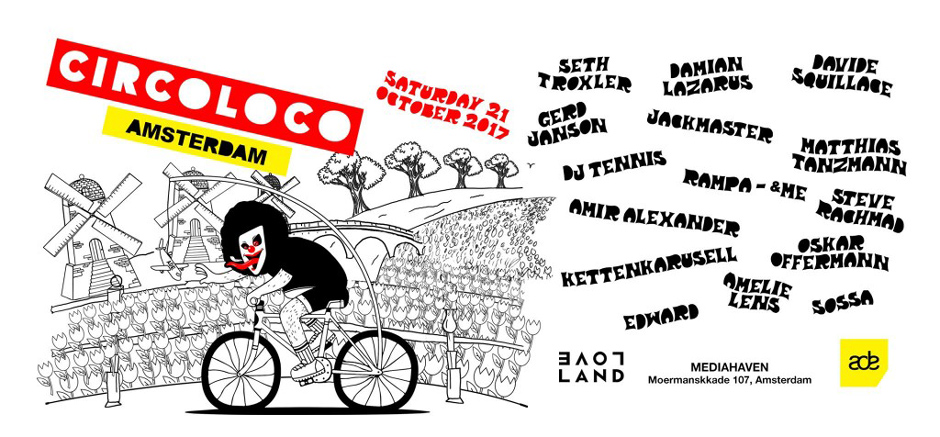 Lineup: Seth Troxler, Damian Lazarus, Gerd Janson, Jackmaster, Matthias Tanzmann, DJ Tennis, and many more.
DGTL × Kompakt w/ Michael Mayer, Gui Boratto, Weval and more (22:00 – 07:00)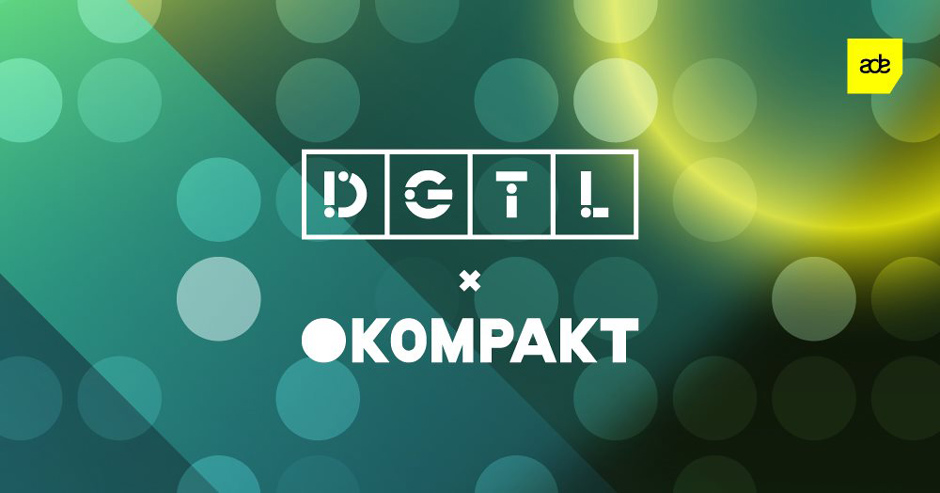 We love Kompakt, you can't go wrong with this lineup, thanks again to DGTL!
Lineup: Apparat, Roman Flugel, Michael Mayer b2b Patrice Baumel, Gui Boratto (live), Weval (live), Pachanga Boys, Danny Daze,  Locked Groove,  Tobias Thomas
All Day I Dream of Winter Sun (12:00 – 20:00)

The ADID brand needs little introduction these days. The dreamy parties headlined by founder Lee Burridge have gained world wide popularity over the last few years and will be back to ADE for their second year to showcase the label. The party will be held across two rooms, the second hosted by Days Like Nights with another great roster of DJs including one of Holland's favorites, Eelke Kleijn.
Lineup: Lee Burridge, YokoO, Powel, Eelke Kleijn, Henry Saiz, Sebastien Leger, Martijn ten Velden
Sunday October 22nd
Detroit Live ADE – Afterhour Marathon (07:00 – 17:00)

For the third time in a row, Detroit Love will be representing their Love for Detroit at the Amsterdam Dance Event. This year they have invited some real heavyweights from Detroit for a 17-hour marathon.
Lineup: Carl Craig, Moodymann, Kevin Saunderson, Stacey Pullen, Kenny Larkin, Mirko Loko, Moodymann,  Waajeed
Audio Obscura x Job Jobse b2b Special Guest (07:00 – 14:00)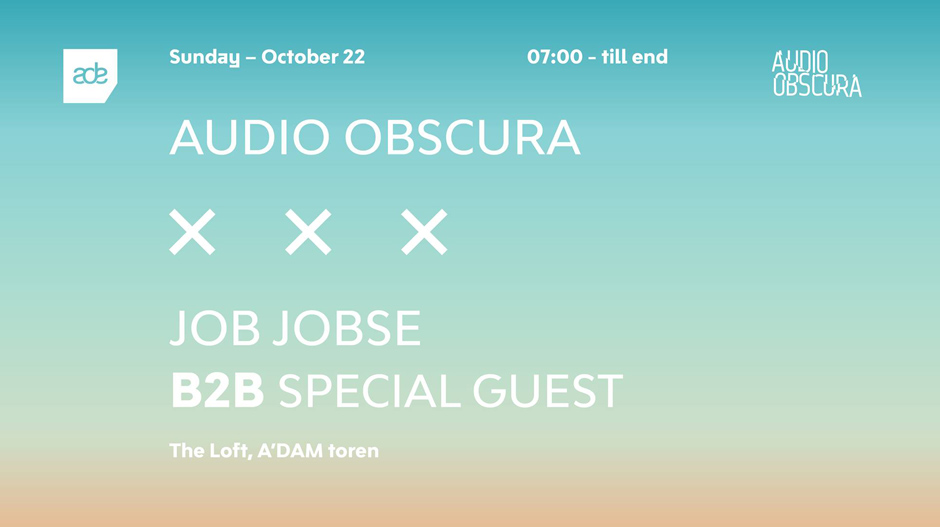 This was one of the best parties last year and it would be the best way to finish your ADE week. Set inside the ADAM hotel a quick ferry ride across from Central Station, the Loft offers beautiful views of the city and is a great place to see the sun rise, while Amsterdam favorite Job Jobse and friends create the vibe. Whether you carry on or wake up and go, this isn't one to miss!
Lineup: Job Jobse + Special Guest
ADE Hangover (12:00 – 23:00)

What to do on ADE's Sunday? Correct! Give your head some air in the laid back setting of the ADE Hangover at the NDSM wharf. Rejoice, revive, get away from the crowd and chill out. Enjoy the most varied dishes from local taste wizards, stroll over the market and drink craft beer while you hang out with awesome bands and DJ's. All of this in the robust surroundings of four tents, hot tubs, ambient fires, a shitload of creativity ánd free entrance.
The Seekers of Light present: The Gardens of Babylon (13:00 – 01:00)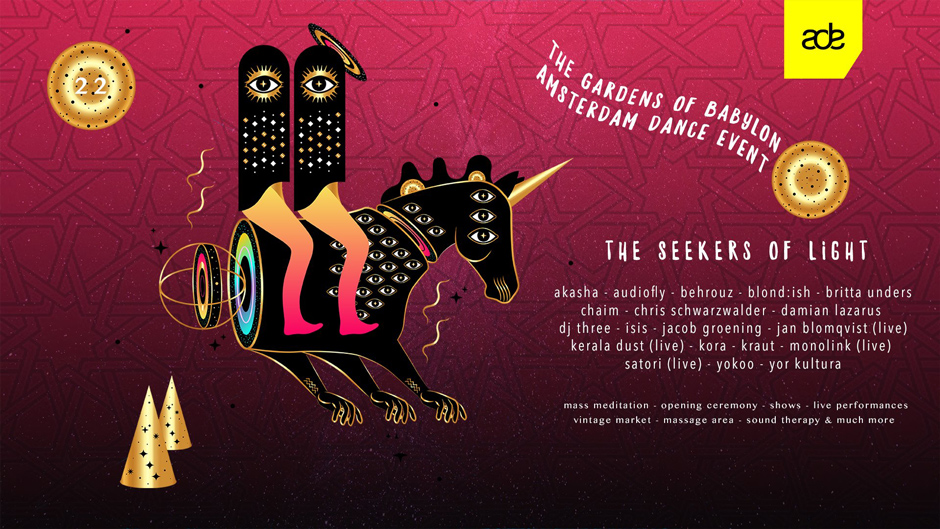 For this magical event, they're teaming up with their spiritual guides again. Let them take you to The Gardens of Babylon on the ethereal planes. Time to digest your Amsterdam Dance Event. Time to re-take your place in this world. And finally, time to take off on a journey inside the world of The Gardens.
Lineup: Audiofly, Behrouz, Blond:ish, Britta Arnold, Chaim Damian Lazarus, Jan Blomqvist, Satori, Unders and more.
ADE Tickets
ADE offers multiple tickets. The ADE Pass (5 Day & Night) gives you access to the complete ADE program. The ADE Conference Pass (4 Day) gives you access to the complete day program. An ADE Pass or an ADE Conference Pass also gives you access to ADE's online database. Single festival tickets are available here.
Keep in mind that most of the parties mentioned above require separate independent tickets for entry. The ADE Pass and ADE Conference Pass are only valid for ADE official parties and conferences.
In addition, we recommend buying the €10 ADE Card, which will give you free entry to ADE MusicTalks, ADE Sound Lab, ADE documentary film program, 10% discount on ADE merchandise, and great discounts, exclusive events and giveaways during ADE. Most of the "Playground" events mentioned above are free with the ADE card.
Travel
Most hotels have already been booked before October. If you need guidance, you can visit ADE's official travel or KLM widget, or have a look at their package deals.
Getting Around in Amsterdam
Get €10 off your first ride with Uber if you sign up via the ADE site. Public transport tickets are available here.
The Amsterdam Dance Event is organized by the Amsterdam Dance Event Foundation, an initiative of Buma.
For more information about ADE head here: www.a-d-e.nl