Cutting-edge electronic music platform, Electric Minds have revealed their 10th anniversary tour dates, including shows in New York, Berlin, Copenhagen, Marrakech, Barcelona and Paris, plus special London dates.
The international string of dates include a night at New York on August 20th with sets from Hessle Audio's Ben UFO, seasoned spinner, Joy Orbison, Sublimate founder, Sagotsky and electric minds head-honcho Dolan.
On Friday 14th October, electric minds will descend on Berlin music institution Panorama Bar, for special extended sets from dancefloor maestro Move D and analog synthesist, Harvey Sutherland & Edward. The next map-pin falls on Copenhagen on Friday 21st October at city's most prominent night-spot, Culture Box with dancefloor masterclass from electric minds cohort plus Move D and Prosumer, one of the scene's best loved figures
The international tour reaches it's finale at revered Parisian nightclub Concrete on Friday 4th November. Move D will once again helm the bill, alongside hotly tipped producer Kowton. Ahead of his upcoming release with electric minds, Endian also join the bill, alongside Parisian underground staple, Theo Muller.
Closer to home, The Columbian in London will host an intimate night of music, as electric minds favourite Mano Le Tough takes to the decks for an all-night session on Friday 26th August. Exploring the outer limits of a remarkable musical mind, this special event will also feature cutting-edge light-design, orchestrated by a leading industry technician Tiefton, who is known for his work with the likes of Innervisions and Panorama Bar.
Offering something a bit different, electric minds will bring a night of forward-thing music to Camden's Jazz Cafe on Saturday 9th July. Exploring fusion sounds that blur the boundaries of electronic music, Detroit soul maverick Amp Fiddler, pioneering electrofunk producer AD Bourke and IMS Records boss Yam Who? are all set to perform and the iconic London venue.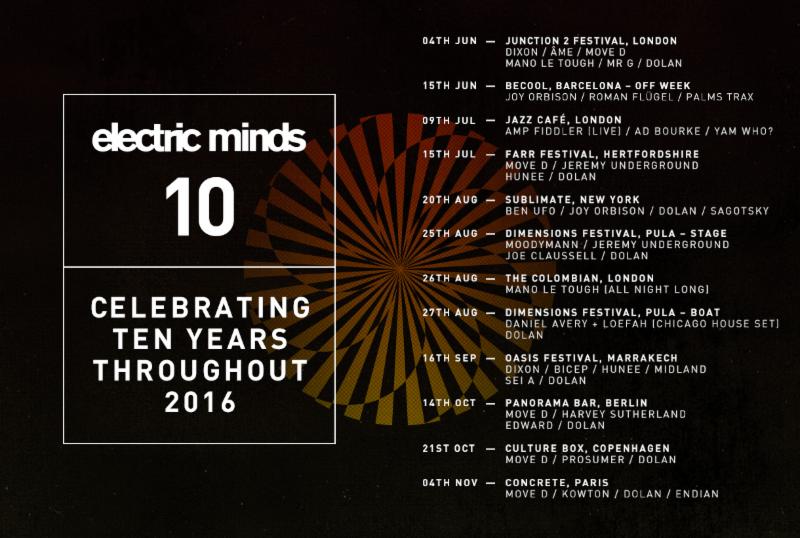 Also Electric Minds will be teaming up with some of Europe's leading electronic music festivals hosting parties for Dimensions Festival with Moodymann, Jeremy Underground and Joe Clausell playing their stage, plus a boat party with Daniel Avery and Chicago house set from Loefah to soundtrack their Adriatic voyage. An unmissable Off-Week party at Barcelona's Be Cool with Joy Orbison, Roman Flugel and Palms Traxx. Arenas at Oasis Festival, Marrakech and the beautiful woodlands of Farr Festival, will see the likes of Hunee, Bicep and Midland with their first stop offering one of the heftiest music offering of the summer as they join forces with The Hydra to bring Dixon, Âme, Move D, Mano Le Tough and Mr G to London's new techno festival, Junction 2 on Saturday 4th June.