Electronic Groove and urban artists create unique wearable artworks.
Here at EG, we have been fans of urban arts for a long time. Establishing relationships with a number of artists from around the world over the years is vital to us, giving a chance to get an insider's look at the whole creative process behind the amazing work we see in the streets of the cities that continuously inspire us.
Thanks to this, our appreciation for this type of art has increased over the years, which is the reason, because of these uncertain times we're all going through at this moment, we've decided to team-up and support each other. We think that just asking for money is too easy, so we are giving it a twist by offering a limited-edition series of collectible T-shirts designed by the street artists themselves, so you can support them and us, and get a really cool and unique piece of wearable art as well.
Our second T-shirt design, after our first collaboration with SLOMO, comes from Barcelona native PEZ with his 'Lovely Connection' piece. Part of the movement cataloged as Street-art, PEZ began painting back in 1999. PEZ discovered that with his character, he can transmit good vibes and positivism to the passers-by on the streets of Barcelona. In just a few years, he began to travel painting around the world and preaching the universal message of the power of the smile, with which he managed to reach a worldwide audience.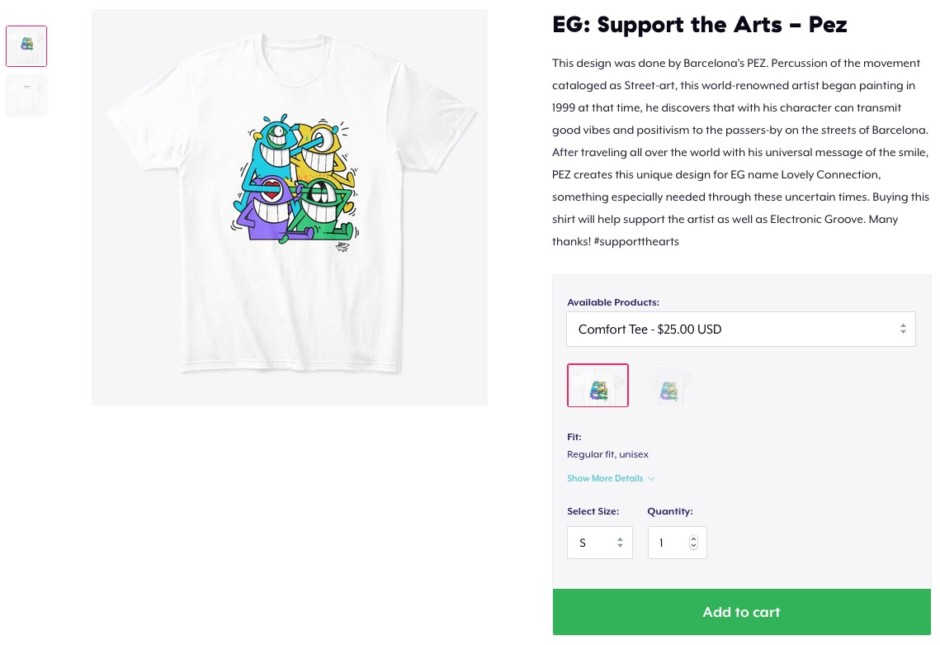 The inspiration for PEZ comes from the experimentation and the desire to do something constructive on the walls of his city. His alter ego, an always smiling fish is present in all his works, comprised of a prismatic and colorful vision, accompanied by a load of positivism. A journey full of joy that goes from classic graffiti to experimental pop art.
PEZ is a must reference when we talk about urban art worldwide. His work appears in the most important books of Street art: 'Street Logos', 'Ultimate Street Art', 'The Art of Rebellion', 'The Mammoth Book of Street Art', 'Carnet de Rue' by the french artist J.R., 'Graffiti and Street Art (World of Art)' and many more. It's important to emphasize his appearance in the Banksy film 'Exit Through the Gift Shop' and his collaboration with big brands like Adidas, Toyota, Reebok. Ecko Unltd. and Dictador.
Now, PEZ has designed the second of our 'Support the Arts' series of T-Shirts, imprinting his unique style to fabric and producing a very cool and one-of-a-kind piece of wearable art. By buying this shirt, you're supporting this gifted artist as well as Electronic Groove during these tough times.
Other artists like Irene Lopez, Kenor, and Uri are confirmed for the series. You can this wearable titled 'Lovely Connection' here.