Circo Loco and DC-10 are two words that go hand in hand and are inseparable when you pay a visit to Ibiza during the summer. As one of the island's most popular events held at one of its most iconic venues, it is an absolute must for those who are here and ready to party in Ibiza on Mondays.
Playing host to a whole selection of big names, we had the pleasure of attending the venue which showcased an outstanding lineup of artists, including Chaos In The CBD, Denis Sulta, DJ Tennis, Michael Bibi, Nicole Moudaber, Sama' Abdulhadi, Sossa, Willow, ANOTR, and more.
Here are five memorable moments from that evening.
Dancing outside at the Garden Stage
When you attend a Circo Loco event in its home territory – Ibiza – you can be sure that you are going to hear some of the best underground music at one of the most unique clubs in the world, DC-10. The party starts at 6 pm, where things kick off outside at the Garden Stage, a large outdoor area with one of the highest quality sound systems you will experience that runs until midnight. This stage doesn't only entertain you with a whole variety of banging tunes but also low flying planes, which are packed full of ravers from all over the world, making their final approach to the island to get their holidays started.
On this occasion, the Garden was taken over by no other than Sossa, Chaos in the CBD, Prospa, and Denis Sulta, a very fitting lineup to get any party started, especially a big one like this in Ibiza. Even though there were countless tunes heard and moments experienced during this selection of artists, the most memorable included when Chaos in the CBD dropped the echoey banger 'Westworld by Chiapet'. When Prospa dropped their very own crowd stopper 'Prayer', and when Denis Sulta closed the area by playing an electrifying set filled with high energy house classics like Grant Nelson's 'Brave New World (Original Mix)', and Mark Knight's 'Second Story'. The energy on this stage made it the place to be on the whole island until midnight, with a long last euphoric vibe built up and maintained by each and every artist with their unique styles.
ANOTR debuting on the Terrace
Another highlight from this edition at DC-10 was ANOTR's debut set on the Terrace stage. The Terrace is an interesting one as it brings a warehouse vibe to DC-10, creating a different kind of atmosphere to what is available outside in the Garden.
ANOTR – a DJ collective from the Netherlands who are pioneering their very own unique sounds made up of a combination of soul, house, and minimal vibes took over this stage from 22:30 to midnight, showcasing a blend of funky and filthy beats from the beginning to end. There were plenty of emotional moments during this set, both for the crowd and for them. As it was their debut set at Circo Loco in Ibiza, you could tell from their faces and body language that this was a huge moment for them on the island. It was an impressive set, to say the least, one that was filled with a whole selection of their unreleased music, making it extra special for us on the dancefloor.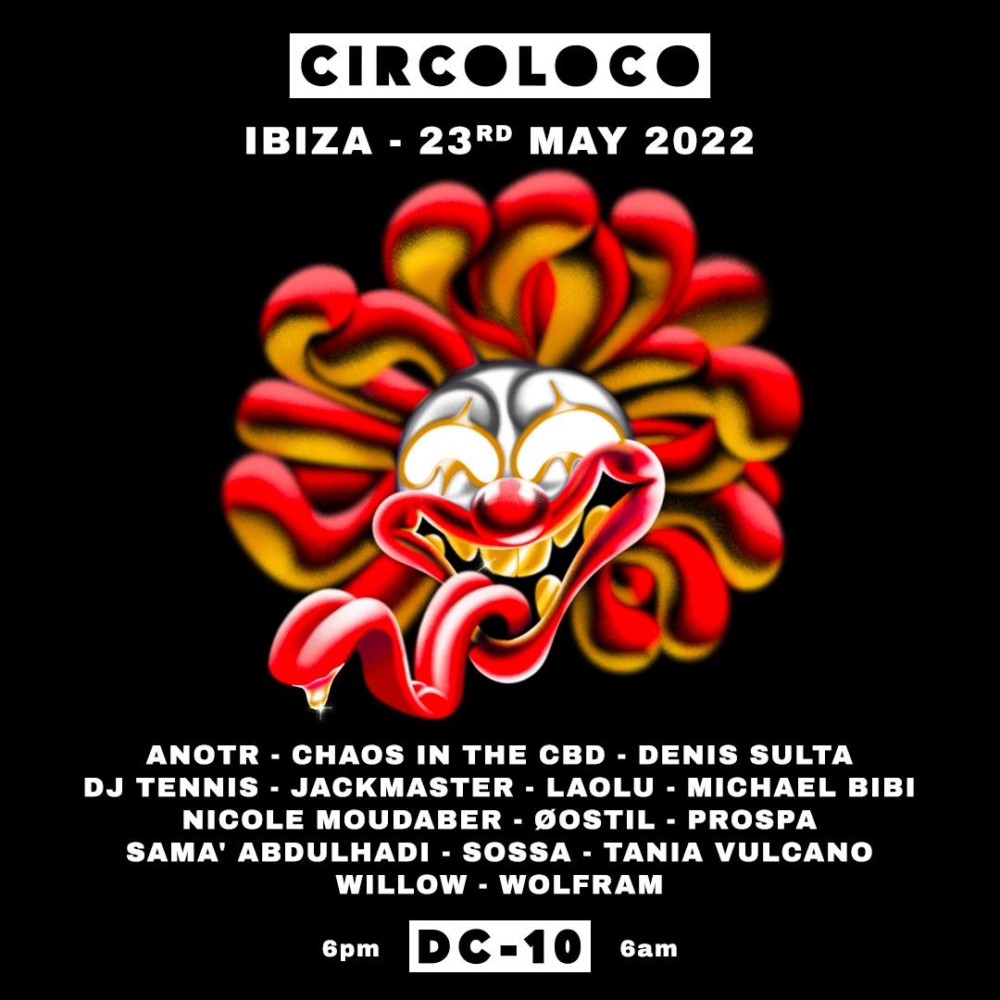 Michal Bibi smashing out beats with attitude
If you have never seen Michael Bibi play live, then be aware that he certainly draws a crowd and makes it pop with his beats filled with attitude. This was, without a doubt, one of the busiest moments of the night in the Terrace Room, which was filled with thousands of ravers there for a piece of his set. Michael's style ranges from house to minimal to techno to tech-house, but all of his tunes have in common is the sharp, loud, and bassy beats they all seem to share. He can connect with the crowd in a whole variety of ways by mixing tunes with huge drops and playing a number of catchy remixes during his set that are all equipped with deep-sounding tech-house basslines. A classic moment was when he dropped a tech-house remix of Gnarls Barkley's 'Crazy', which made the crowd go absolutely wild.
Willow taking us on a techy journey
Willow – the breakthrough house producer from Manchester, took over the main room from midnight to 01:30 and delivered a set filled with some of the techiest and most robotic sounds of the whole night. By playing many tunes on vinyl, you can tell that Willow has an eclectic underground selection of rare gems that are not friends with Shazam. Her style kept the main room of DC-10 relentlessly grooving for the whole duration of her set, allowing the crowd to connect with her very bespoke and abstract track selection.
Sama Adulhadi dominating the main room
If you have never heard of Sama Abdulhadi before, you have to check out her exclusive boiler room video here. Representing Palestine, Sama is now known for her ability to put together filthy techno sets, ones that break down boundaries between countries, cultures, and people all over the world. Her set at DC-10 did just that where she built the crowd up with some offensively filthy techno beats that made people throw a whole bunch of uncoordinated shapes on the dancefloor and shout with joy. This was a special set during the night, and you could tell many people were very interested in experiencing Sama's vibe while she played her tunes. Her sound is raw, fast, and aggressive, and she definitely packs a punch when she gets behind the decks. All in all, a great set, one filled with a lot of passion and enthusiasm.
Circo Loco at DC-10 in Ibiza is one of Ibiza's most staple events. For those that love lineups that are packed with some of the best underground artists of the moment, we highly recommend this party for ravers both new and old. So, if you happen to find yourself in Ibiza and have the chance to attend one of these parties, you should definitely go for it – our only tip would be to make sure you turn up early enough to experience the Garden stage in all its glory, as it is the area of the venue that seems to pack the most comfortable vibes from the early evening to midnight.