There used to be a time when the top DJs were more than cake-tossing buffons, when raw talent and a good taste for musical selection mattered more than Twitter followers and Top-40 hits, when EDM hadn´t yet reared its ugly head and DJs had to actually know how to handle real turntables and vinyl records, when crate diggin´ was an art form.
A time when the main festivals and clubs where dominated by names such as Paul Oakenfold, Sasha, John Digweed, Nick Warren, Danny Tenaglia, Dave Seaman, Darren Emerson and Tony DeVit. The era of the "superstar DJs". At this time, 20 years ago, as underground dance music and the clubbing scene were evolving and becoming more popular worldwide, several DJ mixed compilations started to appear, starting with the Ministry of Sound and Renaissance series, with the top DJs always on demand for an exclusive mix. It was also when two guys, Andy Horsfield and James Todd, released their first "legal" compilation on their own label, Boxed, and named it Global Underground.
GU was born out of love for dance music culture, and tried to capture the real feeling of a live DJ set, adding exotic locations to show how the scene was spreading worldwide. It was an idea that came from years of bootlegging sets from clubs like the Hacienda, so it was deeply rooted in the origins of club culture, and the guys were clear on what they wanted: quality sets from the world´s best DJs.
Tony De Vit was their choice for GU´s first compilation, as he was one of Britain´s most acclaimed and beloved DJs at the time. Starting his DJ career in 1976 at the age of 17, by 1996 he had reached the highest spots in the UK dance scene and was continuing to rise thanks to a combination of talent and attitude, appearing on BBC Radio One´s Essential Mix as well as in many other top dance music compilations. So he was the perfect choice.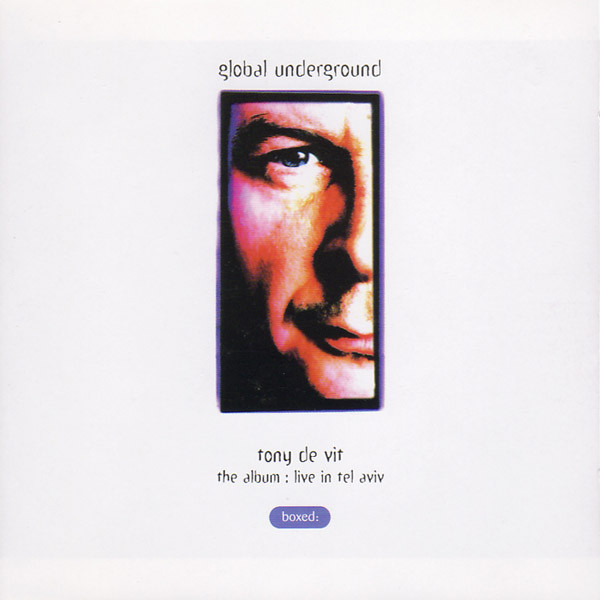 Global Underground 001: Tony De Vit live in Tel Aviv was released 20 years ago today, and was the first step in a series that has kept growing to this day. It was recorded live in the Alenbi 58 Club in Tel Aviv, and features De Vit´s trademark hard house/NRG style with punching kicks and booming bass throughout. This compilation (and De Vit´s GU005 in Tokyo) represents the harder side of the Global Underground series, no doubt due to De Vit´s personality, which shined through on his mix sessions.
So, 20 years later we find ourselves reminiscing about our first contact with underground dance music, thanks largely to the GU series and, of course, to the great Tony De Vit, who gave us such a tasteful and energetic introduction to a scene that swept us away up to this day. Sadly, De Vit passed away in 1998, cutting short a stellar career, but he will always be remembered as being one of the building blocks for the real DJ and dance music culture, a truly international name and a man that showed us how music should be mixed, and enjoyed.
Let´s play that Tony De Vit mix loudly today, let´s remember where it all comes from, let´s remember what a real DJ sounds like. Let´s forget about cakes flying and sets being played back by USB drive, let us throw away all the gimmicks and knob twiddling and button pushing. Let´s bring back those that really belong behind the mixer. So, play that Tony De Vit loudly today.
We extend our warmest congratulations to GU, as it has remained, to this day, a beacon of good musical selection and true talent, giving us many memorable moments in the past and continuing to grow and grow into the future. So, here´s to 20 more years!