When a record label is able to curate sounds that transcend genres, you find music that transcends the typical club fare, music that the listener brings into their everyday repertoire. Hallucienda has been able to do just that calling upon an eclectic roster of producers and DJ's who think beyond the traditional algorithms of dance music and produce a spectrum of sounds provoking its audience to consider music outside of their usual realm of listening.
Their releases reflect the tastes of its founder, Christopher Milo aka DJ Three, a figure revered within the dance music community for his genre-bending selection of worldly and otherworldly music that has captivated crowds from the grittiest nightclubs to deep within the Earth's most unique locations. Through Hallucienda's impressive catalog and coveted lineups that have traveled through a range of notable destinations; they've established themselves as a respected mainstay that continually aims to blur the line between organic and synthetic sounds.
The story of how Hallucienda came to be as a record label is a tale of continuity since the start of American rave culture.  DJ Three had played an integral role in the early 90's bringing names like Doc Martin and Moby to Florida to the first one-off raves parties in the southeastern US.  Having played a key role with Rabbit In The Moon's Hallucination Recordings since 1992 the following decade saw the need for DJ Three to focus on curating artists and productions he was discovering for his own sister label Hallucination Limited.  The label continued their streak of timeless music which, by 2011, Cassy had featured no less than five tracks from the label on her Mixmag cover CD 'The Sound Circo Loco At DC10'.  Also, during this time he began producing a string of tracks as Montage Men, Three A.M. and Second Hand Satellites which continue to be played weekly by selectors the world over.  Like Hallucination Recordings before it, after a successful ten-year run DJ Three decided it was once again time to reimagine the imprint.  In 2014, he sought to continue on his own whilst still threading the needle through its two previous incarnations.  With conceptual compilation series  like Phono Obscura  (rare & unreleased tracks), Wow & Flutter (ambient & electronica) Colorfast (select cuts from the previous vinyl-only catalogs of Hallucination & Hallucination Limited) and a heavy focus on artists albums and EP's like Oona Dahl's 'Holograma' and Chris Mitchell's 'Living In Now Living In Next', Hallucienda is forging ahead into a third era of timeless electronic music.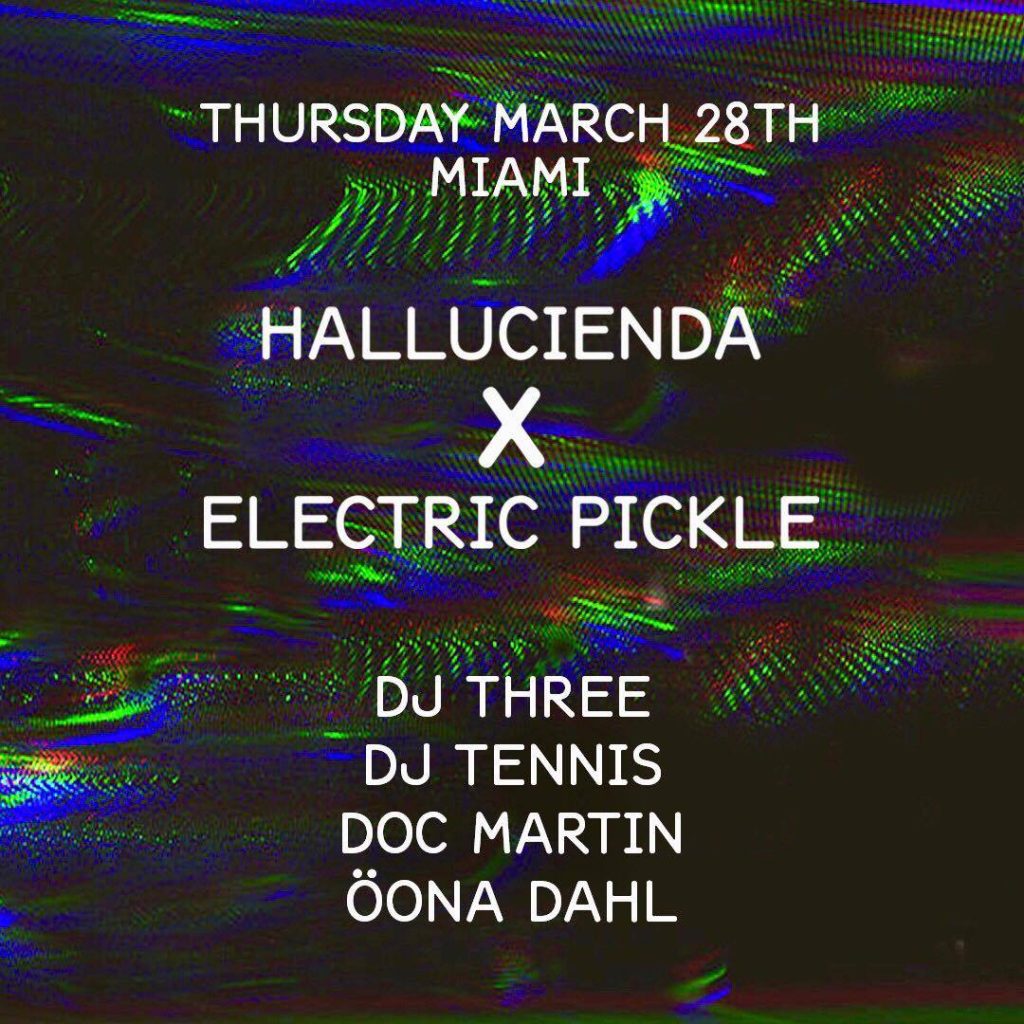 Hallucienda has been able to garner international attention not only as a record label but also as a notorious gathering of some of the industry's most respected players. The first party over a decade ago was held during what was then famed Winter Music Conference destination The Marlin Hotel. Since then the party has seen lineups that include underground favorites such as James Holden, Seth Troxler, Cassy, Daniel Bell, DJ Tennis, as well as Damian Lazarus first-ever US gig and, of course, DJ Three himself. These parties have been characterized by its attendees who are devoted connoisseurs of underground sounds and, the music itself, which knows no boundaries and seeks not only to make the listener dance but to make them think outside the box.
This Thursday, March 28th Hallucienda returns as ambitious as ever to Wynwood's crown jewel The Electric Pickle to celebrate their 10th and final Miami Music Week soiree together before the storied venue closes its door forever this June.  The lineup summons some of DJ Three's favorite co-conspirators: Oona Dahl, DJ Tennis, and Doc Martin (who has remained a close friend ever since Three brought him to Florida that first time back in 1992).  The party is known for a dance floor full of his peers so you can be sure this party will be on the radar of many DJ's looking to dance during Miami Music Week.  Tickets are still available here!