Since his debut EP, 'Stars', for Bedrock, including the collaborative title track with Juan Hansen, was met with huge critical acclaim at the tail end of last year, the clamor and anticipation for another installment from Hannes Bieger reached fever pitch and, at last, the wait is over. The masterful Berlin-based producer has just returned with an absolute treasure, titled 'A Million Souls', featuring the stunning vocals of Francesca Lombardo.
'A Million Souls' floats on an utterly hypnotizing, pulsating groove as it spawns irresistible acidic hooks before dropping down to unveil and carry the heart-melting voice of Francesca Lombardo. Italian-born and classically trained, Francesca has carved her own defiantly unique path in electronic music, one that represents her multi-disciplinary musical background and transcends the dance floor via an inimitable emotional narrative that she injects into every project she touches.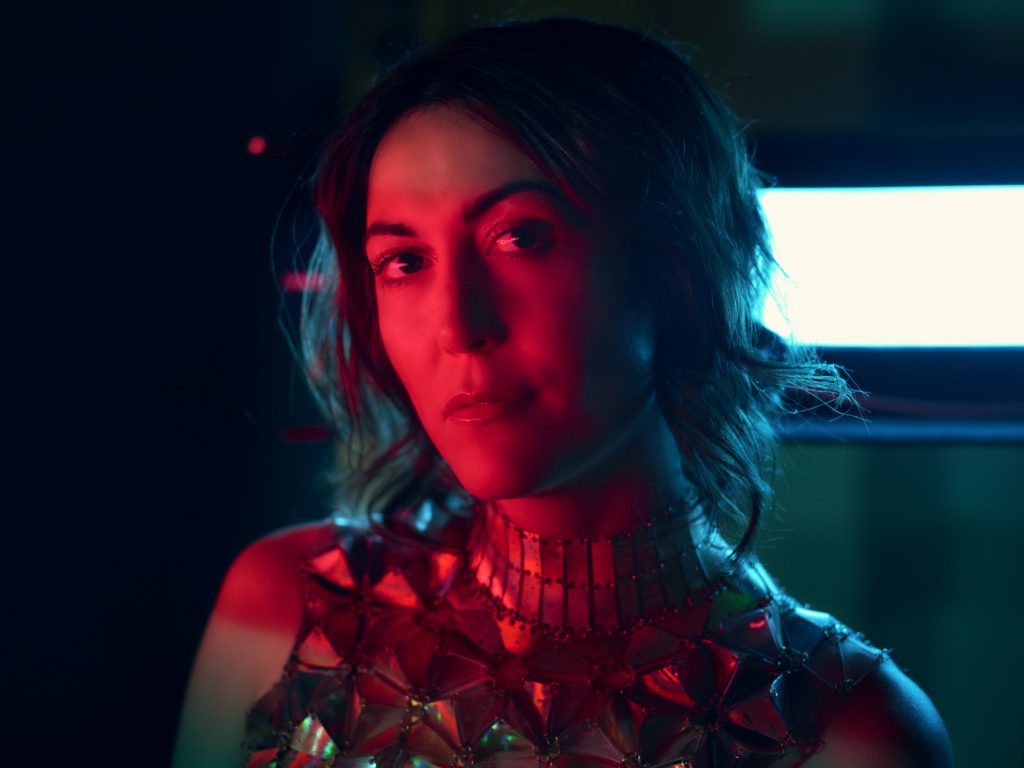 Since stepping into the spotlight as an artist in his own right in 2017, having built a career and gained an untouchable reputation as one of Europe's most in-demand mixing engineers, Hannes Bieger has focused his bounteous energy on producing his own music and creating an unforgettable live show. He has an exceptional talent that cannot be ignored, and his 'A Million Souls' collaboration with Francesca Lombardo raises an already high creative bar ever higher, so this is an exciting opportunity to garner some valuable insights from the man himself.
1. Know Yourself
I have been collaborating with other musicians since my first band rehearsal when I was 14 – and that was over 25 years ago! So I'd like to think I have some experience when it comes to making music as a part of a team. Over time I have played various roles in different constellations: as a guitarist and songwriter in a band, as a session player, producer, arranger, mix and mastering engineer, creative consultant… and one key question is always just: why do you collaborate in the first place?
As a band musician, the answer is clear, as one just can't play five instruments at a time. In electronic music, it's a different concept. Theoretically and practically you can do everything all by yourself, from the first idea to the final master. But, just because you can do it, it doesn't mean that you have to! Some of the most outstanding pieces of music in history have been the result of a collaborative effort, and they wouldn't exist without several creative minds joining forces, with all the trouble this may also introduce into the process.
For the whole to become greater than the sum of its parts – a truly beautiful thing to happen when and if it happens – a few aspects are key. The first one is: know yourself! Everyone has his or her own strengths and weaknesses when it comes to the creative process. The more you are aware of yours, the better you can look out for someone to complement your skills. I definitely know my own limits. When I started to produce Deep House music in the late 90s I had a good background as a musician and even in electronic music, but I was more focused on Trip Hop and the likes until that point. So, I collaborated with a House DJ who was good at arranging club tracks, while I played the musician and engineering part. I love songs and vocal tracks, but I am no lyricist and certainly no singer either, so I find a lot of joy in collaborating with great singers.
2. Know your collaborator
In the first part of my producer career (until 2006) I was lucky to produce music with great singers like Mozez (Zero 7, Nightmares On Wax) and Izzi Dunn (currently cellist to Damon Albarn's projects), and since I started my Hannes Bieger project two years ago I have been working with different singers, too: Juan Hansen, Sailor & I, and now Francesca Lombardo for my current Bedrock release 'A Million Souls'. And I just did a collaboration with Ursula Rucker, which will be released next year.
I am very particular when it comes to vocals, and I chose to work with all these artists because they touch me emotionally. I deeply respect their art, and I feel truly inspired by what they do. Some of them, such as Ursula Rucker, I have been following for over 20 years and I have always dreamt of a collaboration – until it finally happened. The moment when you hear what they did with your track and you're getting goosebumps – that's priceless! So many people have told me so far that 'A Million Souls' gave them the same sensation when Francesca's voice finally comes in and I can only say I totally felt and feel the same. These are the moments why I make music in the first place!
On a different note… I could theoretically master my own tracks to decent results, but I am still going to Bo Kondren at Calyx Mastering whenever I can. I totally believe in a pair of fresh ears for this step, and if I can lend his ears that makes me happy too. We have been working together for 15 years, and typically he nails it with the first version. So the question always should be: what can I do myself, and who truly inspires me for the parts I can't or don't want to get done on my own?
 3. Be prepared
This can't be overstated enough. Inspiration is an elusive gift, and when it strikes it is important to keep and nurture that precious momentum. A crackling preamp, a synthesizer that won't play in sync – these things can kill the session vibe in an instant.
Many people find it easier to focus when they work by themselves, and being in the studio with two or more people can create its very own dynamics. Be sure every part of the set-up is working properly, there's enough water in the fridge and all phones are turned off. There are few things more enjoyable in life than that certain magic moment that can happen when making music, and the more you can tune out any possible disturbances, the better!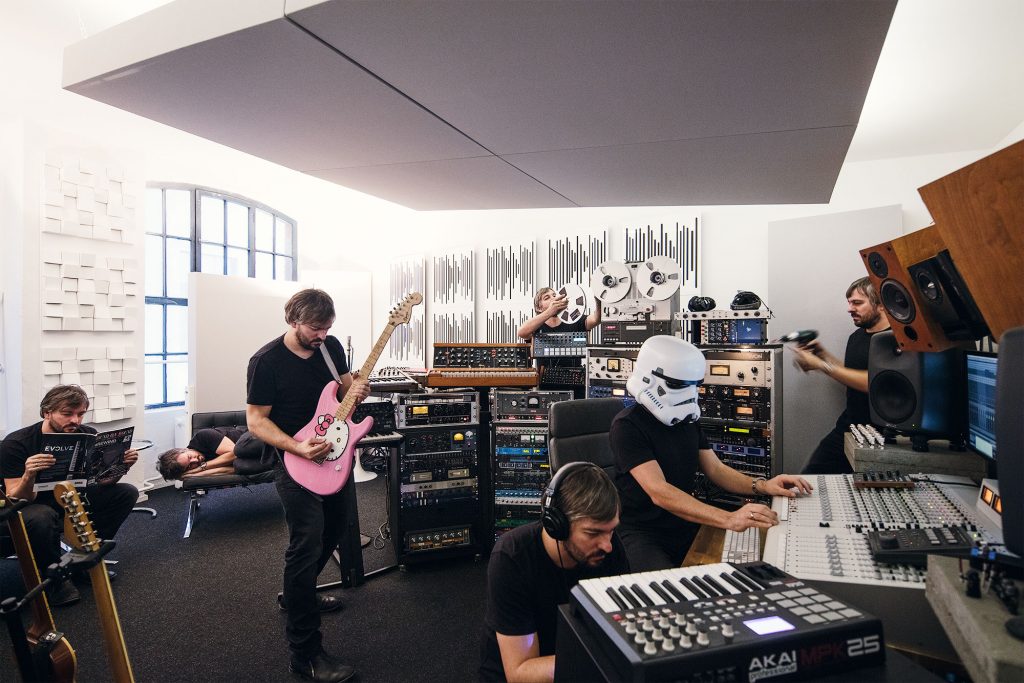 4. Listen
Being able to listen is a gift, and it is probably the most important thing when making music in general, when collaborating with other musicians, and maybe even in life! So many people rather hear themselves talking all the time than listening to others, and this can poison any musical collaboration effective immediately. Imagine a band jamming together, and everyone is playing as loud, as fast and as much as they can… this will never work! It is always good to take a step back, listen to what the others are doing, and then slowly tune into that.
The most respected musicians in a jam session very often are not those playing the most impressive solos all the time, but the ones who play great stuff supporting someone else playing a solo. Of course, sometimes there's a moment for your own bold statement, but always remember a collaboration isn't about you, it's about what happens when everyone is pulling together as a team. No matter if you're part of a live band or a studio project, the process is exactly the same. If you're able to listen, the music will get better and the respect of the others involved will be yours!
5. Gardening, not architecture
So, you know where you're standing, you found a great collaborator, everything is set up properly for the session, you have a good sense of when to make a creative move and when to stay mum, and then – the unexpected happens. Of course we always have certain goals in mind, but starting a collaboration means giving up control, at least to some degree. And this is a good thing!
Some results of collaborations never see the light of the day for a multitude of reasons. How to deal with these situations would be another column… my point is this one: Stepping outside your comfort zone, giving up control, opening up for surprises, that's the whole point of a musical collaboration. If one doesn't accept that, you'll just ask your counterpart to paint by numbers, which isn't a true collaboration, although it might exactly be what's required in a certain moment in the production process. But I'm talking about the creative process between equal partners here.
My favourite motto for music-making comes from Brian Eno's card deck 'Oblique Strategies' and it also applies here: "Gardening, not architecture!" When you write music together, the process is not the one of an architect who determines the position of every light switch even before the first brick is laid. It's more like this – you plant a seed, you watch and observe it growing, water it, provide shade or sunlight depending on the situation, and ultimately you let it take on a life on it's own. In my view and experience this is how the good stuff is being made!
Hannes Bieger – A Million Souls EP (Bedrock) BEDDIGI146
1. Hannes Bieger feat. Francesca Lombardo – A Million Souls
2. Hannes Bieger – Echelon Public Preview
Get your copy here.