Among the most important exponents of progressive house, Hernan Cattaneo's name stands out everywhere. The artist, who has at least three decades of career, continues to take his flag to all parts of the world. His performances range from the arid sands of Black Rock City during Burning Man, to the world-famous acoustic of Colon theater in Buenos Aires.
Celebrating the third anniversary of Electronic Groove en Español, of which the artist will be a part of, we caught up with Hernan for a warm chat. We invite you to read it below.
Electronic Groove: Hello, Hernan! Thank you so much for being here with us, and for being part of Electronic Groove's rich history with your sets, shows, and interviews. It's been a while since the last time we spoke. Almost a whole quarantine, and most of it without any football (laughter). How were those first days of isolation with your family? Is there something you have pondered about your future as a human being in general as a result of this global situation?
Hernán Cattáneo: Thanks again for the invitation. Well, for almost 20 years I had not spent more than 15 days in the same place, so I enjoyed the first months of quarantine with my family and doing things together for which I usually can't make time. Global DJs have a privileged life, but also a very tight schedule and this makes the lack of free time a constant in our eclectic lives.
Now after more than 100 days I really want to play live again, although I am clear that in the future I will try to find a better balance of my priorities, and maybe I will take more free time to enjoy my family, friends, and life in general.
Free Download of Hernan Cattaneo & Lonya's 'Rebirth' including words from the poem 'Lockdown' by Brother Richard, click here.
Electronic Groove: We have seen you very active lately on social networks, media, and different platforms. Do you enjoy it or do you understand that it is a part of the game that we are 'required' to fulfill? Talking about the role that social networks play, and how they are intertwined with art, what do you think about it? Sometimes you get the feeling that there are artists who share more about their private life than things strictly related to art itself …
Hernan Cattaneo: I have varied views on its use from time to time. Sometimes I have been more active and others less. There is a dynamic that includes my radio show, the interviews, my label Sudbeat announcements, among others. They are always there, and then there is another part that goes in line with what happens every week.
I never liked posting 'as something mandatory', I prefer to write when there is something to say. And for the tours, that is often enough, because the promoters ask for support.
I agree with you that many young DJs have based their careers on Instagram, but I really think everyone realizes that, and no true music fan will be attracted to that kind of character.
Electronic Groove: As a logical result of the global pandemic, streamings have become commonplace. Obviously, due to social distancing, many of the artists offering these shows must use a "homemade" set-up. Beyond the connection with the fans and being able to be close, even if it is through a screen, do you think that some of the magic is lost? Can you imagine that this modality could ever be part of the future? Or once everything returns to 'normal' will this be a thing of the past?
Hernan Cattaneo: I think that everyone does what they can in this strange time that we are living in. I personally made a few streams with great success, but still, I would never feel that they can replace a live show and as soon as we can get back to a normal situation it is not something I will be thinking about doing again. The important thing in this context is to keep our fans accompanied and entertained and then, hopefully soon, this will be a bad memory in our lives.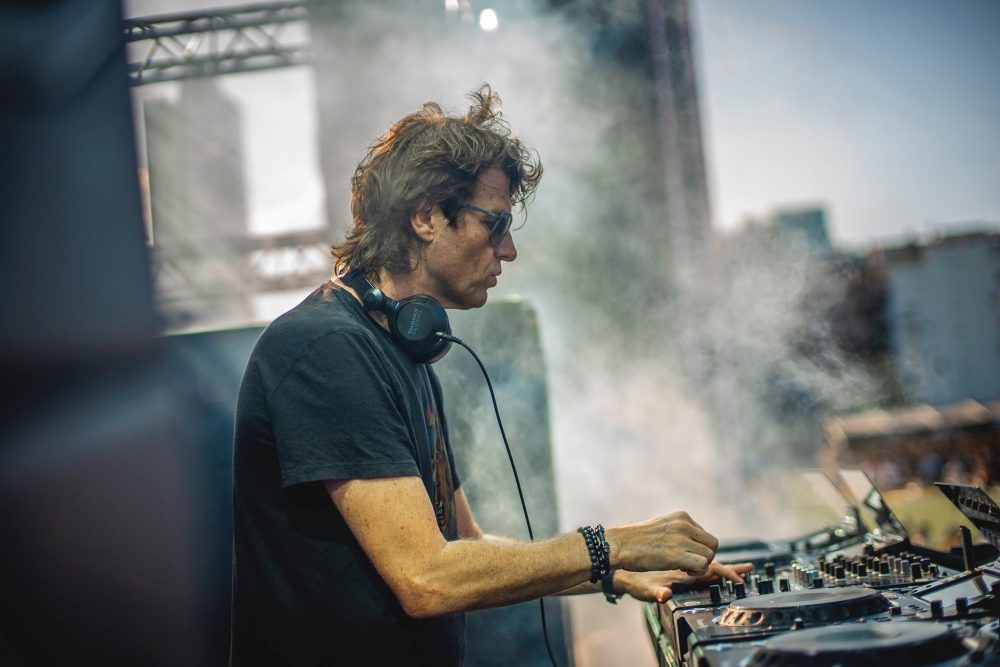 Electronic Groove: Speaking of media. Did you read music magazines as a boy? Did you ever have the dream of being in those same magazines or on the radio? Does this demand for your figure and your words in the media amaze you? Did the requirement ever cloud you?
Hernan Cattaneo: When I was a child there was no internet and not many music magazines that I liked in Argentina, where almost everything was rock & roll. I would try to get a friend who traveled internationally to bring me English or American magazines like Billboard, NME or DJ Mag, and I did not even dream of being present in any of them, so when I saw myself on the cover of them, they were very rewarding and special moments for me.
I learned a lot from reading those magazines and I am now happy to be part of those who are regularly called upon to give out opinions. As the Master Jedi Yoda says: 'teach what you have learned, you must'.
Electronic Groove: Going back to football… Now the games have returned in most of the European continent, but without people in the stands. A kind of 'return to the pasture' for footballers. In this regard, Pep Guardiola recently said: 'without people in the stadiums, I prefer not to play'. But wasn't that how we all started kicking the ball, without anyone in the stands? Isn't that how a DJ starts playing? Do you find some romance in this having to 'go back to basics', so to speak? How do you imagine the return to the dancefloors will be?
Hernán Cattáneo: Good question. It is true that we all start playing music for 4 or 5 friends in our houses and I personally enjoy a show for 20,000, for 2000 or for 200… The important thing is to share the music that we like, although, realistically, we must say that a strong scene needs both, small clubs and large festivals since each one has a very important role in the development of each place.
The return will surely be slow and it will take a good time to get back to where we were before the global pandemic scene, which was at a very high level.
"I always say that the best thing about electronic music is its constant change"
Electronic Groove: Speaking of getting back on the dancefloor… We want to thank you for this mix that you have given us to celebrate the three years of Electronic Groove en Español. Did you get inspired by something in particular? Any emotion to share? Beyond the 'story' or the musical 'line', do you feel that you transmit any message through your sets? Is that intention?
Hernan Cattaneo: I always say that the best thing about electronic music is its constant change, and the fact that every week we have a variety of new tracks to choose from, so every time I have a show, a podcast or a mix like this I can look for interesting things from that moment and show a variety of sounds that make for a good musical collage.
In this case and for the anniversary of EGE I have chosen a list of very different artists such as Boy Harsher, Grazze, Navar, Tone Depth, Musumeci, and one of my favorite producers Budakid, plus some Argentines that I always like to support.
Electronic Groove: We know that you have provided the occasional workshop in recent times. Is it something you've discovered that interests you? Do you see yourself in teaching? Do you consider that you still 'study' when a specific question arises?
Hernan Cattaneo: As I said before, I had many teachers who taught me on this long journey and I believe that the overcoming way of taking everything forward is that now I am the one who is going to share with newcomers everything I ever learned.
I do not know if I see myself necessarily as a teacher, but I do enjoy giving talks and answering questions to those who believe that my opinion may be interesting or may help them in some process of their career.
Electronic Groove: Following this line of 'transmitting', is it in your plans to build a musical legacy that goes beyond the figure of Hernan Cattaneo? We understand that this is a relatively new activity, but many times we ask ourselves: will Bedrock continue without John Digweed ?, LNOE without Sasha ?, Sudbeat without Hernan? Is it something you have asked yourself or did not even cross your mind yet?
Hernan Cattaneo: I think the most important thing is that we all together are the scene, and not each one individually. A style like ours is very well represented by its protagonists, and although it is clear that one day we will not be leading it like now, I have no doubt that those who come next will be very well prepared to lead the scene in the best direction possible.
Electronic Groove: Contemplating the most immediate future, what are your next steps to follow? Seeing that outside and some countries are beginning to make certain aspects more flexible so that different proposals can materialize, do you think that the shows will return before next year? Do you estimate that in the region things take a little longer to return? What can we expect from Hernán and Sudbeat for this second half of the year?
Hernán Cattáneo: I look forward to the news coming from Europe, as they are the first to slowly return to normal since everything that happens next will depend on their success. I am clear that you have to try to lower anxiety since it will not happen overnight.
Meanwhile, we have taken advantage of the extra time, and in addition to having filled hours and hours with my family, I have also joined virtually different friends to make music, so down the line, there will be singles and remixes with Soundexile, Graziano Raffa, Martin Garcia and Marcelo Vasami, among others; and Sudbeat stays busy as always, with two releases per month with our favorite artists, and also some new ones that we have found around the world.
For the team, it has been a pleasure to share this talk with Hernan Cattaneo. For more details of his exclusive mix celebrating three years of Electronic Groove en Español, enter here.
Follow Hernan Cattaneo: Facebook | Instagram | Soundcloud