It's late in the season and festival fatigue weighs heavy. The wash-outs and mud-fest's have taken their toll. I've lost too many shoes and for a few mildly alarming hours, a car. I've erected too many tents I've no intention of sleeping in and seen too many bin-bag clad teen's staggering across seas of sludge, clutching their glow sticks for warmth. So approaching Houghton, re-drafted for another tour of self-inflicted 'duty', I squared my shoulders, checked semi-apologetically into the nearest spa hotel and reminded myself why this one promised to be different.
Festivals. Mandatory. Like New Years Eve. A 'right of passage' is only meant to happen once but here we return wracked with Fomo into a market place that sprawls like never before. I don't want to moan, but they're everywhere. From the far flung corners of North Wales to the shores of Norfolk and everywhere in between, the hills are alive with the sound of porta-loos.
Yet with the exception of a ground-breaking few, most bear similar copy-cat notions of the music/art fusion that's become increasingly weary. This is easily traced back to Burning Man, however there's a great difference between the full week long desert immersion and standing in a field outside Bridport trying to stay excited at some steam punk am-dram.

Wheres the music? What happened? Way back, in Glade festival's final year and incidentally the same site as Houghton, they released a promo flyer on which an entire side simply read "ITS NOT ALL ABOUT THE LINE UP". You could almost hear the twisting-leather-strap sound of the electronic scene's collective wince at such naivety.
Houghton promised to deliver something different. Decidedly absent in the nouvelle sequin / headgear brigade for starters, its line up is THE fantasy football league of electronic. The artists on display – Matthew Johnson, Nicolas Jaar, Voigtmann, Raresh, Nicolas Lutz, Gerd Janson, amongst them. All of whom should be worthy of playing many of the places I've been this year in the U.K.
Except Houghton isn't really a festival in a typical British sense. There's a palpable European edge to it. There's no frippery. No frills. No bombast. The art, though part of the overarching concept, was in no way parallel to the musical output, the sheer beauty of the site, or the talent behind each sound system that flanked every stage.
It's smaller than you'd expect. For a capacity of 7500 it felt unusually spacious: More Hampsted Heath than Glasto single-file trench. Structurally, here were no real 'headliners', although the Villalobos & Craig Richards eight hour back-to-back was always marked to be the one.
If you wanted to know what was going on, there was a single white board that with set times that required some effort to locate. The alternative, as we quickly got stuck into, was a wild pin-balling from stage to stage. Encouraged to explore, challenge tastes and shazam ourselves into obscurity on the smorgasbord of house, techno, disco, minimal, roots, dub, breaks and jazz on offer over the weekend.
"Instead of cramming names onto a billing to maximise ticket sales, some more well-known acts were given space to play up to four to eight hours"
Instead of cramming names onto a billing to maximise ticket sales, some more well-known acts were given space to play up to four to eight hours, giving them freedom to play as they might want – my favourite thing about Houghton. From Ben UFO playing jazz and jungle to Andy Weatherall dolling out sunrise reggae at the verdant outdoor Pavilion stage, it was a question of expecting the entirely unexpected from some weighty Martin Audio and Audiophile rigs.
Voigtmann laid down his usual dose of deep, minimal, groove-laden slink, playing twice over the weekend. His back-to-back with Sonja Moonear meant taking a train to the 'secret' Terminus stage: a fun little after-party tweak that lent a bit of the unknown. Elsewhere, in the Warehouse – a cool disused hangar – Romanian maven, [a:rpia:r]'s Raresh delivered a masterclass in poly-deck dexterity, layering sounds and interlacing tracks. Inhumanly complex seen as, oddly he SEEMS to only have two arms.
Meanwhile, the Quarry stage – think Secret Garden Party's, The Drop, or Wilderness's, The Valley – though relatively prosaic by day, by night became transformed into a full blown laser pit, cranking with the likes of Craig Richards & Weatherall at the helm.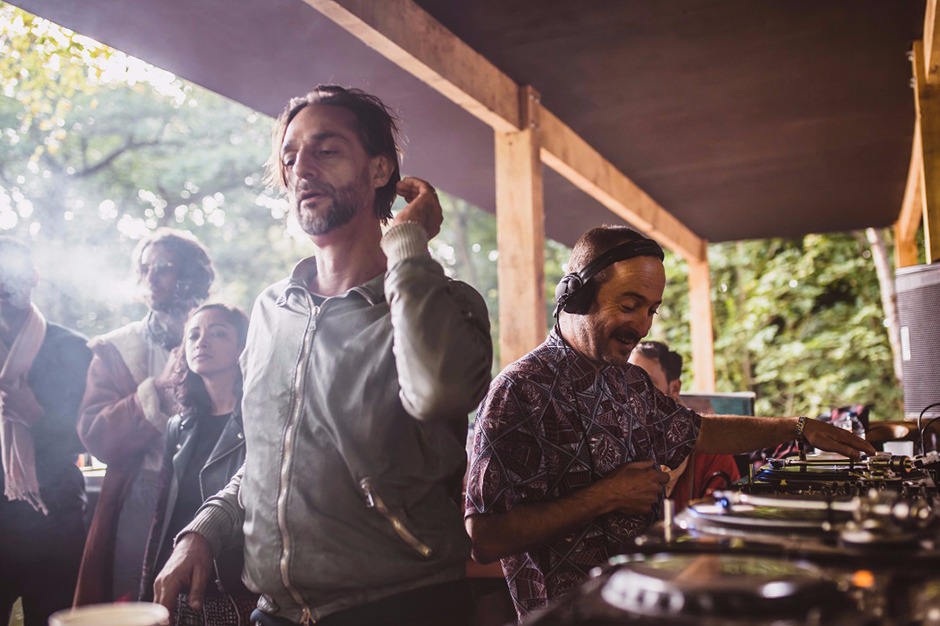 From the vintage Technic turntables in the lofty white, appropriately titled, Brilliant Corners tent, an infa-red electric pig sty and live instrumentals like the clarinet that backed up sets from the likes of Ricardo Villalobos, there was an overarching sense of something just a little bit different, something pared back and honest, taking place.
The success of the event is likely down to its founder, fabric resident Craig Richards, who worked in collaboration with Gottwood to create the event was once quoted saying. 'I don't really like festivals, playing in a big tent, banging the hell out of it… It's not really me'.
With a water-logged season nearly behind us and an air of disenchantment underpinning the scene as a whole, the core impetus seemed lost. A lot of people have tried to do too many things at once. The crowds aren't friendly anymore.
I'd begun to wonder where the future lay. But on the journey home, something tells me Richards and his particular brand of carefully curated, audio-centric fun, the back to back extended sets and the back-to-basic set of rules, might just be it.