Houghton Festival, England's haven for underground and electronic music enthusiasts, unfolded over four exhilarating days. Attendees have consistently praised the event's distinctive layout and unparalleled vibes, a testament to its unique charm. The festival's ability to meld musical genres with a relaxed and communal atmosphere was a welcome breath of fresh air as my first experience. From the moment of arrival, it was a beautiful start with welcoming arms wrapped around me from friendly faces, and those smiles and giggles from those unknown, who were generally dripping with anticipation – reaffirming its reputation as an essential event.
Photos by  Khroma Collective
Houghton's beautiful setting is a focal point by all those who attend. The location, set by the tranquillity of a picturesque lake, was both magical and inviting. The expansive space, adorned with the regal backdrop of Houghton Hall, provided an awe-inspiring ambiance that contributed to the festival's distinct character. With an abundance of well-designed stages and equally matched sound systems highlighted by the engaging experience but also provided a visual spectacle that resonated with attendees, earning high praises from critics. With stages nestled within the forest, the music emanated a particular energy shared side-by-side with the trees – something very magical happens in those woods.
As I embarked on my journey through it, I was accompanied by friends who had meticulously planned a festival schedule, complete with an intricate spreadsheet detailing artists, stages, and timings. While their enthusiasm for catching specific performances was infectious, the challenge of adhering to the schedule became evident. Bumping into other friends heading in opposite directions and the adventure of spontaneous discoveries tested our commitment to the plan. This internal struggle, a common theme among festival-goers, was a testament to the seductiveness of the unexpected in a sea of planned musical rendezvous.
One of the standout performances was Mathew Jonson's set at the Pavilion Stage. Jonson's music transcended conventional electronic genres, taking the audience on a sonic odyssey. His intricate blend of melodic techno, celestial synths, and intricate rhythms created an engaging soundscape that had the crowd in a trance. The artist's masterful manipulation of textures and tones showcased his prowess as a live performer, leaving an indelible mark on the festival's sonic landscape.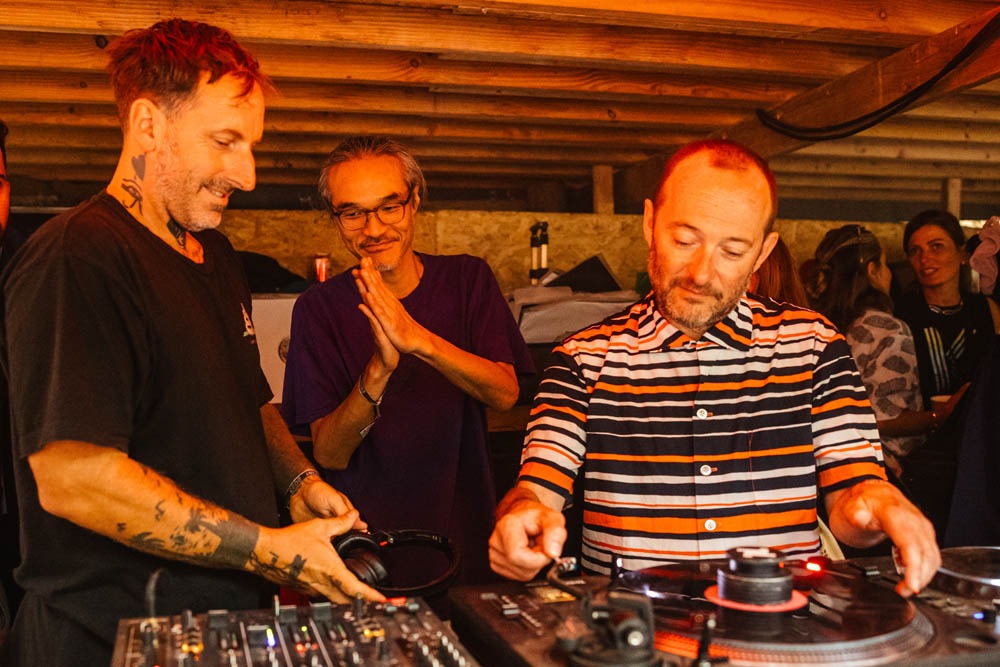 Hidden within the festival's embrace, the super-duper-secret and hidden Terminus Stage hosted Francesco Del Garda, captivating the audience with her eclectic mix of underground beats. Her distinctive style, fusing minimal techno with groovy rhythms, drew the crowd into a tightly-knit dance community. The intimate setting intensified the connection between the artist and her audience, making it a standout moment that resonated with the party's ethos of intimate musical experiences.
Silverlining Dubs took the reins at the Derren Smart Stage, demonstrating a remarkable ability to blend dubby textures with intricate soundscapes. His music unfolded like a tapestry, each layer weaving a complex story that resonated with the crowd's rhythmic sensibilities. The pulsating beats and engaging sound explorations created an atmosphere of hypnotic grooves that united the audience in a collective dance ritual – perfect for a daytime groove. After brief words were exchanged with Asad Silverlining and hearing about his London-based party Neotropiq, it's definitely one to keep on your radar to get involved in.
Nicolas Lutz's electrifying performance at the Tantrum Stage proved to be a captivating highlight. With an innate ability to navigate diverse sonic landscapes, Lutz seamlessly blended a range of genres, captivating the audience with his dynamic mixing style. The mentioned stage, awash in pulsating lights and engaging visuals, provided the perfect backdrop for the DJ's sonic journey. As his set unfolded, attendees were drawn into a hypnotic dance, each beat and transition expertly crafted to sustain an entrancing atmosphere. The French DJ's command over the crowd was palpable, a testament to his deep connection with the music and his audience. His performance at the Tantrum Stage underscored his status as a masterful selector, leaving an indelible mark on the festival's sonic tapestry.
Sunday at Houghton Festival unfurled a day of serene rejuvenation amidst the festival's continuous rhythms. A captivating Gong Bath reverberated, inviting attendees to immerse themselves in an added moment of sound and meditation. The harmonious vibrations paved the way for crystal bowls and synth notes, evoking a contemplative oasis. A revitalizing massage awaited, followed by the soothing embrace of the sauna—a sequence of relaxation that mirrored the gathering commitment to nurturing both musical and holistic experiences, enhancing the festival's multidimensional enchantment.
At the heart of Houghton's inception and success stands Craig Richards, a revered figure in the electronic music world. His dedication to crafting an event that goes beyond a mere lineup to create an engaging experience has been well-documented. Richards' deep understanding of music, paired with his unique vision for an engaging environment, has made the festival a one-of-a-kind experience that lingers in the hearts of those lucky enough to attend.
In a whirlwind of music, camaraderie, and artistic mastery, Houghton Festival once again proved its prowess as a unique musical journey that transcends boundaries and expectations. Its seamless fusion of sounds, nature, and community cemented its reputation as a standout event on the global party calendar.