Our music scene has always been about bringing people together for the love of music, but now more than ever it seems like the simple phrase 'Yes To All' is more important than ever before. HYTE has built their event series on this concept and in doing so has become one of the biggest brands around the world for house and techno parties.
One of the cities HYTE calls home is Amsterdam, which hosts their events two months out of the year at the Warehouse Elemenstraat. When their team transform the warehouse, with a pitch perfect sound system, mesmerizing lasers and lights it becomes a full on rave that will get you tripping to more than just the music!
The first HYTE weekender of 2017 happened this past weekend so I gathered the crew and we headed down on Saturday night. As with most events in Amsterdam this time of year you start off with disrobing your winter gear into a locker and then getting your drink tickets, which was a smooth process and got us in to the main area pretty quickly. Our first stop was the bathrooms which are very spacious with plenty of stalls so throughout the night there were never any queues. This venue is also big enough to hold multiple bars so getting drinks was always speedy. The ease of getting what you need quickly so you can get back to dancing is one of the reasons why it's arguably the best party venue in town.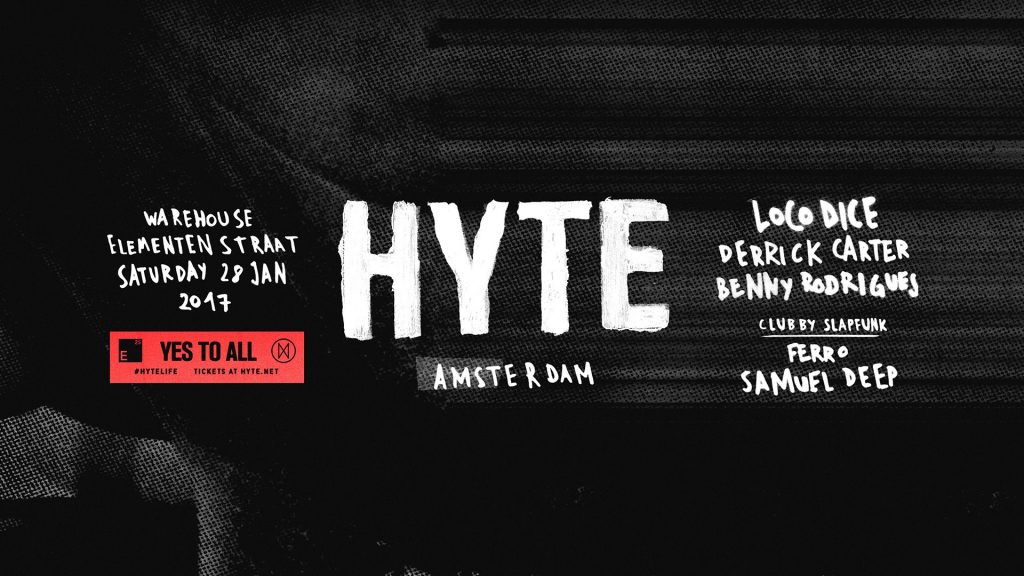 Unlike other HYTE nights which are taken over by heavy hitting techno this edition felt more about going back to groovy vibes that transcended decades of dance music. It was easy to hear this in the main room where Amsterdam's Benny Rodriguez started off the night followed by Chicago house legend Derrick Carter, who continued to build up the tempo with strong techno punches. Finally Loco Dice took over, who is known for his unique style of weaving techno with samples of old funk, soul, Rnb, and house music such Hard Drive's 'Deep Inside', which surely took seasoned ravers on a trip down memory lane.
Meanwhile Dutch label Slapfunk hosted the second room with residents Samuel Deep and Ferro playing solo sets and then back to back up until close. For many of us they were the highlight of the night, taking the crowd through of journey of house music that felt true to its four on the floor origin but with a modern twist; like when Ferro dropped a remix of Tubular Bells laced with a xylophone that haunted the room into a very excitable state!
It was a great night to get hyper to techno yet it had to end. If you missed it or live by the 'never sleep' moto there are still two more weekenders to go this month. You can also join the fun at their annual events during ADE or simply say 'YES TO ALL'. Thanks for the fun HYTE!