Peter Kriek and Ariaan Olieroock had been making music on their own for some time before joining forces and becoming 16 Bit Lolitas in 2003. This collaboration quickly produced a wave of releases. Tracks such as 'The Puppet Show', 'Destiny', 'My Lexicon', 'Stereo Control 'and the epic 'Sednaa' quickly followed on labels as diverse as Yoshitoshi, Alternative Route, Release, Sadie, Plastic Fantastic, Nu Republic, Armada, Minimal, DK and LMR. They then decided to keep control of most of their material starting their own successful imprint Bits & Pieces shooting off club hit after hit. A hectic few years has propelled the boys into the spotlight where their crisp creations have carved out a sound that is both cool and sophisticated. It embraces all that is good about house music.
Peter and Ariaan consistently turn in tight productions that stand out in a crowded market place. Each piece of electronic music is patiently crafted and produced with emotion and care. It's music that creates atmospheres as well as delivering a killer blow without the need of resorting to overused and obvious gimmicks.
16BL will be performing at MiamiDeep on December 7th. We had the chance to talk with them ahead of their upcoming show. Get your tickets here.
Electronic Groove: Hello guys and welcome to EG. We're excited about this year's Art Basel 'MiamiDeep' event where you will be playing alongside Jody Wisternoff. What are your expectations for this special night?
16BL: Hello, thanks for the invite. Really looking forward to it. I have played in Miami quite a few times and I think last time was at the Space Terrace… which was great! Hopefully, we can have similar energy this time around.
Electronic Groove: What are your thoughts on Miami's Art Basel and why do you think that music has become the second centerpiece of the week?
16BL: It's actually my first time playing at Miami's Art Basel so I am really looking forward to explore it. I have taken the week off prior to this show to fully enjoy it. I have only heard great things.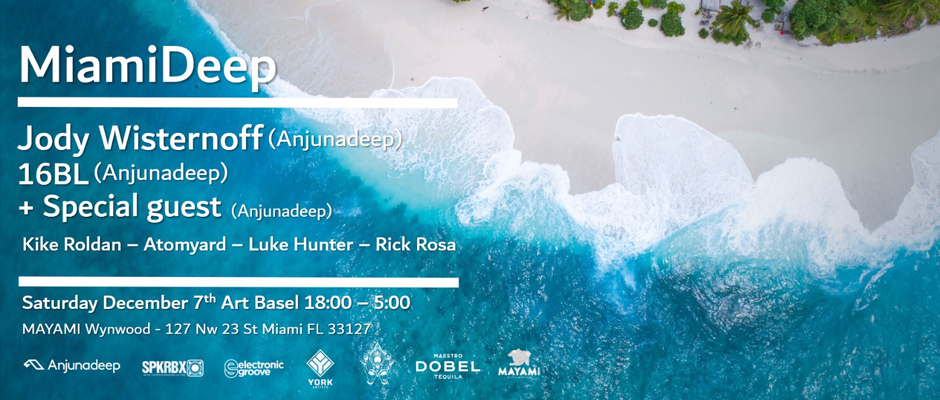 Get your tickets here.
Electronic Groove: Moving into your current projects. How's the end of the year looking? Any new productions coming soon?
16BL: So we just finished our Cubicolor record, which is due to come out on February 21st. The first single 'Points Beyond' was released last week. Go check it out! Then we have an EP in the works but taking January and February to write loads of music. We are thinking of an album but we'll see what this period brings us. At the end of the year I am playing 6 shows in Australia.
Electronic Groove: Going back in time, can you share with us how you guys met and how did this music venture happen?
16BL: We were introduced by a mutual friend and then simply started working together. We really clicked as we both had different backgrounds and 15 years later we're still going strong ?
Electronic Groove: What do you think are each one's strength when working as a duo? 
16BL: We have been working together for so long that it's really hard to say. Usually, Peter is the one who comes up with the crazy melodies and sound design, and I would be experimenting more with the beats and overall vibe. But we actually do both. Now we just start the project separately and play it to each other when we have something exciting. Then I work on Peter's stuff, and he works on mine. No real process, just create.
Electronic Groove: With a long history in the music circuit, what are your thoughts on the current state of the scene and where do you think it can improve?
16BL: I am not sure what it is that can be improved. Right now we are just focusing on ourselves and trying to be the best we can be.
Electronic Groove: What advice would you give to those who are venturing into the music world?
16BL: Experiment, learn, create, and do something you love.
Follow 16BL: Facebook | Soundcloud | Instagram | Spotify