Acado are Daniel Breyer and Felix Reiter from Berlin, both passionate music enthusiasts all along. Since their first encounter at a party at the Kottbusser Tor, their almost magical and definitely successful symbiosis has spawned some stunning sets and highly spirited productions.
Acado's releases like 'Maasai' and 'Again' on labels such as Motek, TwinTown and Aftertech Records, generally hit straight into the Beatport charts and get supported by heavyweight DJs and well-known fanzines. 1.5 million Spotify plays also speak for themselves, just to reference it on the fly. Acado will definitely soon outgrow their status of being an insider tip.
We have a chat with Acado as they are currently touring Mexico.
Electronic Groove: Hi, guys, and thanks for the time. How's your Mexico tour going so far?
Acado: Ah, you know, we can't complain too much – currently hanging out at the beach discussing why we actually have to get back. And what's the deal with this grey cold Berlin winter? Shouldn't we all be living in Mexico instead? Maybe we miss our flights back and start selling tacos.
EG: How about the NYE celebration? How did it go down?
Acado: We had the most kitsch sundown ever at a distant beach of Cancun. Crazy how in one moment you try to put on as many clothes as possible and suddenly you're swimming in the sea at night – which ended with way too much mezcal. Jetlag solved.
EG: What has been the reception so far? Have you seen any difference in the crowd and energy?
Acado: People here seem quite open and we had pretty awesome moments and musical journeys with them. And apart from that playing at the beach or on a roof terrace into the sunset, of course, has its very own vibe.
EG: You've been working as a duo for some time now. Can you share with us how it all got started?
Acado: Daniel was actually on his way to Berghain when he saw a crowd dancing on the other side of the street. They were following the sound of Felix's mobile sound system. By then he was organizing spontaneous raves in and around the Berlin subway. We had to change the place all the time that night – "inspired" by the police that kept on friendly asking us to leave.
"When we are traveling it's (…) the perfect moment for new ideas that we can use for new productions"
EG: While on tour, do you take time to work on new material?
Acado: Daniel is actually playing so much on the tiny guitar he brought it's almost annoying. And apart from that, we brought an Octatrack, a Roland SE02, laptops and a field recorder. And who needs clothes and stuff like that anyway, when you can bring another nerdy instrument?
EG: Does your surroundings play a role in the music you produce and why?
Acado: New influences can be quite inspiring. When we are traveling it's not the perfect time to finetune sound or arrangement, but it's often the perfect moment for new ideas that we can use for new productions. The result might be new chord progressions (which Daniel will play on his guitar forever) or field recordings which then become the source of new tracks.
EG: Moving into DJing, what has been your favorite venue to play at? Small club, boat party, massive venue? And why?
Acado: Difficult choice. Habitas Tulum was pretty awesome. The DJ booth and dancefloor are on an incredibly beautiful beach and you mix while watching into the sea. But our set on the rooftop of Maui Suits in Playa del Carmen was a lot of fun too.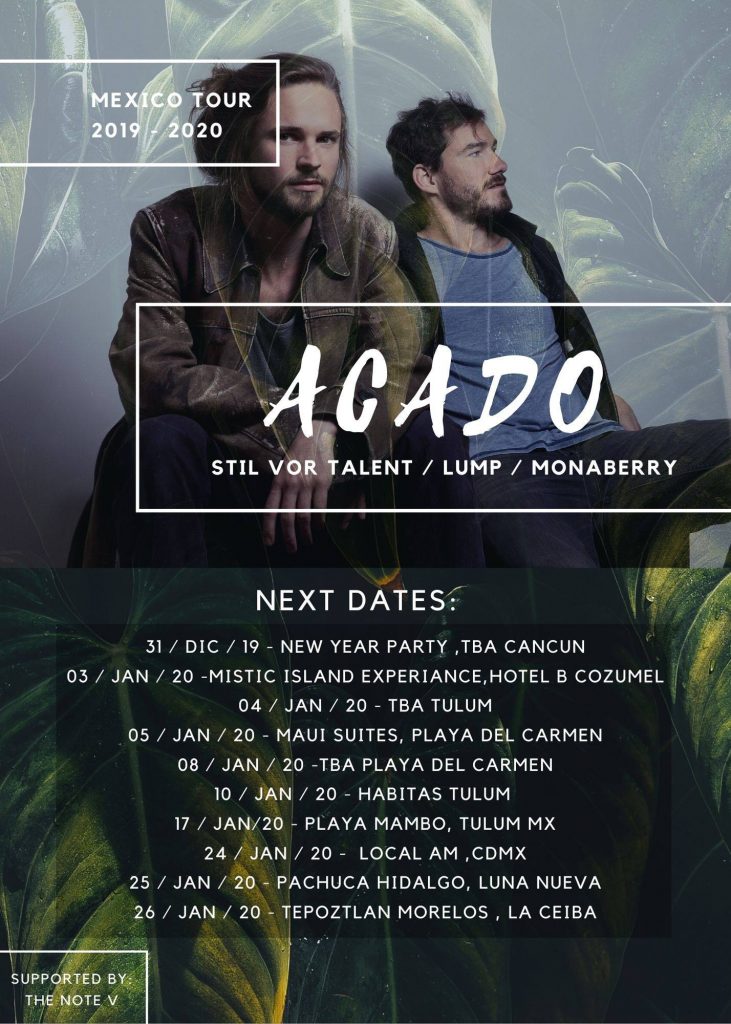 EG: Can you share a couple of tunes you can't live without?
Acado: The tunes we like the most, of course, vary a lot over time. Tunes we play almost every time at the moment are Victor Talking Machine – Line, and David Keno – Can't Feel. But tracks we play the most frequently are probably our own like Shivaya, Alpaca, Asura (which we made together with Elias Doré), Gobi, Sundown, our remix of Marc DePulse's Etepetete, or the remix Zuma Dionys did for us of Govinda.
EG: What would you say is the easiest and hardest part of working as a duo?
Acado: Sometimes we have quite different tastes or opinions about our music. The nice thing about this is when we find a solution that we both like it is quite probable others will like it as well. But for this, you frequently have to sync and find solutions that fit for both. Anytime we are not able to do that we either flip a coin or get half-naked into a pool full of mud and solve it.
Follow Acado:: Facebook | Instagram | Soundcloud