An artist with a cultured past venturing into new territory under a refreshing new moniker, alias_j, Jon Ojeda has existed throughout key eras of electronic music that have contributed to a newly readied artistic package.
Inspired by many electronic greats, alias_j comes to the fore with an invigorating sonic palate – spanning the realms of melodic house & techno and breaks. Building on over two decades of label operation, Jon already has some exciting releases locked in with prominent labels under his alias_j persona – including 'Changes', his debut release on Pig&Dan's revered ELEVATE imprint, hitting top positions (#4 in melodic house & techno and #5 in techno) in the Beatport Top 10 Charts.
Here we sit down with alias_j to talk about the release of his 'Changes' EP on ELEVATE, learn more about his inspirations, future plans, and more.
Electronic Groove: Hi Jon! Welcome! It's a treat to have you here with us. How have you been doing?
alias_j: Hi There, thanks for having me! Things have been great. I've been quite active in the studio lately and enjoying the change of the seasons…life is good!
Electronic Groove: So, alias_j is a new direction for Jon Ojeda… How and why was alias_j born?
alias_j: Great question. I've been producing in duos since the late '90s. For many years, I really didn't have enough knowledge to go out on my own. In most of my studio relationships, I worked as an idea guy, creating sound effects, suggesting arrangements. However for a long time, if I were to put myself in front of a DAW, I'd go blank – I'd be stuck in the proverbial loop stage. For many years, I had a studio partner in Ireland, Chris Boshell. Since I lived in San Francisco, we'd send back sessions, to work on. That really set me on track and about 4 years ago, I was starting to write my own tracks, but nothing ever finished. Covid presented a great opportunity to try new things and venture out and since I was locked up, I went head first to figure out what it would mean to be a solo artist. I've always liked the idea of unique artist names as opposed to my real name. It was also 'safer' to that approach since I wasn't sure of my quality level yet. So, I decided to create something that helped me hide and freely explore. Thus, alias_j was born.
Electronic Groove: Who was Jon Ojeda before becoming alias_j? How is alias_j different from who you 'used' to be?
alias_j: Well, I think I just blew the cover a little bit in the last question but I've always been a DJ and producer in some capacity. I used to run in some impactful circles in the late 90s to early 2000s in the bay area, owning the Spundae Records store, handling A&R for Spundae Recordings, and holding my residency for Spundae, playing at their various events around the country (SF, LV, LA, Chicago, Miami, NYC…). That's also the time I met my first studio partner, Doug Eisengrein. He was more of an experimental minimal techno producer but with a serious way around the studio. We released our first (and only) single on Spundae under the artist name Suffix called 'Mindgaps'. At that time I also (virtually) met Christian Boshell and Al Manning when they sent a demo to me at Spundae. While I was on a European tour in 2004, I met up with them in Derry, Ireland and we wrote our first (and again only) song under the artist name Cojac called 'Triad' which was released on Stripped Recordings. We'd then go on to run Omnis Recordings together, releasing nearly 100 singles until we closed up shop in 2019. During that time, Chris and I started writing music together. We went through a myriad of names but one that stuck was Boxrocker. We released a few tracks under that moniker and it was only a few years ago, I decided to take on this solo adventure, which I'm very energized about.
Electronic Groove: And speaking about new beginnings, you've hit the ground running with your 'Changes' EP on Pig&Dan's Elevate label! Congratulations! Were you expecting the EP to have such an impact?
alias_j: Absolutely not! I definitely believed in the music and what I was doing but I was just happy to release on a label I respected so much, one that was run by gents I had been following for years. When we were running Omnis Recordings, we had signed a remix from Pig & Dan so we had a connection inadvertently. However, when we talked about it, it was a bit of a distant memory and it wasn't at all the reason we connected at this stage. It's been crazy to watch it climb and sit up among so many great tracks and producers. In the end, it reached #4 on the Techno and Melodic House & Techno genre release Beatport charts and I couldn't be happier, especially since this is my first release out of the gate.
"I used to run in some impactful circles in the late 90s to early 2000s in the bay area, owning the Spundae Records store, handling A&R for Spundae Recordings, and
holding my residency for Spundae"
 Electronic Groove: What does 'Changes' stand for? What was the inspiration behind these tracks?
alias_j: It's really the story of my journey becoming a solo artist. 'Dominion Rising', the first track on the EP, was the first track I finished as alias_j. I'd say it represents my internal dominance taking over as an independent artist. The second track, 'Moving Again', has to do with me hitting a ton of walls in the studio and pushing through them. I was having a really difficult time getting from sketch to arrangement but I took a few tips on how to solve for that and found what I'd say has been a silver bullet for me in the studio (if you haven't checked out ANNA and Wehbba's Master Class, and you're a techno producer, I highly recommend it!). I'm able to finish tracks quite quickly now as a result. The closing track, 'Difference of Opinion', has to do with any number of disagreements I've had with any number of different industry people on creative decisions, how to approach things, questioning my own value. What I've found through the journey is a sense of harmony in myself since I can now make the decisions I've wanted to all along and put them to the test, without question. That's been quite liberating. There have been so many changes during this journey. The culmination of these three songs is a good representation of that – hence the 'Changes' title.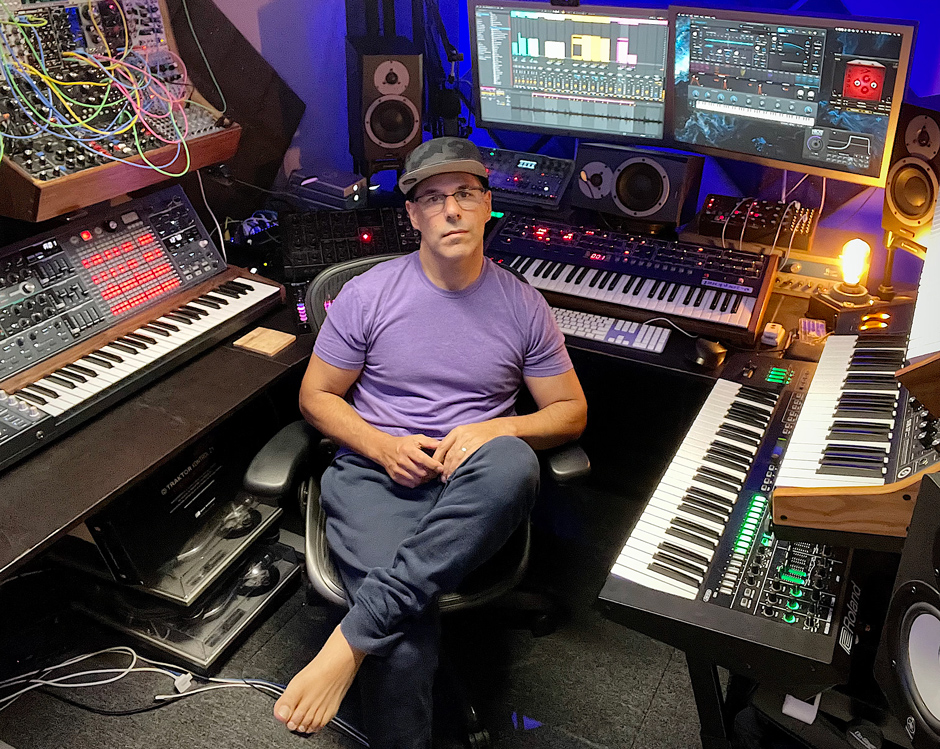 Electronic Groove: We loved 'Changes' by the way. It's a highly refreshing take on Melodic House. How would you describe the sounds and intentions found across the EP? And if they were paintings, what colors would predominate?
alias_j: Ah thanks for the compliment. I truly do this hoping others will enjoy it! This is an interesting question. I hadn't thought about that yet but I'll take a stab… 'Dominion Rising' is all about the lead and bassline. The synth I used is ironically also called the 'Dominion' I and it can produce some incredible lows. If there was a color to it, I'd say a rich deeper blue, partially because the synth has a deep blue faceplate, and partially because I color my basslines blue in my sessions. 'Moving Again', to me at least, is all about the lead and the supporting noise rhythm patterns that travel below and throughout the song. If I were to give it a color, green might make sense. Maybe because when the hook/lead comes in, the song really starts to take off and go. But if I were to pick a color for 'Difference of Opinion', I'd say something neon makes sense to me, maybe neon pink or fuchsia. Although very subtle, the song has a bit of a retro 80s 'Miami Vice' vibe going on. It's not something you notice immediately, but for some reason, I think of the artist/painter Patrick Nagel. He was responsible for a lot of the aesthetics of that time (pastels, neon….). It's quite a percussive and bass-heavy song as well and if I'm thinking of it in chakras – fuchsia leans towards red, and red represents the foundation or base of things.
Electronic Groove: Great descriptions! And in regards to current times, the pandemic gave a lot of people the chance to sharpen up on something, start something they always wanted to, and even learn how to bake bread (laughs)…Were you able to learn/do/pick up something like that?
alias_j: Aside from the deep dives I've been doing in the studio, I actually took up surfing, but I affectionately call it 'standing and falling'. I'm definitely not good, but I definitely enjoy myself.
"What I've found through the journey is a sense of harmony in myself since I can now make the decisions I've wanted to all along and put them to the test, without question"
Electronic Groove: Haha! So, what's next for alias_j? What new milestones are you looking forward to in the coming months?
alias_j: In the studio as much as possible and trying to stay on my track-a-month regiment. I have a number of tracks I'm shopping for. I finished a few classic reworks I'm really happy with, one being a revisit of Jark Prongo's 'Movin' Thru Your System', which will be circulating soon. I'm also working on a remix for longtime friends and breakbeat artist Momu for San Francisco-based Looq Records (likely out closer to the end of the year). I'm also definitely looking forward to the few gigs I have coming up and putting together my 'Lock & Key' monthly mix and playlist series. All in all, just trying to stay as inspired as I can!
Electronic Groove: Great! Thank you for your time and we wish you all the best for the future!
alias_j: Thanks very much. I'm grateful for the opportunity. All the best to you as well!
alias_j's 'Changes' EP is out now via Pig & Dan's ELEVATE. Purchase your copy here.
Follow alias_j: Facebook | Instagram | Soundcloud | Spotify