Back in his native Australia for the first time in over two decades following a twenty-five-year stint living in the USA, Antipodean producer, DJ, and label boss Barbuto is a man on a mission. Boasting a slew of hugely successful releases on the likes of Octopus Recordings, Tronic, Phobiq, Unity, OFF Recordings, Transmit Recordings, and his own Mavic Music imprint over the past few years, the Sydney-born talent now looks to grab 2022 by the horns as he unveils his latest musical offering.
Released via his burgeoning label Mavic Music alongside a trio of remixes from some of the most exciting up-and-coming artists on the Australian circuit, 'Techno Colour Dreams' is a veritable masterclass in modern, driving techno, courtesy of a producer at the very top of his game right now. Inaugurating the four-part package with the uncompromising title track 'Techno Colour Dreams', Barbuto's relentless opener exudes raw, energetic dynamism across its six-minute duration as he combines pulsating basslines and cutting-edge production techniques with MC Flipside's inimitable spoken word topline to open his 2022 catalog in emphatic fashion.
We caught up with Barbuto from his home in New South Wales to discuss the new 'Techno Colour Dreams' EP, studio workflow, and plans for the rest of 2022.
Electronic Groove: Hi Barbuto, welcome to EG! How's your year so far? How are you doing? Where are you based right now?
Barbuto: Thanks a lot, it's a real pleasure to chat with you guys today. I love EG. The year so far is great having started with a cracking New Year's Eve party in Sydney. However, clubs have since been restricted, so back to forced studio time which is much needed anyway. Currently, I am based in a small town called Bowral, a little over an hour South West of Sydney.
Electronic Groove: Congratulations on the release of your 'Techno Colour Dreams' EP! You must be very excited. What has the reception been like so far?
Barbuto: Thank you very much! I truly love this release, love playing it, and loved making it. The reception has been amazing. Tracks with solid original vocals always get that little extra attention.
Electronic Groove: What's the inspiration behind this one? Do you tell 'stories' through your music? Or do you view them more like sonic explorations?
Barbuto: This one definitely has a story through the vocal, so to answer most honestly, my personal part was more sonic exploration than replicating a sound in my head. Once the beats of the track were finished I was going to release it as is,  a cool solid groove. But I felt it needed that solid original top line, so I called Flipside for the vocals and he did a great job with some storytelling. I hope people listen to the words.
Electronic Groove: And sonic-wise, what can your fans expect? Is there a new direction or element you hadn't explored before?
Barbuto: (Laughter) It's pretty staple Barbuto here. Big low-end feel that carries the track and bold impacts and synths that come together to form a techno melody. Working with Flipside was new. He is a musician where I am a DJ so he really pushed me to make the track musically correct and that the elements were tight and his vocal did, as he would say, "sit right in the pocket".
"Like a lot of 90's and 2000's kids, it was all those damn raves(laughter)! I just had the time of my life and the music was irresistible, so had to get into it"
Electronic Groove: The EP also features three remixes, courtesy of Mike Turing, Lisa May, and Ludovic. How would you describe them? Was there something that caught your ear and made you go "oh, why didn't I think of that"? Have you met everyone before?
Barbuto: Yes, I've known them for quite some time now, as they are all artists on my label Mavic. I think they are all extremely committed to their craft and have loads of talent. Australia has so much untapped talent it's extraordinary. All 3 remixes are very different and along with the original there is a tempo in there for pretty much any part of the night. Lisa's has some great little old-school splashes of effects and a classic housey chord that comes in that I love; Mike Turing's remix is a scud missile, and Ludovic's remix is a twisted bomb. I still haven't met Mike in person yet, but it's on the books to catch up for a beer.
Electronic Groove: What is your workflow in the studio like? Do you have some sort of blueprint you can follow on most occasions? Do you work mostly inside-the-box?
Barbuto: Yes, these days I am 100% inside the box as the software nowadays is in my opinion pretty equal to analog synths and you can do so much with automation. I don't have a blueprint, but I'll typically start with synthy undertones to get a rolling dance groove vibe then start with simple spaced out chords and impacts to create an easy original melody. Once that is done I add ear candy effects and noises to fill it in. I recently started writing on cheap 4-inch monitors and finish the track before moving on to Adam A7X's for mixing. This has really sped things up as it prevents me from playing with the fine-tuning of the sounds before the track is done. I don't have much going on, usually around 12 to 15 tracks including the drums and effects. In the end, I'll add some cool effects plug-ins from Soundtoys and Arturia to get things moving and diverse.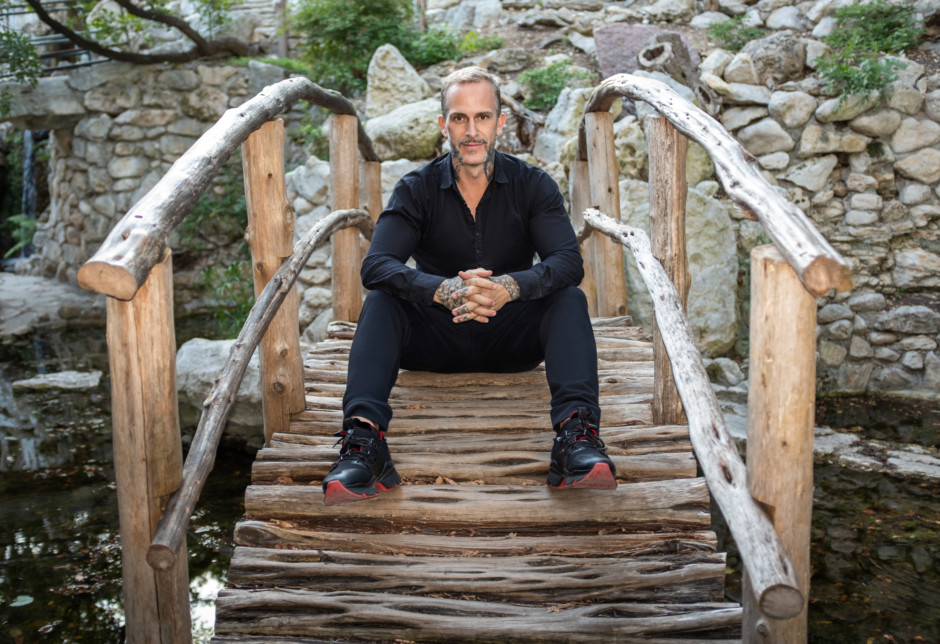 Electronic Groove: And, how did you get into electronic dance music? Was there a record or song that kinda pushed you to it?
Barbuto: Like a lot of 90's and 2000's kids, it was all those damn raves (laughter)! I just had the time of my life and the music was irresistible, so had to get into it. It was definitely following Carl Cox in the late '90s and early 2000s and his 'Ultimate Bass' mix CD that was my foundation for inspiration. I was honored to open for him in Austin a couple of years ago so that rounded off one of my biggest goals. If you haven't listed to 'Ultimate Bass', you should.
Electronic Groove: What are your thoughts on the current state of the scene? The pandemic gave us all a chance to slow down, reflect, and have a lot of uncomfortable, but necessary conversations…
Barbuto: Well it's difficult because I am not playing this weekend, so it's a bit tough to swallow. I did get Covid back in August last year and became extremely ill so after that, I was more understanding of the shutdowns. I think things have overall been too politicized and profited and hope that maybe this last wave of Omnicrom that it seems everyone had that maybe it will come to an end. Beyond all that the scene is 100% top-notch at least here in Australia. Events here are fantastic.
"I felt it needed that solid original top line, so I called Flipside for the vocals and he did a great job with some storytelling. I hope people listen to the words"
Electronic Groove: What else can we expect from Barbuto in the future? What new milestones are you looking forward to in 2022?
Barbuto: Lots of fresh productions and hopefully gigs all around Australia. I'm working closely with WeLove, which is Nick Reverse's brand. It's incredibly tight and professional, and we have a lot of events scheduled presuming there are no restrictions. I am playing a big party with Victor Ruiz, and WeLove also has a club night on the Gold Coast. Production-wise, I'm finishing a collab with an artist in the UK, HART. He sent me a demo for Mavic and I wanted to rework the tracks into a collab. And I will be doing some remixes for friends' labels all year. Just having fun in the studio these days. I have a new studio with full room treatment by Sound Acoustics Australia, so after all this time, it's my first real pro-feeling room to work in every day.
Electronic Groove: Thank you for your time Barbuto! We wish you all the best for the future!
Barbuto: Thanks so much! I love you guys!
Barbuto's 'Techno Colour Dreams' is now available via Mavic. Purchase your copy here.
Follow Barbuto: SoundCloud | Instagram | Facebook | Spotify