EG's fixation with bringing you neoteric sounds from around the world steps it up a gear this week as we standingly ovate the release of this latest mix from fabric's, Bobby.
We caught up with him to get the juice on his current and future trajectory as he celebrates the 2nd Birthday of his label, Pleasure Club with a series of parties across the United Kingdom.
Contained in the mix is the archived record bag destined for a Houghton that never was. It also runs three unreleased tracks from Bobby's label, Pleasure Club that he runs in conjunction with his admirable Needs (not-for-profit) endeavor.
What follows is an audio-smorgasbord of genre and competitive effect. A set so well-matched, in fact, that Tinder might want to consider replacing its own algorithm, come 2021.
You just missed the first birthday party at London's beloved Lion and Lamb, but catch Bobby at fabric later in February or with top-draw selector Voigtmann at Wire in Leeds this Saturday. Or check out their new EP, featuring Omar!
Here's our interview with the man behind the pleasure.
Electronic Groove: Hello Bobby, congratulations on the fabric residency. How much has this changed your trajectory as an artist?
Bobby: Thank you. Above all, it's been really nice to feel a part of something. I've been a lone ranger for most of my time in the music industry, so joining the fabric family and the support that brings has been a really sweet thing.
I can already feel the positive effect it is having on the way I DJ. Just from playing across the different rooms and in different situations. Leaning to warm up the dance properly. Life is about learning and there has been a lot of that in my short time with the club. It's been a wonderful part of my journey so far and something that I'm incredibly thankful for.
EG: If you were to pick one project or moment you were most proud of over the course of your career, would that be it, or was there another defining/special moment?
Bobby: Other than fabric I would say it was when I started my first label, Needs (not for profit). That was a special feeling. I had wanted to start a label for a long time so when it finally materializes and you're holding the record it's a definite feeling of accomplishment. I'm not really one to pat myself on the back too often, but that felt like a good moment to.
EG: Tell us about your background. You studied up in Leeds. Tell us about that era and the Pleasure Club days and what it meant for you and the people around you?
Bobby: I studied in Leeds whilst also spending summers in Ibiza. The two were very interconnected at that time, and were great places to get immersed in electronic music and club culture. During these years I started DJing and would also help out with promotion for a few parties in the city. Learning the ropes. In the final year of my degree (bad timing) we started The Pleasure Centre, which began as an afterparty in our student house basement where we would bring DJs back from the club. It was a lot of fun.
EG: Thanks for the excellent mix. Do you have a favorite track on there? Why?
Bobby: I would probably go for the last track. It's called 'Nine Tenths' and it's from a forthcoming album on Pleasure Club by Francesca. It's an amazing album and I really can't wait to share it with everyone.
"The music has to be appropriate for the occasion, and this knowledge and understanding only comes with experience"
EG: You seem to be quite connected with your audience wherever you perform. Do you prefer more intimate crowds compared to the larger festival stages? Does your performance change in any way, depending on the size of an audience?
Bobby: I like all the experiences in different ways. But I think it's hard to beat a small, intimate setting with a crowd that is on your side. I'm not sure you can really get that feeling with bigger audiences… Although it can definitely be a rush looking out to a sea of people. I think you just have to adapt to different situations. Tracks that move a smaller room may get lost on big festival stages. The music has to be appropriate for the occasion, and this knowledge and understanding only comes with experience.
EG: You work closely with Craig Richards who has played a huge role in shaping the current world of electronic in the United Kingdom. What's the best advice he's ever given you?
Bobby: Don't rush.
EG: As an artist, what is your definition of art?
Bobby: A well formed idea.
EG: What's your studio set up like? Do you have any new favorite gear?
Bobby: I've been slowly rebuilding my studio over the last few years since it was robbed. I'm a huge fan of the 808 and I've just bought the new Behringer clone. It arrives later this month and I'm very excited to see if it lives up to the hype.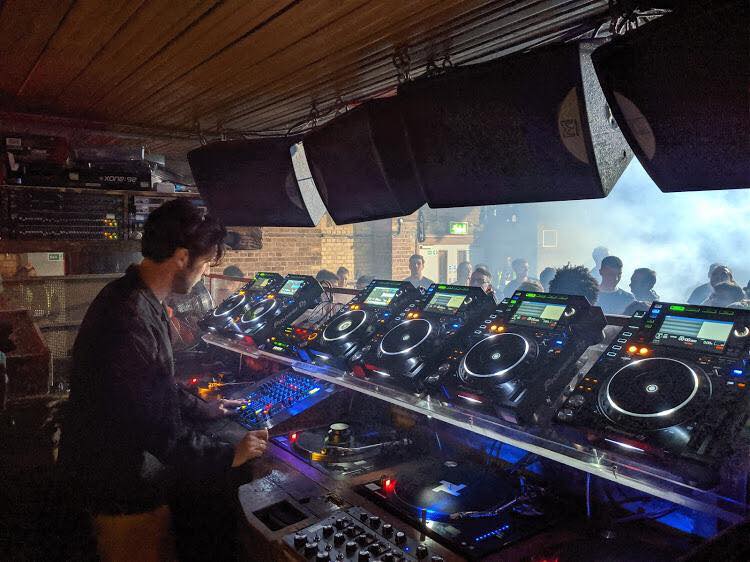 EG: Do you have any activities you like to do outside of music? How do you find time for yourself
Bobby: My time is currently split between running two record labels, organizing two event series, digging for music, traveling for gigs and trying to produce as much as possible. So to be honest I don't find so much time for anything else other than music at the moment. I would really like to make more music. This has always been my happy place. I also would like to dedicate more time for yoga and meditation. I think these are key activities for all humans.
EG: What is the easiest and hardest part of being in the public eye. Do you enjoy it or can it become overwhelming?
Bobby: I think it all depends on how confident you're feeling. If you're in a good place mentally it's a lot easier to navigate your way through the madness. We're only human and will suffer the ups and downs of life, especially so in the nightlife industry. This is why it's really important to look after our physical and mental health.
The older (and supposedly wiser) I get, the more I realize social media has a dark side. In my opinion, it's been a key agent of change in our industry over the last 10 years, and not necessarily for good.
"I think it's hard to beat a small, intimate setting with a crowd that is on your side"
EG: Musically, what trends do you see emerging & what do you think the future of electronic will look like?
Bobby: I'm currently witnessing the third wave of UK garage in the time I've been into electronic music, so it's cyclical nature is becoming very apparent. Based on this I will make a prediction that we will see a return of minimal in the next few years (you heard it here first).
EG: As part of the industry, do you like its current state and what would you like to see improvements in the coming years?
Bobby: I see two sides currently, one which is money-driven and one which is quality driven. And I suppose this is how it will always be. The techno ying and yang. You can't really have one without the other, and it's totally fine either way. You just define yourself by the choices you make. I sincerely hope the money side doesn't get too out of control, as it's having a detrimental effect on the scenes around the world. There has to be a certain level of responsibility that comes with that kind of power. But as long as the passionate promoters, artists, clubs, and dancers keep doing their thing, and fighting the good fight, I think we'll be alright.
Follow Bobby: Facebook | Instagram | Soundcloud