Matthias Meyer and Budakid have been producing individually for years but recently they have joined forces to release some amazing EP's. Now, for the first time, they will be playing back-to-back in Amsterdam for the first time on December 30th for the Gardens of Babylon pre-NYE party.
EG caught up with Matthias and Budakid to chat about how they met, their productions, life during Covid, and how to juggle all aspects of life as an artist these days.
EG: Thanks for joining us guys, welcome to EG. Firstly, we're curious about how you guys got together to produce and then decided to start going back-to-back?
Matthias Meyer: Thanks for the invite. I was always a big fan of Budakid's music, people told me he is also a very nice guy! Then, one day, we played together at Watergate. We exchanged contacts and then we met up for some drinks, talked, and we clicked. A few weeks later we tried to make some music together and it worked really well.
EG: We definitely agree, your styles blend so well together!
Budakid: I was familiar with and also a fan of Matthias' work. 'November Rain', 'Infinity', and many more that caught my attention. We started to talk after a release I did on Exploited. We caught up for a jam, which slowly started to turn into a fruitful friendship. Very pleased to have Matthias as a friend and musical inspiration.
EG: We love both tracks of your latest EP, but 'System' really stands out with the lyrics "sometimes we fall apart, breaking down to the System, feeling free, together we are, sound to the rhythm". This reminds us of how society felt during covid times and we need to be together to dance and feel free. What did the lyrics mean to you and who wrote and/or sang them?
Budakid: While writing the lyrics this was exactly the train of thought. Writing about dissonances in our society, experiences in my personal life, and sometimes even reflecting on our own behaviors and society fuels songwriting. I like to write lyrics that are mostly cryptic, but somehow I feel people do understand them exactly in the way I describe things. While writing the lyrics, we recorded my voice directly on the loop we had going on. I am, sadly enough, not a singer, but I try to express my lyrics in a more casual way.
EG: It's awesome you wrote and sang them! Even if you're not a singer, the way you added the filter onto your voice made it work so well. Your message was definitely clear. How did you cope during Covid and have you changed in any way because of that period of time?
Budakid: Personally, it was for me a moment to step back and also invest in family and friendships again. I realized I lacked that before, even if it's important to me. Musicwise, I kept on producing, because this is something I keep doing, seeing it always as a hobby. It also created the time and space to help people with their own music in the way of co-production and ghost production, which I also enjoyed a lot. So it definitely was a moment of reflection for me.
"Writing about dissonances in our society, experiences in my personal life, and sometimes even reflecting on our own behaviors and society fuels my songwriting" – Budakid
EG: You mentioned ghost production as something you do, there have been different views on this in the industry, what do you think about artists that take credit for others' work? Or is there a different aspect to ghost production some of us don't understand?
Budakid: How I mostly try to explain this taboo about ghost-producing is by dividing it all into individual jobs. Such as a DJ, performer, songwriter, mix engineer, master engineer, marketeer, PR agent, booking agent, and even more. All those tasks were back in the days covered by different people. Over the last decades, people started to do all those jobs on their own even if every job needs his own expertise and skill. This DIY behavior slowly became the standard, but actually shouldn't be something to be ashamed of if it's not done by just one person.
A good DJ can be an amazing music selector, but this doesn't mean he is skilled in making his own music. A producer can be an outstanding music producer, but this doesn't mean he can perform. An artist can be a performer and an amazing songwriter, but this doesn't mean he does his own mix/mastering and marketing. People who succeed in doing most of these things on their own, mostly succeed quicker and are respected by most of us because of their hard work in every aspect. This being said, professionalism needs commitment, which costs time. So to ask for help for something you are not skilled at or things you don't have the time for is something totally fine.
EG: We understand that and it's a pity that these days DJs can't be just that, an amazing selector. On the other side, producers have to come out of the studio to DJ, which can be very daunting for someone who is an introvert (we believe many are). There are so many issues that go along with this, and trying to make money in this scene is very difficult without gigs, which means a lot of touring…so then you have financial pressure on top of growing mental health issues, how do you cope with it all?
Budakid: Well, there are a few amazing selectors that have been mostly DJing in their careers. Producers can also succeed in just being producers, meaning they don't have to perform or DJ, more of a behind-the-screen kind of job. So, just to be occupied with one of the other jobs is still possible, I guess. But it's true that becoming successful has become tougher nowadays.
For me, personally, it was never about being successful or the money. I actually still see it as a hobby, so to say. If I am getting financially unstable, there are plenty of other things I could do. Mentally, it's quite draining, because on one hand you want to play your creations around the globe and on the other hand you also want to make new music in the studio. What currently helps me focus is physical workouts such as bouldering and jogging together with a healthy social life.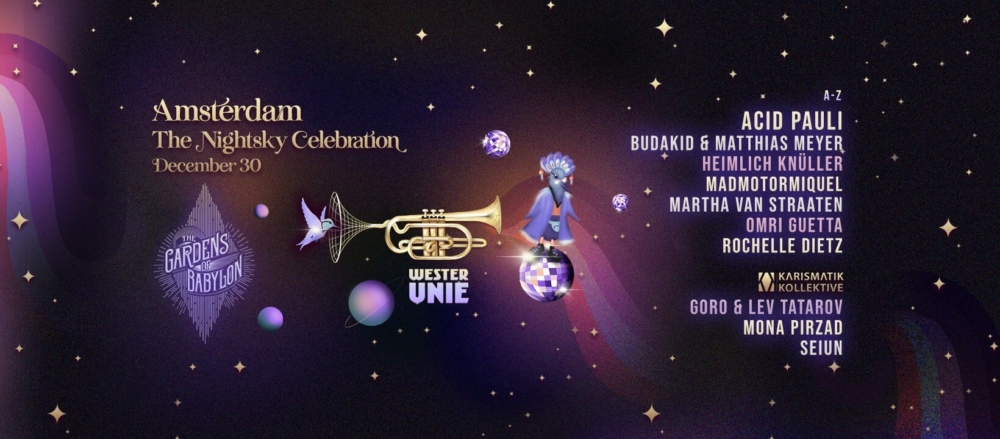 EG: I imagine it's difficult to keep a good balance, but it's good you stay active as staying physically fit definitely helps mentally. A club in Amsterdam recently decided to ban phones, and we know several clubs in Berlin already do that. What is your opinion on this? Looking up at a bunch of phones probably isn't as nice as seeing people actually dancing, how do you feel about it?
Budakid: This ban could be there out of different motives. Let me think from a crowd's perspective. A dance floor has to be a place of freedom, a place where you can let go of yourself without a third eye watching and judging you. A phone on the dancefloor restricts you in that sense. For a DJ, it's the same. A camera or phone creates more tension because it registers everything a DJ and/or performer does. This gives most of us also less place to improvise and to go out of the box and makes us play safer in the end.
That being said, I think it is nicer to see people that are enjoying the moment and party instead of working on their artificial selves on any social platform. But yeah, who am I to judge all of that? It's just a different way of music consumption.
EG: Totally agree. We have our moments of wanting to record, as we do love to relive moments the next day, and we do it to help promote the DJs we love, but it does take away from being fully immersed in the music. Sometimes it feels like we're working instead of just enjoying the moment. This year we were reminded how important it is to connect in person rather than virtually. What were your highlights from 2022 and what are you looking forward to for 2023?
Budakid: The highlight personally for me was the general revival and development in the music industry. I honestly didn't expect to be back on tour so quickly and that said I even think it was one of my most fruitful touring years. This on the other hand explains that I am also really looking forward to my studio sessions early next year again. Can't wait to jam around again in my little playground.
EG: Does your touring give you any new inspiration or do you find that by playing around in your studio?
Budakid: Yes, it does actually. On the road, I get mostly a bit more relaxed in my mind, which allows me to think about new topics to write about. Also, I come up with new track concepts which are not necessarily in sound, but more in lyrics or textual concepts. And, oh how cliché it sounds, but I also do my sound recording now and then with my phone. I see it like making pictures – sometimes you just want to remember or save a moment to maybe use as an inspiration or sample.
Follow Matthias Meyer: Facebook | SoundCloud | Instagram | Spotify
Follow Budakid: Facebook | SoundCloud | Instagram | Spotify