Ever enigmatic and distinctive, Clarian, a songwriter and sound engineer from Montreal, first gained notable recognition by the music scene via his former work in synth-pop duo Footprintz, releasing several highly-acclaimed singles as well as 'Escape Yourself', an album project that was co-produced with Ewan Pearson and released via Visionquest.
Since the release of the aforementioned long-player, Clarian has continued his sonic development, maintaining his imaginative semblance channeling this into his own signature recording techniques and collaborations. With releases on labels such as Kompakt, Turbo, Rumors and Founders of Filth, Clarian has as well collaborated and engineered on several warmly received releases with Guy Gerber, Tiga, and recently Felix Da Housecat, and Jamie Principle on FOF's debut release Vol 1.
We had the chance to talk with Clarian as he recently released his debut album 'Television Days' on Balance Music.
Electronic Groove: Hi Clarian, thanks for taking the time to chat with us. How's your year been so far and where are you right now?
Clarian: Hey guys, my pleasure. The year has been alright so far, thanks. Right now I'm in the winter of my city, Montreal.
Electronic Groove: We've just finished listening through your new LP 'Television Days' released on Balance Music. The album is said to be influenced by a Casio found under the bed of an Airbnb. Can you give us some insight about this?
Clarian: Well, actually, that was an exaggeration which got blown out of proportion but it does still sort of describe the feeling of the record. It was made in Berlin a few years ago in a shared loft near Wilde Renate with some friends. There was an old Casio under the bed and still in pretty good condition! I found it while I was looking for some lost USB keys in my room before a set at Kater Blau, I think at some strange hour!
Electronic Groove: Why the name 'Television Days'?
Clarian: My friend and inimitable visionary Benj came up with the name one night while we were hanging out, discussing names in general. The name game can get pretty funny and creative when you're out and about kicking ideas around.
"If you can get deep with the record that's awesome"
Electronic Groove: Who is Kevin Jones?
Clarian: Kevin Jones was a science fiction television scriptwriter from Los Angeles, prominent in the late 80's early 90's. He disappeared sometime in the 90's in Mexico while working on a very mysterious project. There are many rumors about what happened to him. Stories about how he lost his mind and befriended a talking iguana and believed that ancient astronauts were contacting him. It's a very intriguing mystery to me.
Electronic Groove: Are you expecting anything in particular from the listener? Travel through time maybe? Deep Meditation?
Clarian: If you can get deep with the record that's awesome. If you can get rocked with it too, that's cool. It's made for scenic route car drives, headphones on the bus, after parties with friends. That kind of things. No strings attached.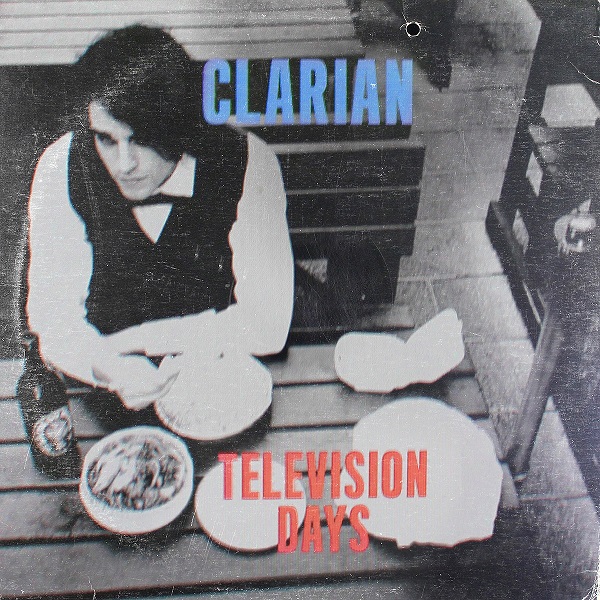 Electronic Groove: Is there any tour planned to support the album?
Clarian: Yes, we're building it as we speak with dates around North America and looking at possible dates in Asia as well in the summer.
Electronic Groove: What would be the perfect venue to perform 'Television Days'?
Clarian: Well, it's synth pop music so you know. I can picture performing it in many places in many different ways. Outside at a festival in the sunshine! Sunset vibes on a rooftop or late night in a club with make-up and backup singers dancing getting deep into it. All of that would be really amazing! There are several ways to explore the live show which are developed, so hopefully we can get it out there and tour it around.
"It's more of a lo-fi synth space opera concept album"
Electronic Groove: The album includes different remixes. How did you choose the artists in charge of them?
Clarian: There are 5 remixes, Michael Mayer and Tiga for 'Under The Gun' and then Guy J, Tim Engelhardt, and Analog Stars for the 'Television Days' single, coming out after the album has been released.
Electronic Groove: Do you have a favorite track from the album?
Clarian: It's more of a lo-fi synth space opera concept album, so I sort of picture it a listening experience as a whole. A favorite track is hard to choose. I like intros and intermissions in general, or peaks of mystery – so in that case, 'Dedicated to Sagan', 'Down and Out', and 'Mote of Dust' still resonate with me after all these years!
Clarian's 'Television Days' is already available. Grab your copy here.
Follow Clarian:
https://www.facebook.com/clariannorth
https://soundcloud.com/clariannorth