Photo credit: William Arcand
French-Canadian producer and live act Christophe Dubé, aka CRi, is a dance music star in the making. Following in the footsteps of fellow Montréalers Jacques Greene and Kaytranada, he has risen through the city's bubbling scene in recent years and now reveals his debut album 'Juvenile'.
A self-taught college dropout, CRi caught the attention of tastemaker press with early singles 'Rush' and 'Don't', which were accompanied by award-winning music videos, and picked up a nomination for Electronic Release of The Year at the 2018 Juno Awards (Canada's equivalent to The Grammy's).
CRi's sound blurs light, dream-like melodies with textured production – capturing the energy of the dancefloor, and the nostalgia of the morning after. Christophe draws inspiration from his musical heroes Moby, St Germain, and Daniel Bélanger (who appears on the album), along with more contemporary influences ranging from Caribou and Dark Sky, to Jacques Greene and Actress.
Having debuted on Anjunadeep in 2019 he quickly caught the ear of BBC Radio 1's Pete Tong and Annie Mac with his 'Initial' EP, which was also championed on KCRW by Jason Bentley.
The 11-track debut LP 'Juvenile' now marks a coming of age for the young artist. We caught up with him to talk about his latest musical project.
Electronic Groove: Hey, CRi, thanks for taking the time to talk to us. Your French-Canadian heritage seems to inform your music quite a bit. All the collaborators on 'Juvenile' are Canadian like Bernache and Robert Robert, you even got Canadian legend, Daniel Belanger. How does this history inform your music?
CRi: Thanks for the invite. The heritage of 'Québecois' culture is part of my identity, it's part of who I am. It has long been marginalized and I believe it still is. In a sense, I can understand, since it's a fairly small population. The need to assert myself and to make our cultural particularity shine through is very much part of me, it comes naturally. The Québecois culture is diverse, the European influence is felt here, more so than anywhere else in Canada. Through my music, I've always tried to stand out but also to bring people together. I would say that it is this aspect of our culture that seeks to stand out from others but also to bring people together that has the greatest influence on my music.
EG: What's different about the Quebec music scene? Who are some of your favorite up-and-coming acts from that region?
CRi: It's always hard to comment on a reality I'm part of, I don't think I have enough distance to be able to have a fair global vision of the scene. I would say that the strongest aspect is the need to be heard and to exist, I believe that this is one reason why Quebecois are particularly creative. The bilingual aspect of the music scene is also quite unique, in a city like Montreal, the French and English scenes don't really mix. With this album, I'm trying to bridge the gap between the two solitudes. There are too many incredible talents here for me to make a fair selection, so I'll stick to my close collaborators Jesse Mac Cormack, Sophia Bel, and Robert Robert.
EG: You call 'Juvenile' 'an ode to youth'. What does that mean to you? Is this just nostalgia, or does it perhaps represent something more about growing up and coming into adulthood?
CRi: 'Juvenile' is above all a state of mind, a way of being. It is this need to go into life with closed eyes, sometimes naively out of a need to exist. With age, I realize that I am inclined to think more before committing myself, which in a way is good, but I find that we must not forget the need to be spontaneous.
EG: From pizza delivery boy to rising star on Anjunadeep, your music career has been non-traditional, to say the least. Can you tell us a bit about how you came to take up music production, and then how did you go about getting signed by such a well-recognized label?
CRi: I admit that formulating it like that is still special! I would say that everything has been done in stages, I have been working on my project for more than 7 years, hard work punctuated by an infinite thirst for discovery and renewal. There's no real way to do it, you just have to believe in it and work tirelessly, but above all get satisfaction out of it. Music has allowed me to assert myself as a person, as an adult, and I believe that it is also this aspect of music that has pushed me to work so much. We need to exist!
If I remember correctly, my manager sent out demos and they liked it, it was as simple as that!
"Through my music, I've always tried to stand out
but also to bring people together"
EG: Could you bring us into your production process for this album? I understand the production process for each track was rather quick. Was that by design or did it just happen that way?
CRi: It was a long production process, but the creation was done quickly, it took almost two years to put the LP together. The spontaneity and rapidity of the creation process was not a choice, it just happened.
EG: You frequently collaborate with your live band, consisting of Jesse Mac Cormack and Sophia Bel. How long have you been playing together? Did you know from the onset of your career that you were going to be a live performer as opposed to strictly DJing?
CRi: I've always had this desire to perform live since the very beginning. I'm also passionate about the DJ aspect, but it's less personal and I prefer to tour in concert halls rather than clubs, I'm more suited for the lifestyle! I've been playing with Jesse and Sophia for almost three years, we've managed to develop great complicity.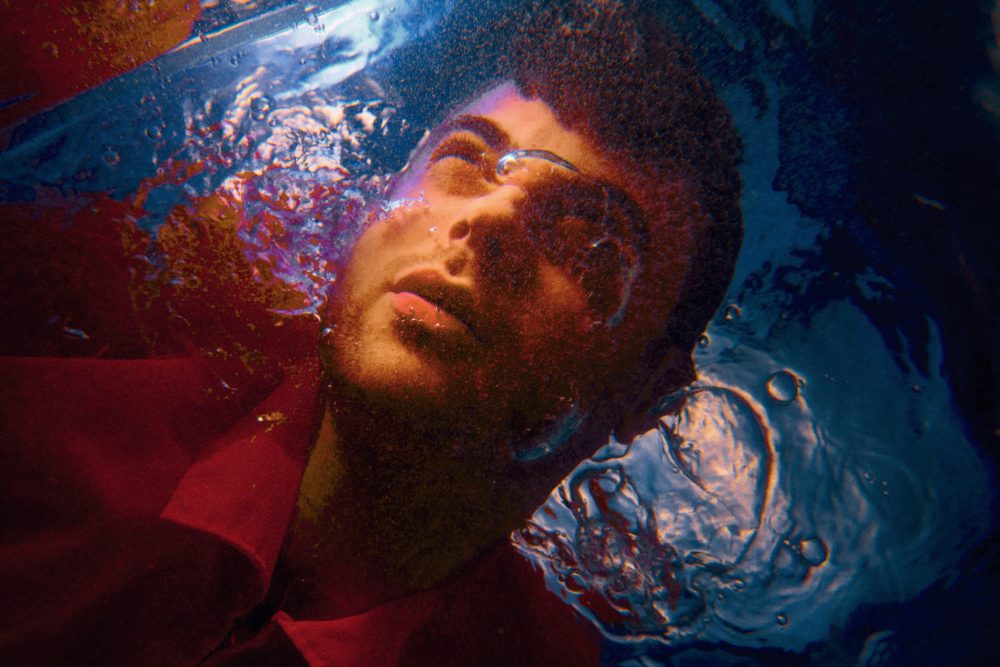 EG: Follow-up question, do you prefer DJing or performing live?
CRi: The two are so different! If I'm more into a party mode, I prefer to DJ, but if I'm more interested in making an artistic and personal proposal, I find that live performances lend themselves better to that.
EG: Amidst the coronavirus pandemic, you've played a number of live streams. Do you see live streaming taking on and being a popular way of watching live music, even when the pandemic is over? Why or why not?
CRi: I think live streaming is a nice option and I'm sure it will perpetuate after the pandemic. It gives an opportunity for many people who are not able to perform in shows to be able to enjoy live music. On the other hand, live shows are irreplaceable and vital for human beings, we've been watching shows since prehistoric times! It is not about to disappear.
"I've always had this desire to perform live
since the very beginning"
EG: If you could collaborate with any artist, living or no longer with us, who would it be?
CRi: In my wildest dreams, I would say Kurt Cobain, but unfortunately he's no longer with us anymore. In the too good to be true category, Thom Yorke would definitely be at the top of the list. Otherwise, I would love to do a song with Romy from The xx, and London Grammar.
EG: What's next for you, CRi?
CRi: Full of new projects, I never stop ;)
CRi's 'Juvenile' is now available on Anjunadeep. Stream and buy here. 
Follow CRi: Facebook | Instagram | Soundcloud | Spotify