DJ Oliver, belonging to a generation of artists truly devoted to electronic music, has scrupulously conceived the concept of Pandora, based on the creation and connection of music with the dancefloor.
Photo Credit: DJ Oliver – Official
 For 22 weeks, Pandora will be a celebration of the most classic and purest house, deep & tech-house music. Reawakening the essence of Ibiza, DJ Oliver will be accompanied by new talents and artists who have made the island grow. With no distractions – no dancers, no FX elements – in the background, at Pandora the music is the protagonist for building an unbreakable connection with the crowd; the artist's mission is to create a spontaneous unison dance experience on the floor, right up until closing.
EG caught up with DJ Oliver to learn more about his  Pandora nights, his favorite things to do in Ibiza, his future plans, music, and more.
EG: Hi Oliver! Welcome to EG. It's a pleasure to have you here with us. How have you been?
DJ Oliver: The pleasure is mine! Everything is great, thanks! All this time I have been in the studio and producing a lot of new music that will be released soon. I have also spent a lot of time preparing and organizing the summer, which is already here!
EG: First of all, congratulations on the new season of 'Pandora' at Lio Ibiza. What was the grand opening like?
DJ Oliver: The opening was incredible, we had been planning that special night for a long time now and everything was wonderful. It was an opening full of good friends and, above all, good music. The energy lived cannot be explained, you have to experience it for yourselves inside Pandora!
EG: So, what can fans of 'Pandora' expect for this new season?
DJ Oliver: For this season, we have changed the day, now Pandora takes place every Saturday at Lio  and we are very happy with how the party has been working so far. We always try to do something different from all the other offers that we have in Ibiza. Mainly, we focus a lot on the music, we make people talk about it and especially about the atmosphere that is created in Pandora every Saturday night.
EG: What can you tell us about the residents? How did you come to include them? What sets each other apart from the rest?
DJ Oliver: This year, I have built a new team of resident DJs. They are emerging artists, and my intention is to also give an opportunity to the new DJs from Ibiza, for them to also have the chance to have a space on the island's music scene. They are very enthusiastic DJs and, above all, with an incredible musical education. They are young people with a lot of passion for music and they contribute a lot to Pandora.
"Mainly, we focus a lot on the music, we make people talk about it and especially about the atmosphere that is created in Pandora every Saturday night"
EG: How did 'Pandora' come to be? How much work goes into running a night like this for the whole season?
DJ Oliver: Pandora was born in 2018. Just that year, Javi Muñoz and I were DJing at Hï Ibiza throughout the summer at another party that was very well received. The magnitude of that party was so great that the next year Pacha called us to offer us a new party and that is how Pandora was born. Little by little, we have been growing until we got to Lio, which is now our home and we hope it will be for many years.
EG: From your expert point of view, what has been the island's musical evolution from your beginnings until now? Do you miss the golden days of Ibiza?
DJ Oliver: Honestly, when it comes to music, I miss the good old house, everything has changed on the island, and especially every 4 years there is a shift of generation, fashion changes, music, everything changes… I think the change has been too fast and, above all, new technologies have greatly marked these transformations.
But not everything is negative. It is true that the golden age of Ibiza is missed, but an evolution is also very necessary. We cannot stay in the past or wish that the past would come back, because if that is the case, no progress can be made. From that golden age, perhaps what I miss the most is seeing a dancefloor with 3,000 people dancing all at the same time with a smile, and without a phone in hand!
View this post on Instagram
EG: A DJ with as much experience as you, with such a long career that goes back a long time, what is the secret to staying current?
DJ Oliver: I think it's important to always be up-to-date, to be curious, and to research to learn everything new that is being created, whether it's styles of music or discovering new technologies, software, hardware, or whatever. Being a DJ is learning every day and every day is a test that you have to pass.
EG: You're a mainstay of the White Isle by now…aside from the clubs and the music, what are some of your favorite things to do? What stops would you recommend?
DJ Oliver: In addition to my profession, what I am most focused on right now, is enjoying my family and the island. I think one of the best places for me is Formentera. That's where I can disconnect from everything. Ibiza also has spectacular places, like Hostal Sa Torre, or a beach like Cala D'hort.
"Being a DJ is learning every day and every day is a test that you have to pass"
EG: Can you share something about yourself with us that only a few people know about?
DJ Oliver: At home and in my car, I never listen to music!
EG: What's next for DJ Oliver? What particular milestones are you looking forwards to this 2023? Where can your fans catch you next?
DJ Oliver: I am currently very focused on the season here in Ibiza with my own Pandora party. We have 22 dates throughout the summer, starting from May and continuing until October – 5 months! – and I focus a lot of energy on it. At the same time, I'm also focusing on studio production. The next thing is to share several EPs that are about to be released 😉 For this year, I only hope to end the year as I started it and, above all, continue enjoying music.
And as for all my fans, you can find me in the summer every Saturday night at Lio and during the winter in different European Clubs.
EG: Thank you so much for your time, Oliver! We wish you all the best for the future.
DJ Oliver: Likewise. It has been a pleasure!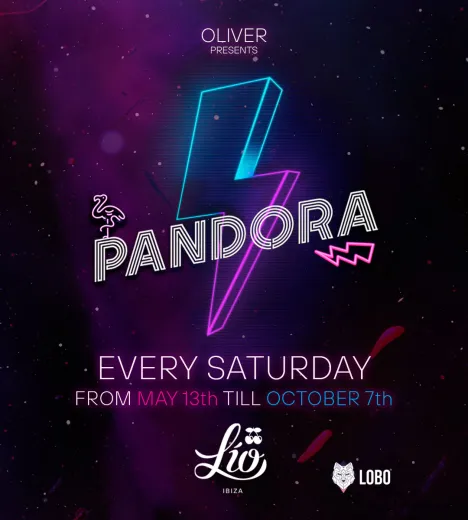 DJ Oliver's 'Pandora'  takes over Lio Ibiza every Saturday. Purchase your tickets here.
Follow DJ Oliver: Spotify | Instagram | SoundCloud | Facebook