Edu Imbernon is a unique force in driving melodic, emotive and energetic electronic music, through his productions, Dj sets, his Fayer and Eklektisch labels and his event series. Sprouting from the city of Valencia, the multifaceted artist: producer, remixer, Dj, label owner and event promoter Edu Imbernon is a truly global electronic music proposition.
We caught up with Edu Imbernon to talk about his latest collaboration release 'Chapter One' alongside Nico Casal.
Electronic Groove: Hi Edu, thanks for the time to chat with us. Your Fayer imprint welcomes back you with a brand new release, a two-tracker EP entitled 'Chapter One'. What does means to you to publish on your own label?

Edu Imbernon: Thanks for inviting me. I normally keep my most special tracks for Fayer, for example, 'Bitter Fate' and 'Fixing Fires', so I can give them all the love they deserve. When we had 'Chapter One' finished I knew it was perfect for the label.
EG: For this very special occasion, you teamed up with the Oscar-winning composer and pianist, Nico Casal. How did you meet each other and since when you had the idea to release something together?

Edu Imbernon: I wanted to make music with a musician like Nico for quite some time, my manager did an amazing research job for artists like him, the fact that he is Spanish as well makes a difference communication wise. After my manager spoke to his team we decided to give it a go and get together for a few days in my studio in Valencia, it worked out amazing, I can surely say Nico and I are now friends and have lots of projects in the future together.
EG: How different it is to work with a talented musician and composer like Nico Casal, if we compare it with locking up in the recording studio with a producer more focused on the bass lines and kick drums?

Edu Imbernon: For me, it is a huge difference, I love learning every day and with Nico I do on a big scale level, I'm a bit over those days where I used to get together with other producers with great producing skills but not music composing skills.
EG: We are very curious to know how you worked for example writing and then recording all the pianos & chords on 'Chapter One' and 'Levitate'. Were you together or separate? Did you give total compositional freedom to Nico or…?
Edu Imbernon: First time we got together we created 'Levitate', so the way we worked for this (and every song we made together) was: I started on a simple percussion loop and on some melodic sequence which marks the harmony of the song, then Nico jams on a piano and then I also jam at the same time with one of my synthesizers until he plays something that catches my attention then we focus on that. For 'Levitate', for example, the whole chord section (which is around 3:30minutes) was recorded on the first day and on the first take, that's the moment I thought, "Ok this guy is amazing".
EG: If we make an effort, and remember your beginnings back in 2008-2009 joining forces with other Spanish and recognized international artists as Coyu or the Suruba… Your progression towards much more emotional electronic dance music has been inspiring. How natural has this evolution been?

Edu Imbernon: As natural as life can be, I was in my 19's or early 20's back then, I do come from a very musical uprising due to my dad being a pianist but never knew how to combine that with groove and 4×4 music properly, I developed this through the years till the point I am right now, I haven't considered I'm there yet, to be honest, there are lots of more evolution to come and I'm super excited about it.
EG: You have remixed 3 times The xx. How have bands like this changed your perspective on making music?

Edu Imbernon: It made a huge difference in my way of understanding electronic music and production, when I first remixed 'Crystalised' I was 20 years old and back then I was making more generic tech house, it blew my mind to realize how musicality and real instruments could be combined with dance floor music and make something special and timeless, that remix changed my life completely.
EG: Who else – it does not matter what time or musical style they play – and what would you say keeps you motivated and inspired in the studio?

Edu Imbernon: In general, all good music motivates and inspires me, I love 80's music for example, how simple and direct it was, I think that's the essence itself, make simple music that can say a lot at the same time. Also playing great shows give me that push to be motivated and inspired in the studio, as then I recreate mentally some of those special moments and the music flows in a different form.
EG: What will decide that Edu Imbernon and Nico Casal are moving forward with more music in the future? Not just an EP, who knows, even an LP? … Or is this already decided?
Edu Imbernon: It's happening for sure, we have more music in the pipeline and who knows, perhaps an album and a live show together? :)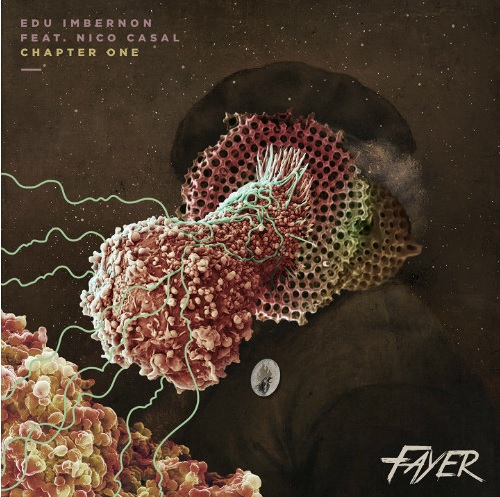 Edu Imbernon's 'Chapter One' is already available. Grab your copy here.
Follow Edu Imbernon: Website I Facebook I Soundcloud