UK artist Etherwood has been producing since the 90s, however, the first recording to bear his name was a Jakwob and Etherwood remix of Lana Del Rey's 'Video Games', after which he attracted the attention of legendary UK imprint Hospital Records, with whom he has enjoyed a long and fruitful partnership. His eponymous debut album was released in 2013 through Hospital's offshoot label Med School, and entered the UK Dance Chart at number 4 and the UK Indie Chart at number 11. Following its release, Etherwood peaked at number four on Billboard's Next Big Sound chart and has been named as both the Best Newcomer DJ and Best Newcomer Producer at the D&B Arena Awards.
A devotee of meditation and mindfulness, Etherwood has embraced a nomadic lifestyle, living and producing records from the sanctity of his van and existing in harmony with his surroundings: a mindset and way of life that is echoed in the music he creates.
Here we sit down with Etherwood to discuss the release of his latest studio album 'Neon Dust', his lifestyle, views on music, and more.
Electronic Groove: Hi Etherwood! Welcome! Thank you for having us for a chat. How have you been doing? How are things in London looking like? Is there an air of optimism?
Etherwood: Thanks for having me. I've been very well thanks, busy! There certainly is an air of optimism in London and elsewhere in the UK, particularly regarding live music. Festivals have come thick and fast and people can dance again!
Electronic Groove: So, you are from Lincoln, and made the move to London, right? What was your upbringing like? Did you grow up in a 'musical' household?
Etherwood: I am from Lincoln originally. I moved to London for a few years but decided to move away and into a campervan. I'm currently renovating a new one which will be ready very soon. I had a fantastic upbringing and music was very much a huge passion of mine growing up. My whole family would jam together often and we'd always have something playing on the vinyl player. My folks are my biggest inspiration.
Electronic Groove: When did you come in contact with D&B and electronic music in general? Was there a record that got you hooked?
Etherwood: I got into drum and bass mainly whilst I was at uni, a friend of mine gave me a mix CD and I was hooked ever since. I think the tune that really nailed it for me back then, and still now is 'Together' by Logistics.
Electronic Groove: How would you describe your music? And if you had to do it only using colors? What would your palette look like?
Etherwood: Wow that's a very interesting question. It's quite a dangerous thing to try and describe your own music without sounding too pretentious, I always find it's a lot easier for other people to try and describe it for you. The words chilled, organic and natural come up quite often. Colors would have to be greens yellows and purples.
"My whole family would jam together often and we'd always have something playing on the vinyl player. My folks
are my biggest inspiration"
Electronic Groove: You've got quite a unique, nomadic lifestyle…How did that come about?
Etherwood: When I was a kid we used to go camping a lot, amongst the mountains in the forests and by the beach. I absolutely loved it and as soon as I started writing music I wanted to be immersed in this landscape as often as possible. Living and writing music in a van had always been a dream of mine so I decided to take the plunge and buy one to live in :)
Electronic Groove: What's it like, making music in that context? Did you ever have to make the transition from a big studio? Was it hard getting used to?
Etherwood: The setup that I have in the van is very basic as you can imagine. just a laptop, a small keyboard, a mic, and a Bluetooth monitor. This allows me to get sketches down very easily whilst on the move. Then I have a larger studio set up at my parents' house where I go to finish and mix down the tunes, so it's the best of both worlds.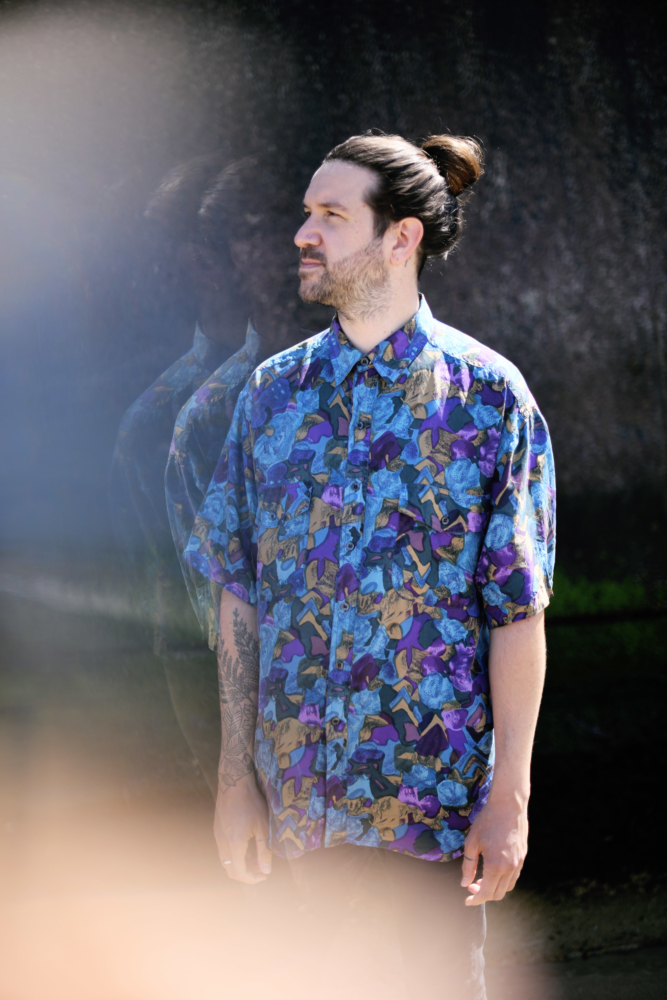 Electronic Groove: Speaking about making music…You're behind a shiny, new album on Hospital Records. Congratulations! What can you tell us about 'Neon Dust'? What's the story behind this one?
Etherwood: Thank you very much, feels great that it's finally out there in the world. My previous albums were very much inspired by and focused around nature. This LP is much more self explorative, based largely around experiences I had whilst meditating. Most of the album was written in a small beach hut in Cornwall, England. The term 'neon dust' describes the essence of the world I was in whilst making the album. It's quite large, there are 20 tracks on there, which means I had a lot more creativity to experiment with some non-drum and bass tracks.
Electronic Groove: How long did it take to record? We've noticed to go through quite an extensive range of sounds and genres. Are you versed in all of these? Are some new explorations?
Etherwood: I think most of the album, at least the sketches were written in the space of about a month or two. I felt that I had the freedom to write whatever I wanted, so I certainly experimented with different sounds and genres, but ended up writing music that came to me very naturally.
This LP is much more self explorative, Based largely around experiences I had whilst meditating"
Electronic Groove: What else can we expect from Etherwood in the future? What new milestones are you looking forward to in the coming months?
Etherwood: I know it's a bit of a tease, but we are working on a very exciting visual project to go alongside the album so keep your eyes peeled. my new van and studio will be up and running ready to go before the end of this year so I'll be posting lots of sketches and videos of news tunes along the way :)
Electronic Groove: Thank you for your time! We wish you all the best for the future!
Etherwood: Thanks for the chat.
Etherwood's 'Neon Dust' LP is now available. Stream and buy here. 
Follow Etherwood: Instagram | Soundcloud | Facebook