Hauschka is a composer, songwriter and experimental musician who has brought an exciting new perspective to the prepared piano.
The prepared piano – a technique for getting new sounds from the acoustic keyboard by resting pieces of paper or drumsticks on the strings of the instrument – has been used for centuries, but Hauschka was unaware of the tradition when, at the dawn of the new millennium, he began exploring ways to get new sounds out of his Bechstein grand upright.
Following critical acclaim for his recently-released album 'What If' plus Oscar, BAFTA and Golden Globe nominations for his score to the movie 'Lion', Hauschka will perform a unique and special gig at Village Underground on 30th May.
We had the chance to speak with him about his latest album as well as some interesting topics about his film scores…
Electronic Groove: A few years ago your early albums didn't gain much recognition, but now the word has caught up, and you've become well-known. You must have seen a lot of changes over the last 13 years?
Hauschka: Yes I have, but at the same time it's always like a new beginning releasing an album. I'm changing as a person and encountering different experiences. My albums are changing too, and it's never certain whether or not people will like them. You also have to remember that your fans are constantly changing too, so as a musician you are always in an unpredictable area (if you don't make pop or chart music). I'm happy that I am still doing independent music, allowing me to do what I want creatively and keep surprising my fans (and myself).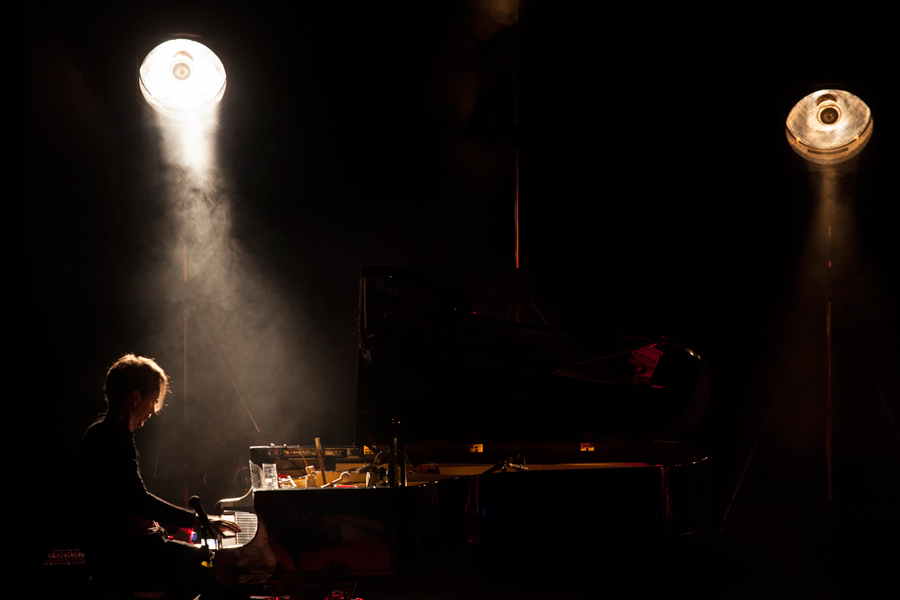 Electronic Groove: Landing a big film soundtrack seems to be the main ambition for budding composers. Can you offer any advice on how to break into that world?
Hauschka: Well, I think the best way is to work long and hard on your own expression; trying to find your own method of writing music that is instantly recognisable. In my case, the people that make decisions for film music have had my music on their table for a long time on their table already, and it was perhaps just a matter of time that until I had a lucky moment where a director wants me (and the decision makers give it to the go ahead too!). A lot of the time, you have no idea what is happening behind the scenes until you get asked to do the movie – but I can sense that there are a lot of interests colliding – and you are just one of those factors. It sounds a little analytical, but at the end of the day you are a part of a product that needs to be sold.
Electronic Groove: If you could score a movie for any director dead or alive, who would it be?
Hauschka: The Coen Brothers
Electronic Groove: How about re-scoring a classic movie – are there any soundtracks you'd like to do your own version of?
Hauschka: Well, I have done this already for various festivals; I re-scored 'The Vampire' by Dryer which is an awesome surrealist vampire movie. I also did 'The Hands Of Orlac' by Robert Wiene. Both movies are obscure, and because they are silent movies they also leave a lot of space for experimentation.
Electronic Groove: We saw the piece where you and Max Richter interviewed one another. Would you like to collaborate with Max and if so, how do you think the creative dynamic between you would work?
Hauschka: First of all, Max is already a long time companion.  He was perhaps (besides a few others) the first musician that released piano music on an indie label.
I could imagine collaborating with him but collaborations need a careful thought on how the process will work. In the case of Dustin O'Halloran, I knew that because he is a very good friend of mine, that there would hardly be any ego involved. Working on 'Lion' showed me that it can be very easy to find solutions, and work together on finishing the job. Some musicians don't have that ability, (and I'm not blaming them for that) it's just not easy to get over personal values, and so I would have to carefully try to plan out how far a collaboration could go. If you talk about dynamics, musically I think Max and I have a lot in common… it's more a question of who is leading the session, and you can only find that out on a practical level. Anything else is speculation.
"I think if humans could not just temporarily fix problems, but address the bigger issue-  maybe there would be a chance of living next to robots, but it will never replace the quality of a human contact on an idealistic level"
Electronic Groove: Your new album ponders the future and your new show features self-playing pianos. Do you think the robots will take over one day?
Hauschka: Of course they will. The industry and science are constantly pushing forwards to make that happen. The question is where will our human approach (our pure existence) take place and will we have the chance to live that? How will we earn money, and how can we find new territories outside of the world to help the population growth? If you think analytically about it, the human race is constantly growing and gets constantly older, plus the work is getting less abundant because it is done by machines. A lot of the industries are relying on consumer products that have do be renewed every 2 years to keep the economy and the spending increases. All this goes in a direction where we have to find solutions, robotics, and AI are a big part of this. I think if humans could not just temporarily fix problems, but address the bigger issue-  maybe there would be a chance of living next to robots, but it will never replace the quality of a human contact on an idealistic level.
Electronic Groove: Each of your live performances are so unique and different. I've heard a few and they could all have been released as great albums. How many gigs have you recorded and how may are lost forever?
Hauschka: 20 percent are recorded and from those, I use maybe half for new releases. The chances and the output are endless and I don't want to force myself into holding everything I'm doing. One part of the excitement for me and the audience is that it is gone forever after the concert.
Electronic Groove: Can you play other instruments and have you ever considered a prepared guitar, or prepared drums etc?
Hauschka: Yes I play a little bit of guitar, saxophone and I sing every now and then. A prepared guitar is great, but the string instruments have a hard time with heavy preparations cause the resonance body is too small. Prepared drums are played so much better by others like Samuli Kosminen form the band MUM or by Tony Buck from The Necks. Spending time in Chicago allowed me to work with some awesome experimental musicians (the city is packed with them!) It was interesting to see that many people are working on getting more sound from the instrument than normal, which is an approach I love.
"I want people to experience concerts differently with my music and also experience the physical side of my music"
Electronic Groove: Your forthcoming gig is at Village Underground, which is a large club venue, rather than a seated concert hall like The Barbican. Will you be upping the pace and making it more dancefloor-friendly?
Hauschka: Oh yes, I want people to experience concerts differently with my music and also experience the physical side of my music. I think that both the fragile and powerful elements should be felt in one show, and the village underground is a venue that helps me to reconnect with my previous hip hop works. I'm happy I can make choices and get outside of the usual 'high culture' surroundings.
Electronic Groove: What's next for you?
Hauschka: I'm composing two pieces for the mandolinist Avi Avital called 'Flood And Drought' which are pieces for mandolin and string quartet, and after that, I'm working on a film that deals with the terror attack on the Taj Mahal Hotel in Mumbai, starring Dev Patel and other great actors. And I'm touring my record, so lots of new things are coming up.
Follow Hauschka: