Henry Saiz is an electronic music artist who transcends trends and formulas to create a musical language that can be difficult to describe, but simple to enjoy.
At the moment, Saiz is traveling around the word while he records his latest album. We had the chance to catch him and ask him about this very special project.
Electronic Groove: Hi Henry, thanks for taking the time to chat with us. We are excited about your ongoing Kickstarter project. Can you explain us what's the concept behind?
Henry Saiz: Hi! I'm running my next album project using crowd funding through Kickstarter. The main concept is to make each of the tracks in different parts of the world trying to create a kind of musical map. I'm choosing places that I find very inspiring and also that I think represent different aspects of human nature and its relationship with nature and environment. Also it's about how the context of location can influence the way an artist creates. It's obviously a very expensive project, due that reason the best way to do it was using crowdfunding, but what I like the most is the way you can communicate with the audience during the whole creative process and how they become a very important part of it by trusting you and investing in the project.
Also we are recording a documentary film about the whole process for people to live the experience from inside, in fact it's an album and a film. Very exciting indeed and a big responsibility too 🙂
You can contribute to Henry's project here.
"We did things like having a psychedelic trip inside a cave in the park"
Electronic Groove: Sounds amazing. You recently visited Joshua Tree, California and composed some music for the album. How was the experience?
Henry Saiz: It was one of the highlights of the project so far. Joshua Tree is a very iconic place for music and art in general. We did things like having a psychedelic trip inside a cave in the park, jamming with synthesizers while the coyotes were howling around us, absolutely magic. Hopefully the listeners and viewers will appreciate that magic in the final product.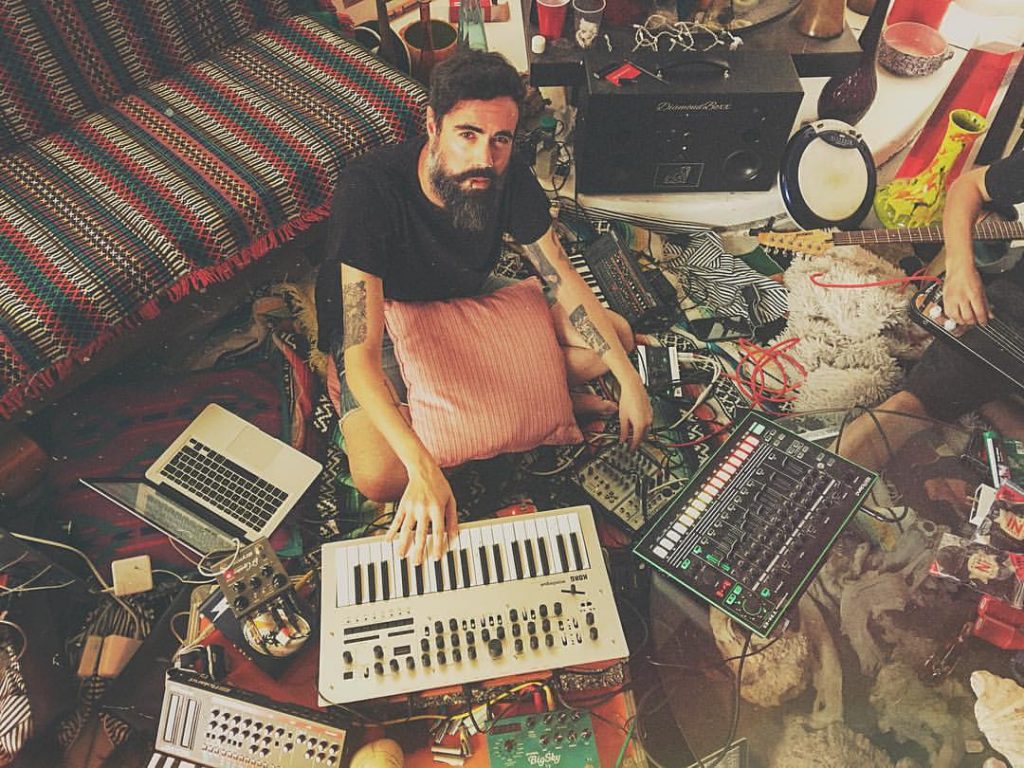 Electronic Groove: Any particular place you are looking forward to visit or do they all bring the same exciting feelings to you?
Henry Saiz: I'm very excited about all of them, but I'm very much looking forward to Tokyo in January, it's my favorite city in the world and we have planned lot of challenging creative things to do there.
Electronic Groove: Also the album includes related visual content. What's the process for every visited location?
Henry Saiz: The logistics for all that, especially the video related, are insane. It's different in every place, sometimes we know exactly what to shoot and sometimes we only have a quick general idea and then we move with the flow which is also part of the process and brings lot of interesting things. Luckily we have teams of friends in every place that help us with all we need and that makes things much easier, this is definitely a project made with followers and friends.
"Probably the best gig of this summer was closing the main stage at Exit Festival in Serbia playing back-to-back with Hernan Cattaneo"
Electronic Groove: Your label Natura Sonoris is celebrating 10 years next year. What are you planning for the special milestone?
Henry Saiz: We are working on a very special project for this but I can't tell you much more at this point, the only thing I know is our followers are gonna love it 🙂
Electronic Groove: You just released 'For Days and Nights' EP back in November, and the remix package is dropping this month from Shall Ocin and AFFKT. How did these artists come onboard for the remixes, and what do you think their reworks bring to the original material?
Henry Saiz: Both of them are friends and artists that I really respect. I think they worked from a very different perspective, Shall Ocin one is more techno and experimental and AFFKT did a perfect closing track monster. They did an amazing job, very happy about this release.
Electronic Groove: In terms of gigs how was the summer for you? Any special dates worth mentioning?
Henry Saiz: It was great, probably the best gig of this summer was closing the main stage at Exit Festival in Serbia playing back-to-back with my good friend Hernan Cattaneo for 30.000 people. That festival is insane, best vibes, sound, location… Can't wait to go back.
Electronic Groove: When did you start to play as a Live Performance? Do you prefer to play this way instead of a DJ set?
Henry Saiz: I used to play live before DJing, but I decided to play only live with my band, my music is too complex for only one person on stage, and also I love the band feeling. I love both experiences, can't decide 🙂
Electronic Groove: Do you have different projects running at the same time as the Kickstarter?
Henry Saiz: Yeah, I run my weekly radio show "El Laberinto" on the Spanish national radio Radio3. I finished my album with my side project Hal Incandenza and I'm releasing it within the next months; also launching a new label project called 'Lost Worlds'. And of course always working on new remixes and singles. It's gonna be crazy hectic in 2017 but I'm so happy to be working on many exciting projects.
Follow Henry Saiz: