Photo credit:

016 Studio
Born in Livorno, Italy in 1988. From a young age Ilario's passion for music was evident and unstoppable. He improvised at producing music in his bedroom with equipment he pieced together himself, and instinct drew him further into the world of electronic music with all of its many shades and secrets. But Ilario embodies positive energy and nothing could stop his insatiable desire to travel and increase his knowledge and understanding.
His new label Virgo is already considered by those in the industry to be a place of musical discovery of the highest quality, which has to its name numerous releases, drawing the attention of the entire sector. The rest, as they say, is history…
We caught up with Ilario Alicante to talk about his latest musical projects.
Electronic Groove: Hi, Ilario, thanks for your time. First of all, how have your last two months been and how have you handled the quarantine?
Ilario Alicante: Hi, thanks for inviting me! I had up and downs as everyone I think, but having all this dilated time for me was a nice thing. Everything is going at a different velocity than usual, so I had the opportunity to see and feel my mind working in a different way. My ordinary life seems to be always at peak time velocity and it's not bad to slow down a bit sometimes.  I read a lot, I produced music, and I simply enjoyed some free time with myself.
EG: The 'Electronic Renaissance' stream was a huge success, how long did this all take to make this happen?
Ilario Alicante: It was an idea that came up to me one night. At first, I took some time to realize what was happening and how I was feeling. The live streams craziness of the first quarantine's part didn't catch me. I didn't want to do something just for doing it, I was constantly thinking about how to find a way to entertain people with music but mainly how to help who was fighting every day against the virus.
I proposed the idea in a video call to my team and we found the right people. Everyone was amazing and I still didn't believe that they did the event happen in a few days. They have been working day and night, for free, just for the passion of doing it and for being helpful in this situation. In less than one week they concretized my idea in something real.
EG: 'Electronic Renaissance', why did you choose this name?
Ilario Alicante: We have chosen this name all together in a brainstorming session. We thought that for the community it has to re-start from a dark period like this one and only the music can give the renaissance that it deserves and needs.
EG: The light show on The Tree of Life Milan was also spectacular, why did you choose to film there in particular?
Ilario Alicante: The Tree of Life is an iconic venue, it's an innovation district that looks at the future, that creates the future. It's the home of an incredible amount of start-ups and scientific researches. We have to look ahead, far from this moment and I thought that it was the perfect place for this idea.
 "I was constantly thinking about how to find a way to entertain people with music but mainly how to help who was
fighting every day against the virus"
EG: Has the lockdown impacted your personal inspiration or motivation? And what have you done to cope with it?
Ilario Alicante: No it didn't. As I said I had ups and downs. On some days I was really creative and others weren't. I don't fight for inspiration, I go with the flow and when it comes, it comes.
EG: Do you think lockdown could affect the dance music industry in both good or bad ways?
Ilario Alicante: This lockdown made us understand that we can develop great ideas if we communicate and collaborate with each other. I've seen many promoters merging forces and developing great ideas and concepts. This is a good thing that if we'll do it also in the normal routine, it can affect our scene in a good way.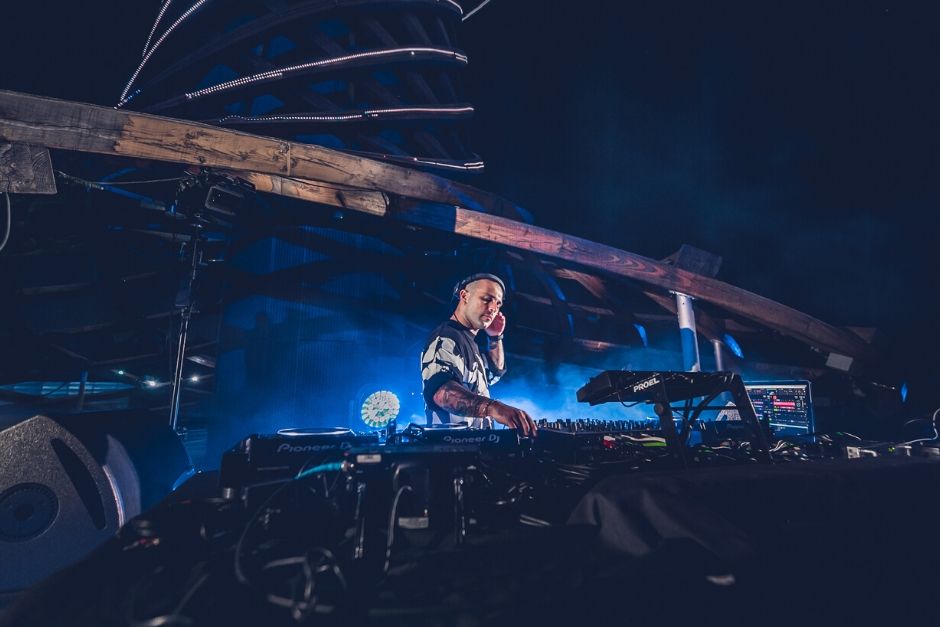 EG: What do you think will be the next steps for night clubs to open again?
Ilario Alicante: Of course some clubs will re-open with a limited capacity and some restrictions, but it will be for a short period of time, everything will be good as it was.
EG: Your label imprint Virgo recently celebrated its 11th release with Hush & Sleep's 'Enochian EP', what's next for the label?
Ilario Alicante: I have an EP with Kevin de Vries which I am really happy about. The tracks are super and I loved to collaborate with him. He is one of my favorite producers at the moment.
EG: Do you have any further releases in the pipeline or projects that you're excited about?
Ilario Alicante: Also, an album linked to a particular audio-video show that I am planning. I've been working on it for a few months. It is a rough idea that day after day, with small steps, becomes more concrete. Until it is exactly as it is in my head, I will not present it to the public. In addition to this, I'm working on developing my Virgo label with lots of new music from emerging artists, and waiting to return to tour again as soon as the situation permits.
Follow Ilario Alicante: Facebook | Instagram | Soundcloud