Long regarded as one of the go-to producers in the UK electronic scene, James Hurr has quickly made his name as a prolific artist/writer/producer. With a collaboration roster that reads like a who's who of pop and dance, recent projects have seen him working with the likes of Leftwing : Kody, Basement Jaxx, Eli Brown, Danny Howard, Mark Knight, Beverley Knight, and 220 Kid.
His writing and production have consistently received support from BBC Radio 1 (who once played nine of his productions in one night!) as well as Kiss FM, and has clocked up over 100 million Spotify streams and counting. His music has also found a home across all major labels as well as the likes of Ministry, Spinnin, Ultra, and Armada, including 70 releases on Toolroom Records. By the start of 2021, undeterred by the global pandemic, James was already expanding his studio offering and has now opened a brand new space 9M Studios in Elephant & Castle. Adding to his already bursting catalog, he started a new artist project with Paul Harris 'Hrrtz', which has seen signings to Atlantic, Ministry, and Anjuna. His collaboration with Nadia Rose 'Dip It Like That' is set for release on New State Records, and has co-written and co-produced Mark Knight's new artist album.
Now, the worlds of classical and electronic music clash together as internationally renowned concert pianists Worbey & Farrell collaborate with the electronic music superstar producer James Hurr on the exhilarating 'Leyenda', the dramatic reworking of Spanish composer Isaac Albéniz's famous work.
We caught up with James Hurr to learn more about the release of 'Leyenda'; its recording process; the chemistry between him, Worbey, and Farrell; and much more.
EG: Hi James! Welcome! We're stoked to have you here with us. How have you been doing?
James Hurr: Hi and thanks! Things have been mad busy in the studio recently. As well as a stack of my own releases, I've been writing and producing for some seriously talented people including Goodboys, Tiësto, Beverly Knight and I have just remixed Mariah Carey's new Christmas song.
EG: Sounds great! And congratulations on the release of 'Leyenda'! It must have been a unique experience collaborating with concert pianists Worbey & Farrell…
James Hurr: Working with Worbey and Farrell was a dream come true, they're hands down the most talented and innovative musicians I've ever met. Not only are they world-class performers (they've performed for royalty on more than one occasion) but these guys understand music at such a deep and complex level, so it was a real contrast to the world of loops and samples I'm accustomed to. Simply working with people who play everything as a full performance, rather than working in 8 bar sections was a departure from my normal workflow.
EG: What can you tell us about 'Leyenda'? What can listeners expect from this collaborative album?
James Hurr: It's essentially a hybrid of classical and electronic music in a soundtrack style, some are heavy on the vintage drum machine and others are way more chilled. One of the pieces is ridiculously complex musically (well for my brain anyway) and took quite a long time to record with an incredible guitarist Jason Elvin, when you hear it you'll understand why!
EG: And inspiration-wise? Is there an underlying theme tying it all together? What emotions does 'Leyenda' convey?
James Hurr: We're big fans of minimalism and wanted to use this to create a range of emotions from dark and moody Scandi Noir soundtrack vibes, to uplifting 80s inspired classical synth-pop. Worbey and Farrell are geniuses at using music to create different moods and we wanted the album to take the listener through a spectrum of emotions.
"Working with Worbey and Farrell was a dream come true, they're hands down the most talented and innovative musicians I've ever met"
EG: How is 'Leyenda' different from anything you've done before? Did you have to resort to techniques you don't use on a daily basis?
James Hurr: My day job is writing and producing pop and house music on a laptop, so it was great to get out of the studio and record a Steinway B Grand Piano in a stunning Steinway workshop. Just working with live cellos and some very complex guitar parts was such a departure from the drum loops and sampled pianos that make up a lot of my usual work.
EG: Speaking about things you've done before…you've got quite the resume in the studio. How did it all begin? Did you grow up in a musical household?
James Hurr: There are a few artists in my family but no one 'musical', although my gran was a pub pianist in London's east end in the 50s – what a legend. I played the sax at school and was obsessed with my parent's record collection, which was mostly Clapton, classical, and The Beatles.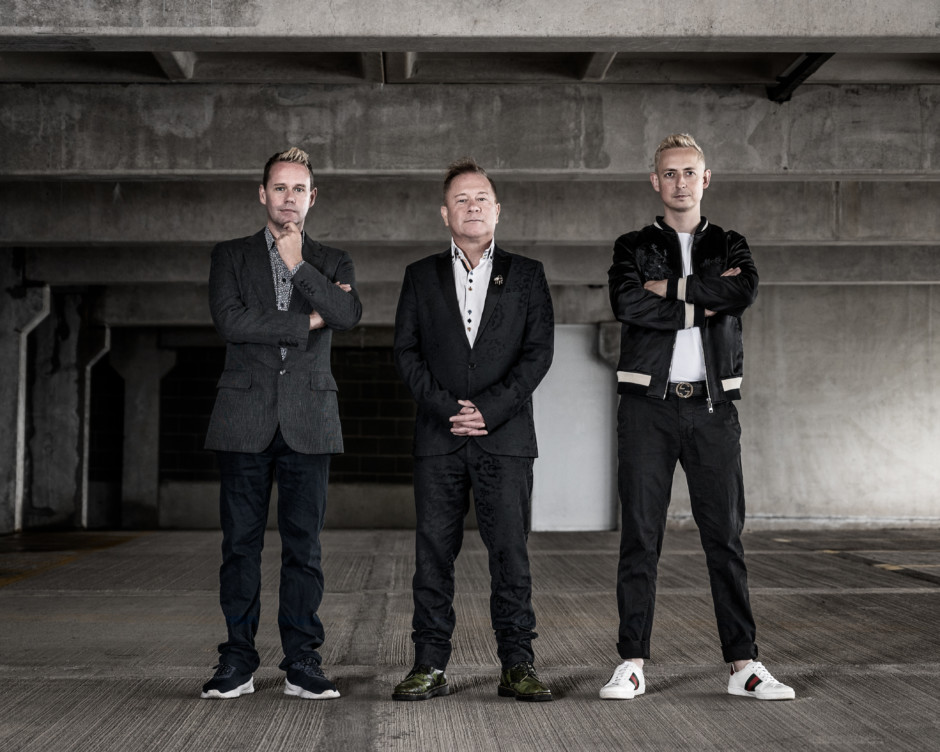 Photo Credit: Scott Baron
 EG: And when did you turn to electronic music? Was there a track or record that pushed you down the rabbit hole?
James Hurr: The electronic bug started for me during a summer of illegal outdoor trance and drum and bass raves in 2000. You would be walking for ages through the woods at 5 am to get to a party and the closer you got, the more excited you felt. First, you would hear a low rumble, then after a while a repetitive thud and when you could eventually hear the snare and hi-hats you knew any minute you would turn a corner to see a clearing with a massive sound system and tons of people dancing and living in the moment. I'll never forget it.
EG: Did it take long to find your own sound? How many aliases do you currently have? How would you define their sound by now?
James Hurr: My first regular job as a producer was working at the Hoxton Whores' Brick Lane Studio. There, I made around 200 records for their brand and was largely left to my own devices, so I had the perfect opportunity to develop a sound. At the time I was also living with and engineering for two DJ/Producers who had stacks of gold discs to their name, so I gained a lot of experience. After a while, I picked up clients like Prok & Fitch, Michael Gray, and Mark Knight who taught me a huge amount about production and engineering. This all added to the toolbox of production techniques I now use.
I currently have five aliases I use regularly. Bobby Blanco and I make up 'Moto Blanco', which is a disco-house remix team, and 'Frederick & Kusse' on Toolroom, which is more about tech house and dark 'n dirty beats. I also work a lot with Grammy-winning Paul Harris as a writer/producer team and our artist names are 'Hrrtz' with a prog/house sound (Atlantic, Anjuna, Good Company) and 'Harris & Hurr' signed to d:vision in Italy.
And finally, 'James Hurr', I'm currently straddling the labels Perfect Havoc, Toolroom, and Love & Other, where my actual name is used. I would say this is a club/commercial crossover sound that seems to be getting a fair bit of Radio 1 airtime recently and I'm really pleased with the way it's going.
"The electronic bug started for me during a summer of illegal outdoor trance and drum and bass raves in 2000. You would be walking for ages through the woods at 5 am to get to a party and the closer you got, the more excited you felt"
EG: What's next in line for James Hurr? What new milestones can your fans look forward to in the coming months?
James Hurr: Big question, there's so much happening at the moment! We have a Mark Knight and James Hurr track due for imminent release on Toolroom, I'm excited about this one as Mark has been a good friend and collaborator for many years. Our Moto Blanco remix of Mariah Carey should also be coming out shortly too and I have James Hurr singles lined up on Perfect Havoc and Love & Other for January and February. In February I'll be hosting a writing camp in LA and I'm also producing the music for a theatre show about the history of cabaret starting in 1920s Berlin into 1940s Paris, that's going to be a big challenge for 2022!
EG: Thank you for your time James! We wish you all the best for the future!
James Hurr: Thank you guys!
Worbey, Farrell, & Hurr's 'Leyenda' is out now. Purchase your copy of the record here.