Over seven editions, Your Paradise Fiji has risen as one of the most coveted music destination events in the world, fostering a community of travelers in search of something more.
This intimate journey into the heart of the Mamanuca Islands offers a living, breathing experience, always evolving to meet the needs of the global festival community. From December 10th to 16th, Your Paradise will return with its most wide-reaching lineup and hand-curated excursion to date.
Ahead of his performance at Your Paradise Fiji, EG caught up with Jody Wisternoff to learn more about what's in store, future plans, and more.
EG: Hi Jody! Welcome to EG. It's a pleasure to have you here with us. Where are you based right now?
Jody Wisternoff: Hi EG! It's my pleasure to chat with you. I'm currently at home in Bristol, UK, where I've lived all my life.
EG: So, what was your summer like? Any particular highlights?
Jody Wisternoff: Bloody brilliant to be honest, one of the busiest in my career so far! All the Anjunadeep outdoor events/festivals have been incredible (Albania, London Docklands, LA, etc) and I've done plenty of super cool club shows too. A lot of the US events have a real Burning Man / arty angle at the moment, with crazy visuals and installations. These always feel extra special.
EG: By the way, congratulations on being a part of this year's edition of Your Paradise Fiji! What's in store for your fans here?
Jody Wisternoff: Yeah, super, super happy, and excited to be part of this, and thanks! At the moment, I'm playing out loads of 'Anjunadeep14' material and tons of upcoming JW and Way Out West demos, alongside a lot of this new UK-style higher bpm garage/breakbeat stuff that really seems to be going down well at the moment – artists like Lawrence Hart, among others.
EG: Are you looking forward to seeing any other artists in particular? Do you usually make time to catch other acts when at a festival?
Jody Wisternoff: Yeah, if possible, I will defo get in the crowd and vibe it out. Besides all my label mates on the line-up, I'm keen to check out a few artists I've never heard before, like Heidi.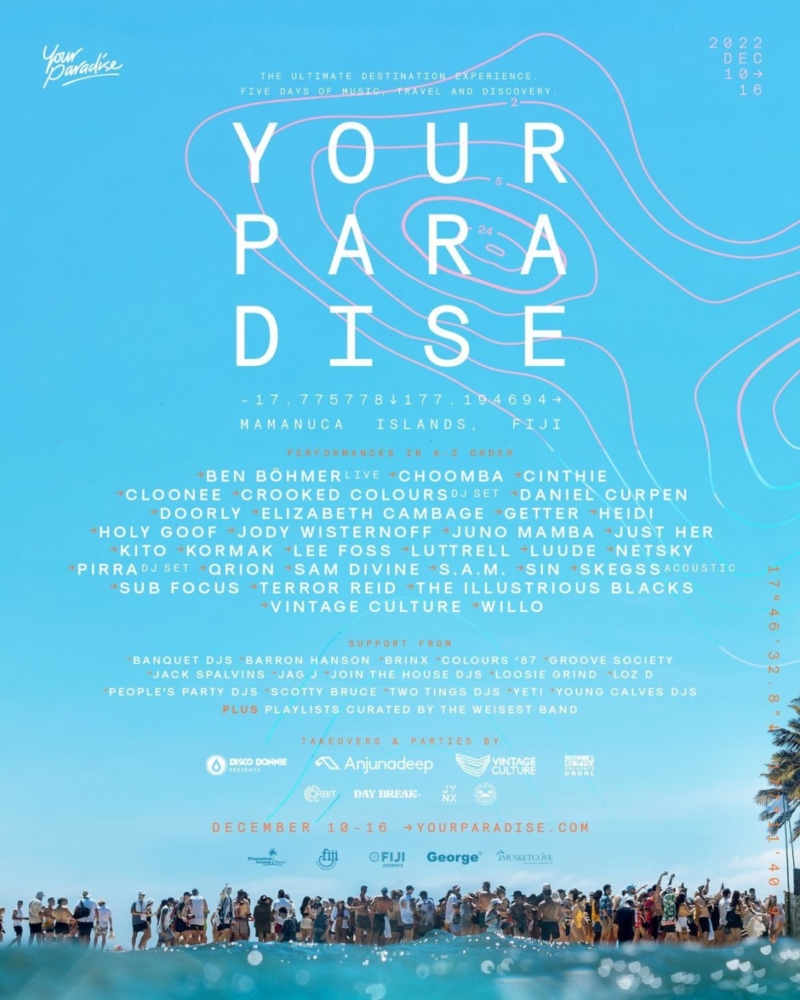 EG: 2022 has been pretty eventful for you release-wise. How do you manage to keep it interesting on the production front after all these years? Any tips for artists that have been doing this for a while and might find it harder to keep things fresh?
Jody Wisternoff: My advice is to switch it up a bit if you are feeling uninspired. Maybe change your DAW, dig deep into some new plugins, or just switch up your energy level a bit. A lot of the music now is faster than it was a few years ago, just go with this and enjoy the evolution of the sound.
EG: What's next for Jody Wisternoff & Anjunadeep? What particular milestones are you looking forward to now? What are you looking forward to in 2023?
Jody Wisternoff: James Grant and I plan to release 'Anjunadeep14' in early 2023, and I'm also working hard on my next artist album, which should see the light of day in the fourth quarter of 2023. Plus, lots of new Way Out West material with Nick Warren is in the pipeline, so busy, busy times. My DJ diary is also looking super healthy next year, so no rest for the wicked (laughter).
EG: Thank you so much for your time, Jody! We wish you all the best for the future.
Jody Wisternoff: Thanks for having me EG, always a pleasure chatting :)
Jody Wisternoff will perform at this year's edition of Your Paradise Fiji. Purchase your tickets here.
Follow Jody Wisternoff:    Instagram  |  Facebook  |  Soundcloud  |  Spotify