Juan Hansen is a composer and recording artist from Buenos Aires who expresses himself through Live Sets. His search is real, and certainly visceral; a search for the different, mixing genres without prejudice, with a seriously playful attitude, and the profound intention of transforming a set into an experience that crosses climates through image and sound.
Juan has shared stage with DJs like Dixon, Hernan Cattaneo, Patrice Bäumel, Adriatique, and live artists as Paul Kalkbrenner, Jan Blomqvist, Johannes Brecht, and Giorgia Angiuli. Having already gone through various music festivals and clubs such as Mutek, Crobar, The Bow, Niceto, Macarena Club & La Terraza (Barcelona), and artistic events at Malba Museum, Centro Cultural Recoleta and Ruth Benzacar Art Gallery. Juan Hansen is positioned within a new group of musicians dedicated to improvise on stage fusing the world of electronic sounds with analog instruments and organic soundscapes.
EG caught up with Juan to learn more about his new release, 'Higher'; his views on live electronic music; his Forma trio; future endeavors, and more.
EG: Hi Juan! Welcome to EG. It's a pleasure to have you here with us. How have you been? Where are you based right now?
Juan Hansen: Hey! Thank you very much for having me! I'm doing good, here in my studio in Buenos Aires.
EG: So, you're currently in the middle of Summer in Argentina, right? Any big plans for the rest of the season?
Juan Hansen: Yes, we are in the peak of the summer here and a lot of shows are yet to come. I will be playing in a lot of cities in Argentina such as Cordoba, Mendoza, Buenos Aires, Tucumán, Bahía Blanca, and La Plata. I'm also going to Mexico city, Guadalajara, Puerto Vallarta in Mexico and hopefully Brazil and Chile.
EG: Congratulations on the release of your new 'Higher' EP on MEIOSIS! What has the initial reception been like? Have you been able to play these live before?
Juan Hansen: Thank you! Yes, I've been playing 'Higher' for some months now and it's been a magical moment of the set. I'm super happy with the reception of the audience.
EG: And what can your fans expect to find on these two new cuts? What sort of feeling do you channel through your music?
Juan Hansen: 'Higher' is an emotional track for me, I see people having his kind of nostalgic but happy feeling while playing it live. When I wrote the lyrics while listening to the track, the music took me to that exact same place. It talks about not giving up on something or yourself and trying to get to a higher state of mind.
"As a listener, in live sets, I love to suffer a little bit with the artist, this means I love to see someone take risks and I don't' care so much about ¨mistakes¨ or perfection"
EG: 'Higher' also is accompanied by a video of a stunning rendition. Where was this recorded? What was the experience like?
Juan Hansen: This was how 'Irreplaceable' was born. I was in Tulum, Mexico and the opportunity to shoot a video in a beautiful location there appeared. So the basic structure of this track was made in a hotel room and finished in a live improvisation near the ocean.
EG: Being a live performer…what do you look for in other artists' live sets? How do you "judge" what is happening on stage?
Juan Hansen: I think I'm captivated by honest artists. I don't care about what genre they play or how fast. I know I like something when the performance touches me in some way. As a listener, in live sets, I love to suffer a little bit with the artist, this means I love to see someone take risks and I don't' care so much about ¨mistakes¨ or perfection.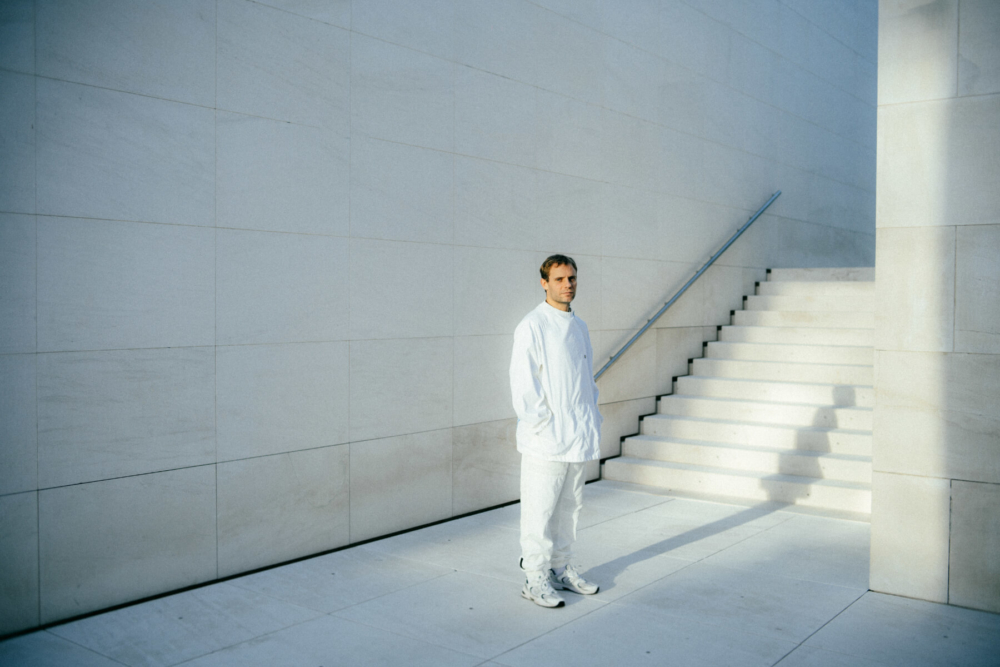 EG: You're also a part of the Forma trio. How did Forma come about? How are Forma and Juan Hansen different?
Juan Hansen: Yes, Forma is a band side-project I've been working on with Pablo Bursztyn and Rocio Giorgi for the last couple of years. Forma is for me a place to experiment wildly, to explore other genres and to worship the old school songwriter ways. It's a place for me to put out music I don't usually make as Juan Hansen.
EG: Can you tell us something about you that very few people know about?
Juan Hansen: A funny story could be what happened on the first day of class at the Conservatorio Juan José Castro, where I studied academic music. I was 18 years old and super excited. When I got to the classroom the principal of the conservatory came to make a welcome speech and he said: "Welcome everyone, here you will learn how to play and read music, so the first assignment is go to play an Arcade game called 'Dance Dance Revolution' (that 00's dancing game in which you had to stomp on big colour arrows on the floor to follow a song and make points). This will be the most similar thing to read a music sheet in real time and will sharpen your sense of rhythm."
So when the class finished, we all went to a mall nearby and played that game, not only this helped in reading sheet music but also made all the class friends on the first day of school.
"Forma is for me a place to experiment wildly, to explore other genres and to worship the old school songwriter ways"
EG: How do you keep entertained when not in the studio? Have you checked out any good movies, series, books, or albums you'd recommend?
Juan Hansen: I love to throw the frisbee around, (laughter)… and yes I'm really into film and series. My favourite series of all time is 'The Office' (US) is almost like an addiction, I've watched it like 10 times now. Recently, I watched 'Big Little Lies' (HBO) and I highly recommend watching the first season which is sublime.
EG: What's next for Juan Hansen? What particular milestones are you looking forwards to this 2023? Where can your fans catch you next?
Juan Hansen: This year will be loaded with releases! Some collaborations with artists I admire, such as Innellea or 8Kays, and some other originals. I'm working on music videos for some of the releases, so it's going to be a busy year.
EG: Thank you so much for your time, Juan! We wish you all the best for the future.
Juan Hansen: Thank you so much for this! And hope you like all the music coming up 🙂
Juan Hansen's 'Higher' EP is out now via MEIOSIS. Purchase your copy here.
Follow Juan Hansen: Instagram | Facebook | Soundcloud | Spotify