Lee Burridge, a revered figure in the music industry, has spent more than two decades captivating audiences with his enchanting DJ sets and vast musical selection. He has become a true icon, renowned for his creation of the highly acclaimed All Day I Dream label and unforgettable parties that have taken him across the globe, sharing his profound passion for music.
Photo by Christian Lamb
In this exclusive interview, we had the pleasure of catching up with Lee and delving into his mind, the upcoming Summer season, and other trending topics.
EG: Hi Lee, and welcome back. Time flies! It's been 4 years since our last chat. Where are you right now and what have you been up to?
Lee Burrdige: Wow…seriously? Four years! Have you been avoiding me?
Right now I'm in Copenhagen. I've been based here since January and have been working on new material as well as a few new ADID-connected projects. I love Copenhagen. It's been a great place to spend a little time and the Winter weather is perfect for creativity. Cold means I was indoors a lot.
EG: Sounds very interesting.  Now, the All Day I Dream summer tour is coming up. Can you tell us a bit about the inspiration and evolution behind the tour and what fans can expect from the shows?
Lee Burridge: I'm so proud and totally grateful that ADID has continued to grow and attract new music lovers while at the same time retaining a lot of the original core audience after more than a decade. Musically, I continue to try to push the edges of the sound to stay relevant but still also maintain our original essence so, evolution-wise, I've been conscious to keep things interesting. There was a common misconception in the early days that the music was a bit noodly and slow. If you were actually at the events over the past ten years though, you already know it's amazing how energized and excited people are and how crazy the dance floor gets at its peaks. Each and every year I try to make sure to program the artists so it's a rollercoaster of energy and feelings through the whole day. The whole day is a connected and rolling musical journey. That's been the thing I've been exploring and promoting for years. The look of the events has also maintained some of the signature looks since day one, but we build on it every few years. I'm conscious of the impact creating events has on the environment so we purposely reuse and repurpose our stages for multiple years. I rent so many storage units it's hilarious at this point. Some stages change coasts in the US to keep it fresh in each location and New York, which is the event's spiritual home is, where we usually try out the new stages first. We are actively looking at ways to improve each year. This year we are working with One Tree Planted, for example. The clue is in the name, but we are hoping to plant a lot of trees this year with them.
EG: Exciting! Can you give some info on the artists who will be joining you? Any new faces that you are looking forward to sharing the booth with?
Lee Burridge: From the beginning, I always wanted to build my own family of artists around the project so I rarely book anyone outside of those releasing on the label, but as we have a thirteen-date summer season in Ibiza this year I decided to add a few artists who I love and respect and who still fit the vibe while at the same time adding a little twist to the day and night. In Ibiza we have Elderbrook (who I loved seeing performing in his kitchen during Covid) as well as Acid Pauli, Sasha, and S.A.M. Oh, Matthew Dekay is back too!
New artists that have released on ADID or will do soon that are playing this year for the first time are Valdovinos, Maxi Degrassi, and Simon Vuaranbom, as well as brilliant live performances from Dim Kelly, Pippi Ciez, and Double Touch. Obviously, I still have Facundo Mohrr, Lost Desert, Tim Green, Sebastien Leger, and Gorje Hewek as well as some amazing female artists like Amonita, Layla Benetiz, Oona Dahl, and Erez playing. It's going to be a great Summer.

EG: Aside from ADID's brand parties you recently played at Dance With Me Las Vegas. What are your thoughts on this new edition?
Lee Burridge: I mean….YES!!!!! Art With Me has been taking risks and putting on super well-produced events and attracting a great crowd for quite some time and I'm grateful that both ADID and myself have been supported by them both in Tulum as well as their festival in Miami several times. Las Vegas was a bold move but it came out great and it was a real treat to play. The art curation as well as the mix of music from different bands and DJs has a certain style and quality that makes it special.
EG: Have you played in Las Vegas before? Do you have any memories from your first time in Vegas?
Lee Burridge: What happens in Vegas stays in Vegas right!?! Basically though, yes, I have played before but nothing actually happened. I was trying to sound interesting and edgy.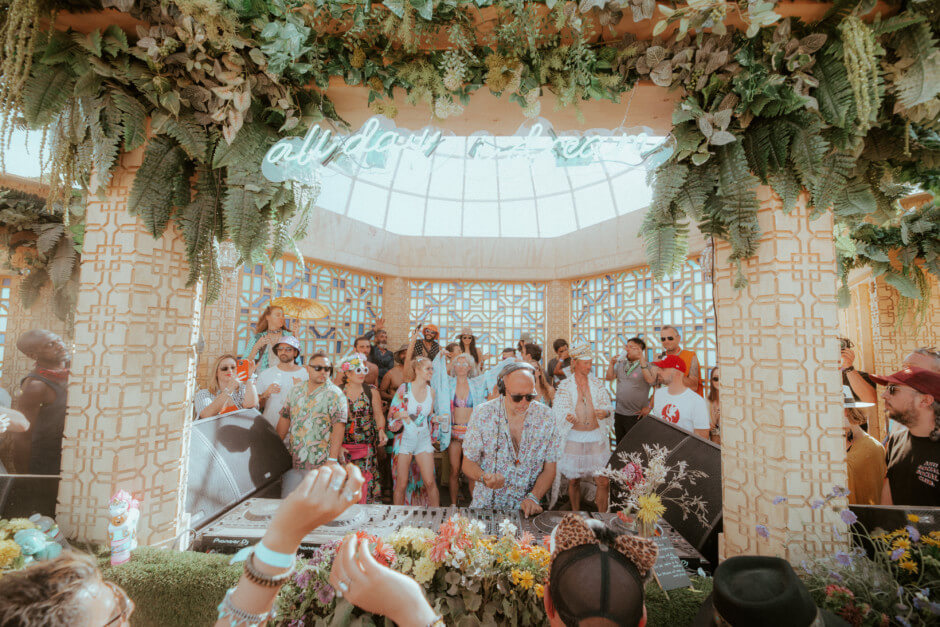 Photo Credit: FYM Agency
EG: Nice try ;) And what are your thoughts on immersive festivals? Do you think they will be the norm in the future?
Lee Burridge: I hope so. I like the idea that you might take more experiences home with you than just a hangover.
EG: Haha! How about the use of technology in events? Do you think there should be a limit to how it's used? Do you think too much takes away from the musical experience?
Lee Burridge: The only tech I'd say needs limiting are our phones on the dance floor (laughter)! But, something like that needs to get there organically. People are welded to their phones and, obviously, social media and posting content is key to everyone's experiences these days. I or any other artists telling them they shouldn't do it isn't going to go well. It's obviously the norm but perhaps over time the "disconnected from the now" experience might start to dissipate and more people might return to being present (said the old person who grew up that way (laughter). Personally, I gravitate towards listening, exploring, seeing, and cuddling but some prefer to just post. If that floats your boat then go for it. It's just sad seeing so many people standing on a dance floor filming. I predict the return of pitch-black clubs (laughter). Nothing to film here!
EG: You have performed at some of the biggest festivals around the world. How does playing at a festival compare to a more intimate club setting?
Lee Burridge: The difference is the connection and intimacy. Obviously, clubs tend to allow access to the crowd in a way a festival doesn't always do. I like being at ground level where you're more a part of the party. Festivals tend to have much larger stages and you are usually pretty far from the people. I always find it funny to be a silly bald guy all alone on a giant stage giggling around like a bobblehead. I just realized it's one step away from those nightmares people have of being naked for no apparent reason standing in front of a huge crowd of strangers (laughter). Both festivals and clubs still present the opportunity to play music to wonderful people though and you can't beat that. I never really love the short set times at festivals as what can you do with an hour or ninety minutes? It isn't enough time to tell a story musically. I never really fall into just playing the ten bangers category. I kind of think about who I'm playing between and try to complement that.
EG: Moving into other subjects, we have clearly seen how electronic music has become more mainstream. In terms of music, how do you think this impacts the development of the genre?
Lee Burridge: It has? Yay! I've seen it happen many times before actually and we are still here. There's more mainstream and at the same time, there are thousands of other producers and DJs playing all sorts of music going in all sorts of directions. So if you're finding it a little mainstream then just do a little digging, take a few chances on unknown artists and follow your ears rather than the charts.
EG: Social media has become an important tool for artists to promote their music and connect with fans. How has this affected the music industry, in your opinion?
Lee Burridge: It's a muddle of things isn't it? Fantastic, tiring, frustrating, mind-boggling, depressing, uplifting. I guess what you put in you get out. It's obviously a great way for music to reach further but if you get it wrong you can also potentially disappear into the bottomless pit of all the other music. Socials are a blessing and a curse. We all see artists blowing up with less talent as producers and DJs but who know how to use their social media. I know it's frustrating for many truly talented people but it's the way of the world.
"Play the music you believe in, not the music you think people want. Your taste is what sets you apart"
EG Another subject of recent talks is the development of AI. What are your thoughts on AI? How do you think it affects the world of arts?
Lee Burridge: I keep my AI in a can of worms… I think we are all going to be hooked up and used as batteries in the near future when the machines take over….oh, wait…that was The Matrix!
EG: Can you share with us something that nobody knows?
Lee Burridge: Matthew and I got the band back together…
EG: What advice would you give to up-and-coming producers and DJs who are trying to break into the music scene?
Lee Burridge: To Google that question, as there's so much great advice out there both from myself in many, many previous interviews as well as loads of other DJs too. That, and play the music you believe in not the music you think people want. Your taste is what sets you apart.
EG: Thanks for the time and all the best!
Lee Burridge: It's been a wild ride!
Follow Lee Burridge:  Website  I  Facebook  I  Soundcloud  I  Instagram