Infested with the virus that electronic music is or can be throughout her formative years spent in her hometown Tel Aviv, Israel it wasn't that long until Magit Cacoon relocated herself to the ever vibrant Berlin scene, fully embracing the cities bubbling nightlife and endless nights out. Now she's recognized and loved for the rare combination of a performer's charisma and a trained ear for emerging trends in the global electronic dance scene.
We caught up with Magit Cacoon to talk about the just released remix of Damian Lazarus's 'Five Moons' on Crosstown Rebels. 
Electronic Groove: Hi, Magit, thanks for your time today. So where are you right now and what are you up to?
Magit Cacoon: Hey EG crew, good to chat with you again. I'm in my apartment in Tel Aviv. We are now on a holiday this week, celebrating the passover but I'm excited about my coming gig this weekend in the city in an open-air venue that actually is opening Summer season.
EG: 'Heart Of Sky (The Remixes)' is about to come out on Damian Lazarus's Crosstown Rebels. Can you give some insight into the work done on your remix? What were your intentions on this track?
Magit Cacoon: I think the remix has a special atmosphere with a massive base and a bit of darkness. I really loved the original vocal so I tried to keep it as it is.
EG: How did your relationship with Damian and Crosstown Rebels began?
Magit Cacoon: I met Damian in Tel Aviv 4 years ago and sent him some of my tunes. I was lucky enough to get a good response from him which led to signing some tracks on his labels. Soon after, he invited me to play in his events and the connection got more and more close. I'm so happy that I met him and it's a big honor for me to be part of his crew and playing with Crosstown Rebels around the world.
EG: Does your surroundings affect the outcome of your music?
Magit Cacoon: Pretty much I always feel affected by life itself.
EG: Let's talk about your hometown Tel Aviv. What can you tell us about the scene there in terms of music, clubs, and festivals and how it compares to other cities around the world?
Magit Cacoon: Tel Aviv has a massive electronic scene and it feels like it just growing, there's a new generation of producers and DJ's that are taking the scene to the next level… I love playing here and I'm proud being part of it when I'm in Israel and obviously when I represent it around the world. I think Israel's capital has its own unique flagrance, vibe and feel… I wouldn't compare it to any other city in the world :)
"I think the remix has a special atmosphere"
EG: Going back to this side of the world, how was Miami Music Week?
Magit Cacoon: Miami Music Week was outstanding! It was my 3rd time there playing for Get Lost and this time I played the Lemuria stage closing set, it was really one of my highlights this year and for the dessert I played for Electronic Groove which was big fun too.
EG: What is your dream venue to play at? Small club, open air, boat party?
Magit Cacoon: My dream venue will be playing on Mars, but till then I'm so so in love with open-air venues.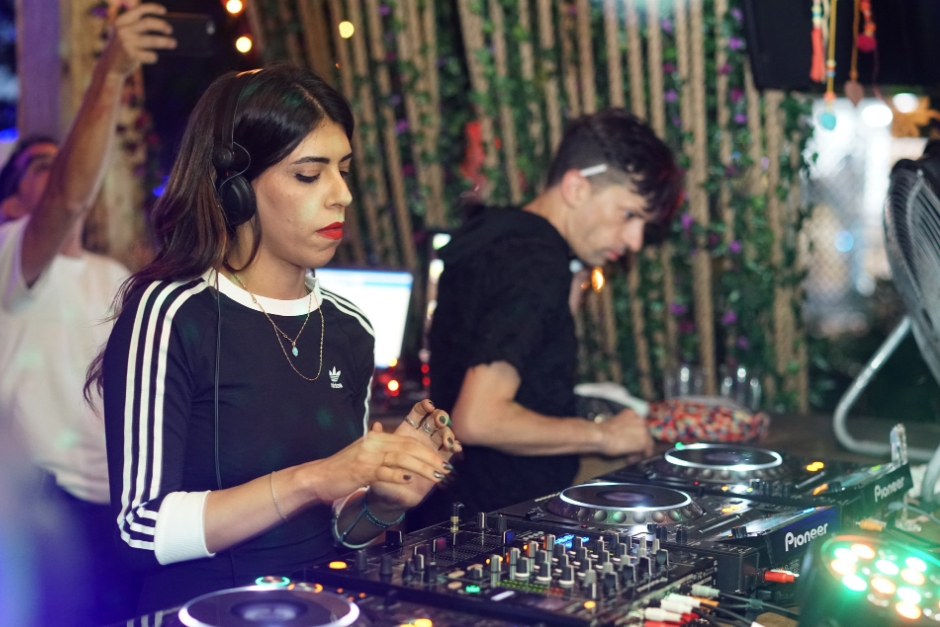 EG: Summer season is almost here. Are you looking forward to any special gigs?
Magit Cacoon: This summer I will be touring a lot in amazing festival's and clubs, I'm really excited for the season in Ibiza, DC10 is always exciting, my debut with Dystopyia in New York, Extrema in Belgium, and Diynamic stages all over… from Off Sònar to Tomorrowland.
EG: Do you like playing back-to-back? Any special show you'd like to mention?
Magit Cacoon: Yes, I love playing back-to-back, it's always challenging and inspiring. One of my must overwhelming ones was the one with Solomun at the legendary MusicTlv afterhour on Independence Day. Recently I had a really amazing and spontaneous back-to-back with DJ Tennis in Beit Maariv Club in Tel Aviv.
"Tel Aviv has a massive electronic scene and it feels like it just growing"
EG: With the role of social media, do you keep good communication with your fans/listeners?
Magit Cacoon: Yes, I'm trying to keep up as much as possible. Staying in direct contact with the fans is nice.
EG: What's the hardest part of being Magit Cacoon?
Magit Cacoon: I think the hardest part is touring a lot and missing home but I'm really in love to travel so it is all good :)
Magit Cacoon remix of Damian Lazarus' 'Five Moons' is already available. Grab your copy here.
Follow Magit Cacoon: Facebook I Instagram I Soundcloud