The Frankfurt-born, Berlin-based DJ & producer Martin Roth first arrived in the spotlight of global underground dance music when, alongside Eric Prydz and Deadmau5, he was named a Beatport Star of 2009 as a result of topping their sales chart no less than 5 times that year, achieving an incredible 16 Top 10 positions and receiving 3 nominations at the Beatport Annual Awards for his productions and remixes.
Since those heady days, Martin has gone from strength to strength cementing his reputation as one of the brightest stars of the underground dance scene.
Influenced by both the classic progressive house sound of the 90s & 00s and the deep house & electronica avant-garde of today, Martin's tracks & remixes have been continually supported by the likes of Solomun, Sasha, John Digweed, Eric Prydz, Tiefschwarz, and Pete Tong, amongst many other leading names.
EG caught up with Martin Roth ahead of his upcoming performance at Treehouse Miami this Saturday, March 4th, 2023 to talk about his illustrious career, his return to clubland, future endeavors, and more.
EG: Hi Martin, it's great to have you here! Can you tell us a little bit about what you've been up to lately?
Martin Roth: Thanks for the invite. The daily madness of bringing the kids to kindergarten & school, walking the dog, running the vinyl label, including its distribution, marketing, organizing myself & some little music in between 😉 All this has become routine and I got used to it actually. It's the best solution to overcoming overthinking as there's no time for it anyway. I am still wondering how I had been quite productive with two albums in the last two years and several singles and mixes in between – but maybe that is the reason for everything running quite smooth and satisfying lately.
EG: When did you first know that you wanted to pursue a career in electronic music? Can you take us back to that moment?
Martin Roth: It was a mixture of experiencing this new music on the radio and in a club (as teenagers, we went 2-3 times a week if possible to go dancing in those days), experimenting with synthesizers, and the early days of computer sequenced recording, which ended up in my first record deal after a few demos, and so I stopped my studies for becoming the full day musician I still am and never looked back.
EG: You've had a long and successful career in the electronic music scene. What do you think has been the key to your longevity in the industry?
Martin Roth: Definitely my longing for exploring what else is there and not sticking to one corner and genre. This helped me to stay excited, pushed my experience to higher grounds, and kept the fire in my eyes when sitting in front of an instrument or in the studio.
EG: What can you tell us about your latest release 'bloom'?
Martin Roth: Actually, a first step in moving at least one foot back to clubland while I was so busy with the unexpected success of my Analog Guy in a Digital World project.
"Due to the popularity of the Analog Guy in a Digital World album, I was missing the beats and clubland again … so the last few weeks & months I have been focussing more on that again"
EG: You've collaborated with Jody Wisternoff and released music on his label Anjunadeep. How did that relationship come about, and what has it been like working with Jody and the label?
Martin Roth: I met the Anjuna guys many many moons ago at a festival we both played at in Buenos Aires, and James approached me as I did already several releases on Anjunabeats asking me to prepare something for their new baby, Anjunadeep, as he knew I had been going down that deeper route for a while. Also, Jody was a touring companion for many years and I met him here and there when playing together – he is such a cool fella and I had amazing moments with him … especially when we did some back-to-back sets which turned out amazing. So this relationship came naturally as we both met more and more due to the similar vibe and sound and so did his work and releases on the label.
EG: You mentioned earlier that you have some new projects on the horizon. Can you give us a sneak peek into what those projects might be?
Martin Roth: After I put a lot of effort and time the last few years into the more relaxed and ambient minimalistic acoustic corner due to the popularity of the Analog Guy in a Digital World album, I was missing the beats and clubland again … so the last few weeks and months I have been focussing more on that again – however I am also working on another ambient piano album for release at the end of the year, just to keep the balance.
The most important project for me is currently a live show to fuse both of these columns together. This will be very exciting.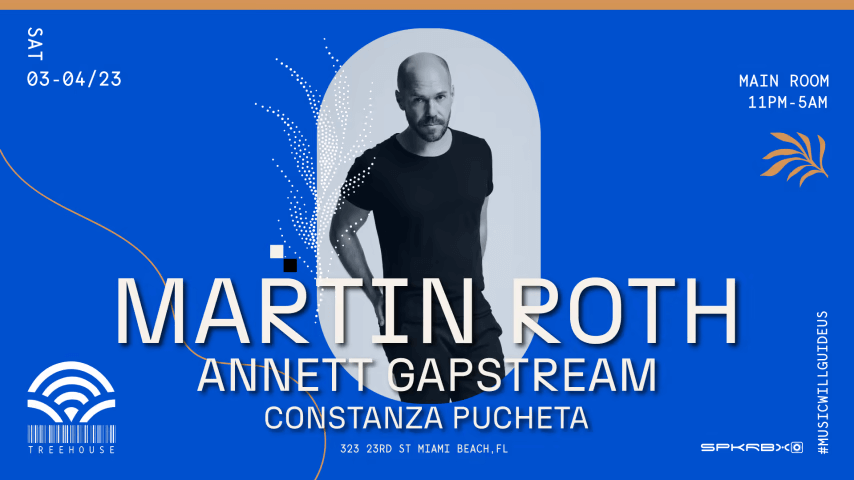 EG: As someone who has performed all over the world, do you have a favorite place to play? What makes it special to you?
Martin Roth: This is always changing, which in the end means: every place, every crowd, and every culture is special – every night can be special if you are lucky, plus being surrounded by lovely people in a beautiful setting as simple as it can be sometimes.
I loved Australia, then I was excited about North & South America, then India stole my heart and even Europe is now showing its vibes for me. I love exploring new countries & cultures, but after I have almost seen it all I noticed that there's no better or favorite place really for me. The whole world taught me so many lessons. Maybe a good answer would be that it is always the most special when you don't expect it and care a bit less.
EG: What's your creative process like when producing music? How do you come up with new ideas and sounds?
Martin Roth: This has changed a lot over the years, however, the process differs still on a daily basis. Sometimes (currently most of the time), I am stumbling over something totally unexpected and work on that right away, putting the more linear things on hold. Something I hear, something I am thinking about on a walk, something I see.
Then, I am doing the total opposite and write down things to do on a notepad quite straightforwardly – I am using a folder with 'inspirations and ideas' from music snippets, video clips, speeches, etc., which inspires me depending on the daily mood.
And then, there are those natural moments when I am picking an instrument of choice and just playing. Playing is as important as it is to a child – it is actually very similar – and obviously, the most fun. When I am done, there's sometimes a result … and most of the time, not – but at least it was fun.
"Now, it is much more about the deluded story around the image & trend and so much less about the original substance"
EG: You mentioned earlier that you sometimes suffer from writer's block. Can you share with us some of the techniques or methods you use to overcome it?
Martin Roth: The technique, which helped me out and never really gave me a block again, developed from the experience over this long period: you cannot force it – there are days when it is not working and you are simply listening with the wrong ears & mind which you cannot change much at the moment – it will keep sounding like shit and giving you a headache.
Then, there are those days when everything sounds great – you shouldn't trust that too much either,  but enjoy those moments and create and understand that those days are always returning.
And then there are those times in the middle when you can find out for yourself if it's worth it to continue working on it, or if it was just hype.
So overcoming writer's block is realizing that this phase will end – rather sooner than later.
EG: You'll be playing at Treehouse in Miami soon. What can your fans expect from your upcoming gig there?
Martin Roth: This will be my first time at Treehouse, as I played always different venues in Miami. I only have a tiny idea of what is waiting for me so, I am trying not to play it safe,  but rather letting things happen and go from there – this is always a promising way. I am digging the more organic and housey stuff for a while now, but when the mood is right I love returning to my roots and playing a bit faster-paced music – really depending on the vibe.
EG: Do you have any pre-show rituals or routines that you like to do before you take the stage?
Martin Roth: Give me a Gin and Tonic and I'll take care of the rest 😉
EG: Social media has become a major part of the music industry in recent years. How do you think platforms like Instagram and Twitter have impacted the way artists connect with their fans? Do you feel that social media is a necessary tool for success in the music industry today?
Martin Roth: I have to admit I am no social media pro, and you are more successful in this field when everything is coming naturally and without forcing it. So I suck at it, big time. I still haven't found my Ying & Yang in social media without a real continuous & regular output – mainly as I am quite old-school and what happens nowadays in and within this music scene is quite weird & strange for me.
I understand the power of it as a tool for marketing your career and taking the essential stuff to the next level, but, for us, it was always the music, that was 99,9% of the main essence – now, it is much more about the deluded story around the image & trend and so much less about the original substance.
EG: Lastly, what advice would you give to up-and-coming producers and DJs who are trying to make a name for themselves in the industry?
Martin Roth: Be unique – be different – don't watch too many tutorials – don't try to sound like XYZ because XYZ is already there and is blocking this road.
EG: Thanks for the time and all the best!
Catch Martin Roth at Treehouse Miami this Saturday, March 4th. Purchase your tickets here.
Martin Roth's 'bloom.' is out now. Stream and buy here.
Follow Martin Roth: Instagram | Facebook | Soundcloud | Spotify